Pedro de Escobar - Missa in Granada (2003)
Pedro de Escobar - Missa in Granada (2003)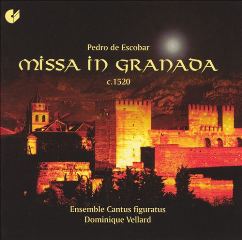 1 O Domina sanctissima (Motette)
2 Introitus: Vultum tuum deprecabuntur (Gregorianischer Choral) 
3 Kyrie 
4 Gloria 
5 Graduale Spciosus (Gregorianischer Choral) 
6 Alleluja: Post partum virgo (Gregorianischer Choral) 
7 Prosa: Gaude ad chorus celestium (Gregorianischer Choral) 
8 Credo 
9 Offertium: Felix namque (Gregorianischer Choral) 
10 Prefatio (Gregorianischer Choral) 
11 Sanctus 
12 Pater noster 
13 Agnus 
14 Communio Beata viscera (Gregorianischer Choral) 
15 Ite missa est (Gregorianischer Choral) 
16 O dcus virgineum (Motette)

Ensemble Cantus Figuratus
Dominique Vellard – conductor

A Portuguese composer of uncommon contrapuntal skill, active in Spain in the late 15th and early 16th centuries, Pedro de Escobar was also known as Pedro del Puerto and Pedro do Porto. His masses and motets show particular sensitivity to the setting of text, and his secular songs are written in a popular manner.
Escobar was born in Oporto c1465 and was a singer in the chapel choir at the court of Isabella I from 1489 to 1499, during which time he composed masses in collaboration with Juan de Anchieta, Peñalosa, Hernández and Alva. After a brief return to Portugal, he was invited to be master of the choirboys of Seville Cathedral.
Escobar's duties as magister puerorum included teaching polyphony to the boys in addition to feeding and clothing them. Having failed to augment his salary, he resigned the post in 1514. He is next known to have been mestre da capela to Cardianl Dom Affonso in 1521 and died at some point after 1535.
Of his music, the four-voice motet Clamabat autem mulier Cananea is particularly admired for its contrapuntal subtlety, and the 18 secular songs in the Cancionero Musical de Palacio are also highly regarded. ---classical.com
Le Grand Prix du disque de musique ancienne est attribué à Dominique Vellard. Comme chanteur soliste, chef, notamment à la tête de l?Ensemble Gilles Binchois qu?il dirige depuis 1979, Dominique Vellard a enregistré plus de trente cinq disques consacrés à la musique ancienne, du chant grégorien aux polyphonies de la fin du Moyen Age et de la Renaissance. Ce prix récompense deux disques témoignant du travail exceptionnel réalisé par D. Vellard dans la connaissance et l?interprétation du répertoire médiéval et renaissant.
Le second disque est consacré à la « Missa in Granada » de Pedro de Escobar (v. 1465 - après 1535), compositeur portugais de la cour d?Isabelle de Castille ? de ce musicien, Vellard a déjà enregistré, avec l?Ensemble Gilles Binchois, un requiem. Cette fois, l?artiste est à la tête de l?Ensemble Cantus figuratus, formation liée à ses activités d?enseignement à la Schola Cantorum de Bâle, ainsi que d?un ensemble d?instruments à vent, Les Haulz et les Bas. Exemplaire nous a paru le choix des ?uvres - motets de contemporains d?Escobar, parties de plain-chant de tradition hispanique de toute beauté - qui complètent les parties polyphoniques d?Escobar, reconstituant une messe solennelle telle qu?elle aurait pu être célébrée à la cour d?Espagne, vers 1520. L??uvre d?Escobar, d?une écriture riche et complexe, témoin des diverses tendances de son époque, est magnifiquement mise en lumière par la ferveur des musiciens et la finesse de l?interprétation. ---Christelle Cazaux-Kowalski, charlescros.org
download:  uploaded 4shared ziddu mediafire hostuje anonfiles gett