Marta Ptaszyńska - Epigrams ∙ Space Model ∙ Moon Flowers (1988)
Marta Ptaszyńska - Epigrams ∙ Space Model ∙ Moon Flowers (1988)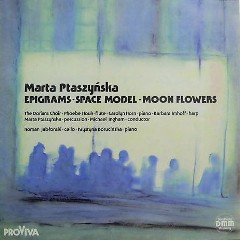 Epigrams For Women's Choir, Flute, Piano, Harp And Percussion
A1 	Prelude 	5:06
A2 	"Nothing Is Sweeter Than Love" - Nossis 	1:38
A3 	"Noontime" - Sappho 	3:20
A4 	"Dance" - Sappho, Palladas 	3:29
A5 	"The Evening Star" - Sappho 	6:24
A6 	"The Eternal Silence" - Erinna 	4:10

B1 	Space Model For Percussion 		12:30
B2 	Moon Flowers For Cello And Piano	8:42

Flute – Phoebe Houk (tracks: A1 to A6)
Harp – Barbara Imhoff (tracks: A1 to A6)
Percussion – Marta Ptaszyńska (tracks: A1 to B1)
Piano – Carolyn Horn (tracks: A1 to A6)
Choir – The Dorians Choir (tracks: A1 to A6)
Conductor – Michael Ingram (tracks: A1 to A6)
Cello – Roman Jabłoński (tracks: B2)
Piano – Krystyna Borucińska (tracks: B2)

Marta Ptaszyńska, composer, percussionist, and pedagogue, born on July 29, 1943 in Warsaw.
Studied composition under Tadeusz Paciorkiewicz and music theory at the State Higher School of Music in Warsaw and percussion performance under Jerzy Zgodzinski at the State Higher School of Music in Poznan. As a French Government grant recipient she continued her compositional studies in 1969 -70 with Nadia Boulanger and Olivier Messiaen in Paris. At the Cleveland Institute of Music in Cleveland, USA, she received in 1974 an Artist Diploma Degree (ADD) in Composition and Percussion Performance.
Marta Ptaszynska is a prize-winner of many composition contests including The Young Composers Contest of the Union of Polish Composers (1971),The Polish Radio & Television Composers Competition (1972), awards of the Percussive Arts Society in the US (1974 and 1976). In 1986, her work La Novella d'Inverno for strings (1984) won 1st Prize at the International Rostrum of Composers at UNESCO in Paris and her Concerto for Marimba and Orchestra (1985) got an award at the International Composers Competition in New York. Also, she received an Award of the American Academy of Arts and Letters, the Fromm Music Foundation at Harvard University, the Alfred Jurzykowski Award in New York, and several ASCAP Awards. In 1995 she was honored with the 'Officer Cross of Merit' of the Republic of Poland.
Her television opera, Oscar of Alva, produced by the Cracow Television in 1988, received both audience and critical acclaim at the International Festival of Television Operas in Salzburg (1989) and her opera for children, Mister Marimba, enjoying a great success and popularity, was performed 114 times at the National Opera in Warsaw. She received commissions from orchestras such as Chicago Symphony Orchestra, Cincinnati Symphony, Cleveland Symphony Orchestra, Polish Chamber Orchestra, Sinfonia Varsovia, chamber groups such as Pacifica String Quartet and Eighth Blackbird, and from soloists such as Ewa Podleś, Keiko Abe, Evelyn Glennie.
Her music is published by Polish Music Publications (PWM) and by Theodore Presser Co and is recorded on CD Accord, Muza Polish Records, Olympia, Chandos, DUX, Bayer Records, and Pro Viva.
As pedagogue, she has taught composition at many American universities and music schools including the University of California in Berkeley and in Santa Barbara, Indiana University in Bloomington, Cincinnati College-Conservatory of Music, Northwestern University. Since 1998 she has been a professor of composition at the University of Chicago and holds an endowed professorship of Helen B. & Frank L. Sulzberger Chair in Composition.
She was a co-founder and a co-organizer of the International Percussion Workshops in Bydgoszcz and in the years 1981-84 served as a member of the Board of Directors of the Percussive Arts Society. In 1991 she became a vice president of the American Society of Polish Music. In 1994 and 1996 she was appointed an artistic adviser of the Festival of Polish Music at the New York Public Library for the Performing Arts at Lincoln Center.
download (mp3 @VBR kbs):
yandex mediafire ulozto gett bayfiles