Giuseppe Tartini - Anniversary concert at his 300th birthday (1992)
Giuseppe Tartini - Anniversary concert at his 300th birthday (1992)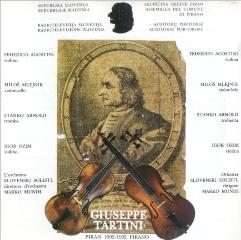 01. Concerto per violino e orchestra d'archi in re-minore - 1. Allegro assai
02. Concerto per violino e orchestra d'archi in re-minore - 2. Grave
03. Concerto per violino e orchestra d'archi in re-minore - 3. Presto 
04. Concerto per violoncello e orchestra d'archi in La-Maggiore - 1. Allegro 
05. Concerto per violoncello e orchestra d'archi in La-Maggiore - 2. Larghetto 
06. Concerto per violoncello e orchestra d'archi in La-Maggiore - 3. Allegro assai 
07. Concerto per tromba e orchestra d'archi in Re-Maggiore - 1. Grandioso 
08. Concerto per tromba e orchestra d'archi in Re-Maggiore - 2. Andante 
09. Concerto per tromba e orchestra d'archi in Re-Maggiore - 3. Allegro grandioso (Rondo) 
10. Concerto per violino e orchestra d'archi in sol-minore - 1. Allegro 
11. Concerto per violino e orchestra d'archi in sol-minore - 2. Grave 
12. Concerto per violino e orchestra d'archi in sol-minore - 3. Allegro 
13. Sinfonia in Fa-Maggiore No. 58 - 1. Allegro 
14. Sinfonia in Fa-Maggiore No. 58 - 2. Molto adagio 
15. Sinfonia in Fa-Maggiore No. 58 - 3. Minuetto - Allegretto 
16. Sinfonia in Fa-Maggiore No. 58 - 4. Allegro

Federico Agostini – violin (1-3)
Milos Mlejnik – violin (4-6)
Stanko Arnold – trumpet (7-9)
Igor Ozim – violin (10-12)

Slovenski Solisti (Orchestra)
Marko Munih – conductor

Tartini stood along with Vivaldi and Veracini as one of the great composers, violinists and theorists of the 18th century. His heritage is kept in a Piran museum and in the regional archives in Koper (Capodistria) and Izola (Isola).
Unlike most of his Italian contemporaries, Tartini wrote no operas. His compositions include more than 130 Concerti for violin, two Concerti for flute and two Cello concerti as well as over 170 Sonatas for violin, with or without continuo, some 50 Sonatas a Tre and 4 Sonatas a Quatre, his single composition for the church, Miserere, for four, five, and eight voices, and a small number of sacral vocal pieces written in the last year of his life. The romantic lyricism in his music was occasionally combined with Slavic folk elements which may reflect his stay in Prague (ed. or could it reflect the Slavic influence of early childhood in his native Istria?).
Only some 20 concerti and 50 sonatas were ever published so the remainder exist only in the forms of manuscripts. Apparently he was unconcerned with self-marketing, and many of his "programs" have only been reconstructed from private correspondence in the twentieth century.
Tartini's music is problematic to scholars and editors because Tartini never put dates on his manuscripts, and he also revised works that had been published or even finished years before, making it difficult to determine when a work was written, when it was revised and what the extent of those revisions were. Due to the lack of chronology in Tartini's manuscripts, the scholars Dounias and Brainard have attempted to divide Tartini's works into periods based entirely on the stylistic characteristics of the music. A catalogue of Tartini's concerti was drawn up by Doumias, numbered according to their keys. It was possible for some of the works published during Tartini's lifetime to be dated a little more accurately and Doumias has divided the remainder on style, sorting the concerti into three main periods: prior to 1735, 1735-1750 and after 1750. --- istrianet.org
download (mp3 @320 kbs):
yandex 4shared mega mediafire zalivalka cloudmailru oboom uplea