Jason Donovan - Ten Good Reasons 1989 (Deluxe 2CD Edition 2010)
Jason Donovan - Ten Good Reasons 1989 (Deluxe 2CD Edition 2010)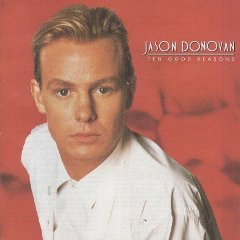 CD1:
1. Too Many Broken Hearts
2. Nothing Can Divide Us
3. Every Day (I Love You More)
4. You Can Depend On Me
5. Time Heals				play
6. Sealed With A Kiss
7. Question Of Pride
8. If I Don't Have You
9. Change Your Mind
10. Too Late To Say Goodbye		play
11. Especially For You (Kylie Minogue & Jason Donovan)
+
12. All I Wanna Do Is Make You Mine - (Kylie Minogue & Jason Donovan)
13. Wrap My Arms Around You
14. I Guess She Never Loved Me
15. Just Call Me Up
16. Nothing Can Divide Us (Extended Version)
17. Too Many Broken Hearts (Extended Version)
18. Every Day (I Love You More) (Extended Version)
19. Especially For You (Extended Version) - (Kylie Minogue & Jason Donovan)
20. Sealed With A Kiss (Extended Version)


CD2:
1. Especially For You (Original 7" Mix) - (Kylie Minogue & Jason Donovan)
2. Too Many Broken Hearts (US 7" Mix)			
3. Every Day (I Love You More) (7" Mix)			
4. You Can Depend On Me (Original Mix)
5. Nothing Can Divide Us (Great Scott, It's The Remix)
6. Too Many Broken Hearts (Urban Mix)
7. All I Wanna Do Is Make You Mine (Extended Version) - (Kylie Minogue & Jason Donovan)
8. Especially For You (Original 12" Mix) - (Kylie Minogue & Jason Donovan)
9. Just Call Me Up (Extended Version)
10. Too Many Broken Hearts (Techno Mix)				play
11. Nothing Can Divide Us (Dub)
12. Too Many Broken Hearts (Dub)
13. Nothing Can Divide Us - (7" Instrumental)
14. Especially For You (Instrumental
15. Too Many Broken Hearts (7" Instrumental)
16. Sealed With A Kiss (Instrumental)
17. Every Day (I Love You More) (7" Instrumental)	play
This Deluxe 2 CD Edition contains the original eleven-track album, as well as an amazing 26 bonus tracks! Gathered together for the first time ever by PWL consultant Tom Parker, there are non-album b-sides, extended 12" versions, techno mixes, dub mixes, and instrumentals, several of which have only ever been available as downloads. All this adds up to over 155 minutes of Jason Donovan!
Signed to the Stock/Aitken/Waterman team, Donovan enjoyed enormous success in the late 1980s and early 1990s. Never reissued, and out of catalogue for years, his first two albums for Waterma's PWL imprint are finally available again. Debut album Ten Good Reasons – incredibly THE biggest seller of 1989 – is home to hits including Too Many Broken Hearts, Sealed With A Kiss and the Kylie duet with which his career was launched, Especially Foy You. With 26 bonus tracks – B-sides and extended versions, many not available before – this is now a muscular two-CD set with a running time of 155 minutes. Completing a very strong package, which is priced to sell for around £6, a 24-page booklet includes lyrics, full annotation, and numerous pictures. 1990's Between The Lines was a little less successful in terms of chart hits but is arguably better. Again, there is a plethora of extras. --- Music Week 02/10/2010
Poszerzona aż o 26 bonusowych nagrań reedycja pierwszego albumu brytyjskiego piosenkarza, który to album był jedną z najlepiej sprzedających się płyt roku 1989. Związany - tak jak Kylie Minogue - z fabryką przebojów Stock-Aitken-Waterman, Donovan w krótkim okresie nagrał imponującą ilość przebojowych singli: "Nothing Can Divide Us", "Especially For You" (duet z Kylie), "Too Many Broken Hearts" i "Sealed With A Kiss". Obok 11 utworów z oryginalnego albumu "Ten Good Reasons", niniejszy album zawiera obfity wybór nagrań singlowych, stron b, wersji z singli 12-calowych, miksów techno i dubowych oraz nagrań instrumentalnych. W sumie - 155 minut sam na sam z jedną z największych gwiazd muzyki pop lat 80.
download (mp3 @ kbs):
yandex 4shared mega mediafire uloz.to cloudmailru uptobox
Zmieniony (Piątek, 17 Luty 2017 14:13)