Africanshowboyz - Spiritual Song (2002)
Africanshowboyz - Spiritual Song (2002)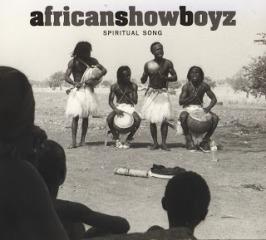 1. Sutani Panga (God Sack Satan Away)
2. Baby Show (Everybody Loves Women)
3. M T Zion
4. John Ndebuguri (Regional Minister)
5. Zem Zem
6. Mbaye
7. Sakora Salamalekum (Knock the Door)
8. Koneninga (Do Bad, Do Good, God Knows All)
9. Lion (Why Do You Kill the Lion?)
10. Three Little Birds
11. Spiritual Song (All Gods Are Gods)
12. Sutani Dayalima (Satan Run, God Is Coming)
13. Mbia Shochengbe (Gambaga Is Very Dangerous)
14. Suffering in Africa (We Call Jah and We Are Still Waiting)
15. Redemption Song

Personnel includes: 
Napoleon Sabbah, Isaac Sabbah, Moses Sabbah, Joseph Sabbah, Joe Sabbah, Akurban Kusasi.

Napoleon, Joseph, Moses, Isaac, Francis, and JJ Sabbah, all brothers, are the African Showboyz. The boyz were born and raised in Binaba, a small village in the north east region of Ghana, West Africa. As a group, they have performed with Stevie Wonder, Karl Denson, Babatunde Oluntunji, Fela Kuti, Femi Kuti, Steel Pulse, Arrested Development, and most recently in the U.S. with the Mickey Hart Band in 2012.
In Binaba, it is the way of the village for the men to marry multiple wives. The Showboyz are born from the same mother and the same father, though collectively there are 54 children from their father's descent. Napoleon, the elder of the brothers, received a vision from his grandfather named Apabum Abugri during a juju practice at a very young age. He was to embark on a world journey in effort to bring recognition to the suffrage of the African people and feed his ever-growing family. Napo engaged Joseph, next of kin; his "backbone'' and they made instruments from thigh bones and hides of village kills that had been given to the chief's palace. Isaac was taught village dances to accompany Napoleon's kone and Joseph's siyak, and in 1983 the three Sabbah's children set out on two bicycles to play for neighboring villages. In 1987, Isaac learned the bind douk and JJ and Moses were added, playing the bin bill and tonton sanson, and the African Showboyz emerged as Africa's pentacle of conscious musicians. They began touring neighboring countries and performed before enthusiastic audiences in Togo, Benin, Nigeria, Chad, Cameroun, Niger, Senegal, Burkina Fasso, Sierra Leone, Liberia, Libya, and Cote d' Ivoire, while collaborating with Alpha Blondy, Freddie Meiwey, and Ras Kimono, Eek A Mouse, and Burning Spear. It is fascinating to note that while touring in Africa, the brothers carried no documentation but simply performed for immigration officials at the borders and were permitted access. The African Showboyz have performed at U.S. festivals such as the Joshua Tree Festival, Sierra Nevada Music Festival, Lotus Festival, Floyd Fest, Earthdance, and many others. In 2009, the boyz were featured in the documentary 1 Giant Leap. --- yonasmedia.com
download (mp3 @192 kbs):
yandex 4shared mega zalivalka cloudmailru
Zmieniony (Niedziela, 24 Kwiecień 2016 15:35)