Emily Portman - Hatchling (2012)
Emily Portman - Hatchling (2012)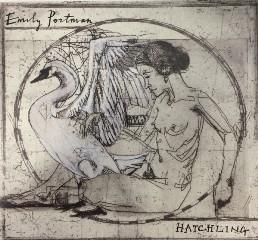 1 	Hatchlings	4:20
2 	Hollin	4:24
3 	Hinge Of The Year	5:24
4 	Hushabye Birdie	0:39
5 	Ash Girl	4:01
6 	Old Mother Eve	3:29
7 	Jack	3:52
8 	Silver Swan		1:07
9 	Sleeping Beauty		4:56
10 	Sunken Bells	4:11
11 	Scorching Sun	3:20
12 	Black Sheep	0:44
13 	When You're Weary	3:00

Banjo – Emily Portman
Cello – Lucy Deakin
Concertina – Emily Portman
Fiddle – Rachel Newton
Guitar – Alasdair Roberts
Harp – Rachel Newton
Percussion – Will Schrimshaw
Saw – Lucy Farrell
Ukulele – Emily Portman
Viola – Lucy Farrell
Voice – Alasdair Roberts, Emily Portman, Lucy Farrell, Rachel Newton 

Portman's ability to weave new songs from old yarns, unveiled on her 2010 debut The Glamoury, is maintained with verve on this follow-up. Again the Northumberland-based singer mixes antique folk with myth and touches of magical realism, as in Hinge of the Year – inspired by Angela Carter's Nights at the Circus – a new year's tale with "vodka, wine and blood in the gutters". Portman's ethereal vocals work well enough alone but are best showcased by the cello and viola accompaniments of Sleeping Beauty and Ash Girl, both reminders that faerie land can be a dark and brooding realm. Marvellous. ---Angela Carter, theguardian.com
A tale of wicked stepmothers and dubious meat pies, Emily Portman's Stick Stock – from her 2010 debut album The Glamoury – was a brilliantly dizzy fairytale. Its dark comic genius deservedly bagged a BBC Folk Awards nomination.
On second album Hatchling, Portman spins similar stories. Themes of heady mythology dominate, with doves pecking at breasts, wild wolves at doors and deranged goddesses aplenty.
Eight of these fables are self-penned. Opener Hatchlings is the best. A powerful song rooted in the Greek myth of Leda and the Swan, Portman portrays the new mother of egg-hatched twins with fearful pride. The banjo on the track is quietly unsettling, perfectly matching the song's paradoxical themes of maternal instinct and revulsion.
Also exemplary on this album are three fragmentary interludes of ancient lullaby – Hushabye Birdie, Silver Swan and, especially, Black Sheep. All are unaccompanied, and Portman's pure vocals mesh with two other fine singers, Lucy Farrell and Rachel Newton. Their voices work in an almost primeval way; the witches of Macbeth could hardly sound eerier. The longer traditional, Hollin, also has something of this chant atmosphere, albeit one textured with harp and strings.
Unfortunately, Portman's traditional interpretations highlight the diminishing returns of her own songs as the album wears on. Themes get repetitive, especially when taken in the context of her first album. The carnivalesque literature of Angela Carter is an acknowledged influence, but while Portman's lyrics offer similar imagery, they lack Carter's radical bite.
Portman simply comes across as too darn nice. It's a problem that seeps into her delivery and arrangements, too. The words may tell of "vodka, and wine, and blood in the gutters," but it sounds as if Portman would rather have a cup of tea and an early night.
This is an album, sadly, that shows little growth from her debut. Portman's concerns are not developed enough for true conceptual unity, nor do they offer a satisfying diversity. What's left is a frustrating piece, an album that – despite its lyrical claims to the contrary – watches the giddy lights of the fairground from a safe distance. --- Jeanette Leech, BBC Review
download (mp3 @320 kbs):
yandex mediafire uloz.to cloud.mail.ru gett