Tadeusz Woźniak - Tak tak to ptak (2007)
Tadeusz Woźniak - Tak tak to ptak (2007)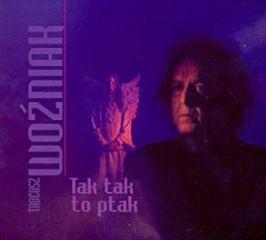 1. Tak tak to ptak
    2. Żarliwość
    3. Oa
    4. Opowiadania
    5. Samolub - przerywnik 1
    6. Co
    7. Perspektywiczności
    8. Przedtem
    9. Landrynka - przerywnik 2
    10. Nic nowego
    11. Pieśni Jana Kochanowskiego

Śpiew: 
TADEUSZ WOŹNIAK, Jolanta Majchrzak (1, 5, 8, 9, 11), Piotr Woźniak (1, 5, 9), 
Chór: 
Anna Maria Jopek, Dorota Miśkiewicz, Agnieszka Piotrowska (1, 4, 11), Agnieszka Betley (4,11), 
oraz 
"DE SU" w składzie Daria Druzgała, Małgorzata Pruszczyńska, Beata Kasprzyk (1).

Płyta "Tak tak, to ptak" jest zapisem programu muzycznego pod takim samym tytułem, zarejestrowanego przez Telewizję Polską w 1996 r. Materiał, który został wybrany na płytę, obrazuje poszukiwania artysty w dziedzinie muzyki teatralnej i filmowej. Większość słuchaczy kojarzy twórczość Tadeusz Woźniaka z melodyjną balladą lub piosenką popową z wcześniejszych lat jego twórczości, ale od wielu lat Tadeusz Woźniak pisze także muzykę dla teatru i filmu.
W sumie napisał muzykę do ponad stu inscenizacji teatralnych, dziewięciu przedstawień Teatru TV, do wielu programów poetyckich i spektakli muzycznych. Otrzymał nagrodę za muzykę do spektakli: "Wesele" Stanisława Wyspiańskiego w reż. Romana Kordzińskiego, "Odprawa posłów greckich" Jana Kochanowskiego w reż. A. Witkowskiego, Mistrz i Małgorzata" Michaiła Bułhakowa w reż.A. M. Marczewskiego.
Płyta "Tak, tak, to ptak" jest przykładem takiej właśnie twórczości. Jest poetycką opowieścią o losie człowieka: o ulotności szczęścia, brzemieniu codzienności, lęku przed przyszłością i nadzieją na wielką miłość. Autorami tekstów piosenek są: Bogdan Chorążuk oraz Jan Kochanowski (Pieśń V i XIII). W realizacji nagrania wzięli udział: Jolanta Majchrzak, Piotr Woźniak, Anna Maria Jopek, Dorota Miśkiewicz, Agnieszka Piotrowska, Agnieszka Betley oraz zespół De Su. Wśród muzyków znalazł się także aktor i muzyk Krzysztof Majchrzak, który w utworach nr. 2,3, 5, 6 i 9 gra na fortepianie i organach Hammonda. --- muzyka.onet.pl
download:  uploaded anonfiles mega 4shared mixturecloud yandex mediafire ziddu