J.B. Lenoir - Eisenhower Blues - The Blues Collection 34 (2011)
J.B. Lenoir - Eisenhower Blues - The Blues Collection 34 (2011)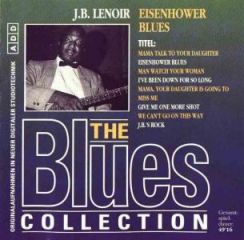 01 - Mama Talk To Your Daughter
02 - Man Watch Your Woman
03 - Eisenhower Blues
04 - If You Love Me
05 - Sitting Down Thinking
06 - Mama, Your Daughter Is Going To Miss Me
07 - What Have I Done
08 - We Can't Go On This Way
09 - Give Me One More Shot
10 - Everybody Wants To Know
11 - J.B.'s Rock
12 - Low Down Dirty Shame
13 - Don't Touch My Head
14 - When I Am Drinking
15 - I've Been Down For So Long
16 - Daddy Talk To Your Son
17 - I Don't Know
18 - Good Looking Woman
19 - Voodoo Boogie

J.B. Lenoir – guitar, vocals
Willie Dixon – bass
Leonard Caston – organ
Joe Montgomery – piano
Al Galvin – drums
Alex Atkins – alto sax
Ernest Cotton, Lorenzo Smith – tenor sax

Newcomers to his considerable legacy could be forgiven for questioning J.B. Lenoir's gender upon first hearing his rocking waxings. Lenoir's exceptionally high-pitched vocal range is a fooler, but it only adds to the singular appeal of his music. His politically charged "Eisenhower Blues" allegedly caused all sorts of nasty repercussions upon its 1954 emergence on Al Benson's Parrot logo (it was quickly pulled off the shelves and replaced with Lenoir's less controversially titled "Tax Paying Blues"). J.B. (that was his entire legal handle) fell under the spell of Blind Lemon Jefferson as a wee lad, thanks to his guitar-wielding dad. Lightnin' Hopkins and Arthur Crudup were also cited as early influences. Lenoir spent time in New Orleans before arriving in Chicago in the late '40s. Boogie grooves were integral to Lenoir's infectious routine from the get-go, although his first single for Chess in 1951, "Korea Blues," was another slice of topical commentary. From late 1951 to 1953, he waxed several dates for Joe Brown's JOB logo in the company of pianist Sunnyland Slim, drummer Alfred Wallace, and on the romping "The Mojo," saxophonist J.T. Brown.
Lenoir waxed his most enduring piece, the infectious (and often-covered) "Mama Talk to Your Daughter," in 1954 for Al Benson's Parrot label. Lenoir's 1954-1955 Parrot output and 1955-1958 Checker catalog contained a raft of terrific performances, including a humorously defiant "Don't Touch My Head" (detailing his brand-new process hairdo) and "Natural Man." Lenoir's sound was unique: saxes (usually Alex Atkins and Ernest Cotton) wailed in unison behind Lenoir's boogie-driven rhythm guitar as drummer Al Galvin pounded out a rudimentary backbeat everywhere but where it customarily lays. Somehow, it all fit together.
Scattered singles for Shad in 1958 and Vee-Jay two years later kept Lenoir's name in the public eye. His music was growing substantially by the time he hooked up with USA Records in 1963 (witness the 45's billing: J.B. Lenoir & his African Hunch Rhythm). Even more unusual were the two acoustic albums he cut for German blues promoter Horst Lippmann in 1965 and 1966. Alabama Blues! and Down in Mississippi were done in Chicago under Willie Dixon's supervision, Lenoir now free to elaborate on whatever troubled his mind ("Alabama March," "Vietnam Blues," "Shot on James Meredith").
Little did Lenoir know his time was quickly running out. By the time of his 1967 death, the guitarist had moved to downstate Champaign -- and that's where he died, probably as a delayed result of an auto accident he was involved in three weeks prior to his actual death. ---Bill Dahl, allmusic.com
download (mp3 @VBR kbs):
yandex mediafire ulozto gett solidfiles
Last Updated (Sunday, 21 February 2021 21:25)