Beginners Guide To African Blues (2011)
Beginners Guide To African Blues (2011)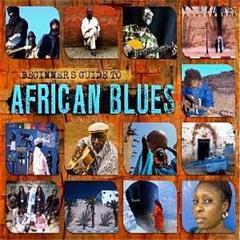 Disc 1
01. Berebere - Ali Farka Touré
02. Kora - Cherif Mbaw
03. Fatma - Habib Koité
04. Souba - Rokia Traoré
05. Mande Djeliou - Djelimady Tounkara
06. Mouso Teke Soma Ye - Boubacar Traoré
07. Baro - Tama
08. Sinners - Skip McDonald
09. Boor Yi - El Hadj N' Diaye
10. Barani Saba - Mah Damba Djelimousso
11. Kanou - Ballaké Sissoko
12. Diarabi - Ali Farka Touré

Disc 2
01. Bemen Sebeb Letlash - Mahmoud Ahmed
02. Tenesh Kelbe Lay - Muluqen Mellesse
03. Gubelye - Mulatu Astatke
04. Sele Genna - Alèmu Aga
05. Sema - Tlahoun Gèssèssè
06. Teredchewalehu - Alemayehu Eshete
07. Shegye Shegitu - Dub Colossus
08. Nnew - Malouma
09. Hakmet Lakdar - Hasna el Becharia
10. Tenere Wer Tat Zinchegh - Terakaft
11. Aicha - Tamikrest
12. Tassile - Touareg de Fewet

Disc 3
01. Fulani Coochie Man - Juldeh Camara
02. Gouma - Isnebo Kawtal
03. Ye Ye Ye - Geoffrey Oryema
04. Zoma - Charles Kely
05. Melodi La Mer - Menwar
06. Very Ny Bado - D'Gary
07. Manssani - Ba Cissoko
08. Izimi - Pierre Akendengué
09. Ineti - Granmoun Lélé
10. Annil - Mounira
11. Mona Ki Ngi Xica - Bonga
12. La Penqui Choevuh - Sia Tolno

Following on from 2010's best-selling Beginner's Guide to African Funk comes the Beginner's Guide to African Blues which sits squarely as an essential primer to the African Blues and Desert Blues scenes, that have dominated world music in recent years. Featuring tracks from many of the key African recording artists of the 20th century such as Toumani Diabat , Ali Farka Toure, Boubacar Traore, Mulatu Astatke, Mahmoud Ahmed and Rokia Traor , this Beginner's Guide traces the history of African Blues. Then there's the new school of Afro-superstars and global- Afro-fusionists such as Justin Adams & Juldeh Camara, Dub Colossus, Daby Tour & Skip McDonald, Ba Cissoko, Habib Koite' and Tama ft. Manani Keita. 36 tracks over 3CDs and selected from all over the length and breadth of the vast 'mother continent'.
This isn't the place to debate the African origin of the blues. All we really need note is that modern African music is alive with its sound; we can leave the precise details of its journey across the trade routes of the Atlantic to the ethno-musicologists.
Compiler Phil Meadley has done a good job in representing the spread of African blues from Ethiopia to Mali, via such outposts as Madagascar and Mauritius. In doing so, he stretches the definition of African blues to include the stately classical kora duets of Ballake Sissoko and Toumani Diabate, the Afro-Brazillian soind of Bonga (whose 'Mona Ki Ngi Xica' sounds like an Angolan cousin of Buena Vista's theme tune 'Chan Chan') the jazz torch-singing of Guinea's Sia Tolno and the Eithiopian funk of Tlahoun Gessesse. All this shows a fine disregard for pigeonholing and an admirable understanding of how different styles can cross-fertilise and inform each other. Along the way , there are some wonderful choices from the Malian songbird Rokia Traore, fusion kings Dub Colossus and the Touareg guitar band Terakaft among the 36 tracks.
There are two criticisms, though – one which was beyond the control of the label and compiler and the other which wasn't. Theres nothing from the best-known giants of the genre such as Ali Farka Toure (although he guests on a couple of the tracks by other artists), Tinariwen and Amadou & Mariam. That's down to licensing issues and couldn't be helped. Bu the bizarre 'theming' of the three discs could.
The first CD couples Senegal and Mali together, but doesn't include the Gambia, despite its shared mande roots. Instead, Gambia gets shunted into an inexplicable conglomeration called 'West Africa, Centrral Africa and the Island Nations'. Eithopian music and the Touaregs get banded together on a third disc. They might have been better advised simply to sequence the tracks with nothing more in mind than to please the ear, as a DJ would, rather than group them into bogus categories. ---byarchive.com
download (mp3 @320 kbs):
yandex 4shared mega mediafire zalivalka oboom uplea