Back In Blue (A Blues Tribute To AC/DC) (2016)
Back In Blue (A Blues Tribute To AC/DC) (2016)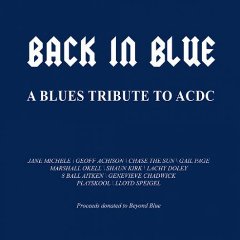 01. Geoff Achison - Hell's Bells
02. Chase The Sun - Shoot to Thrill
03. Gail Page And Jan Rynsaardt - What Do You Do for Money Honey
04. Marshall Okell - Given the Dog a Bone (feat. Triple Nip)
05. Shaun Kirk - Let Me Put My Love into You
06. The Lachy Doley Group - Back in Black
07. 8 Ball Aitken - You Shook Me All Night Long
08. Genevieve Chadwick - Have a Drink on Me
09. Playskool - Shake a Leg
10. Lloyd Spiegel - Rock and Roll Ain't Noise Pollution

'Back in Blue' is a tribute album - a complete re-recording of AC/DC's classic 'Back in Black', featuring some of Australia's leading blues artists. All profits made from the release of the 'Back in Blue' album will be donated to Beyond Blue - one of the most recognisable avenues of help for depression sufferers and their families - to raise awareness of depression and treatments available within the community.
Darren Griffis, a QLD-based blues musician whose life has been touched by depression, conceived the 'Back in Blue' idea. Darren's love of Aussie blues musicians, and of AC/DC, lead him to the idea of putting the two together to provide some positive outcomes for not only those affected by depression, but also to those at risk of falling victim to it in the future.
Music - and particularly blues music - is the great communicator; it crosses all boundaries, including linguistic and personal ones. Music allows people to say things to others that are very difficult in normal speech. The 'Back In Black' album has become the highest selling rock album in history and is arguably the greatest rock album ever produced by an Australian band. Even in 2015, on the 35th anniversary of its release, It's a national icon, and known universally throughout Australia. What better vehicle to draw attention to an illness that affects so many throughout the community?
The artists who have answered the call to help make this album are based all over Australia and the album is being recorded in studios across three states, with a release date planned at Blues On Broadbeach for May 2016.
'Back in Blue' is a not-for-profit organisation, and committee members are volunteers and passionate the project as an innovative and worthy way to raise attention about depression and to open the door to discussion by using the medium of popular music. --- bluesonbroadbeach.com
download (mp3 @320 kbs):
yandex 4shared mega ge.tt cloudmailru uplea