Todd Wolfe - Delaware Crossing (2003)
Todd Wolfe - Delaware Crossing (2003)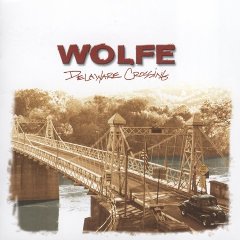 1 Stranger Blues 
2 No Returns - No Exchanges 
3 See What Love Can Do 
4 Tumblin' down 
5 One Lost Love 
6 Black Hearted Woman       play
7 Beg Forgiveness 
8 Love Gone Bad 
9 Crowded In My Soul 
10 Wolfe Jam                play
11 Gates Of Heaven

Personnel: 
Todd Wolfe (vocals, guitar, acoustic guitar, electric guitar, lap steel guitar, National guitar, mandolin); 
John Popper (harmonica); 
Karl Frick (piano, organ); 
John Cree (percussion); 
Chuck Hearne, Barbara Walker (background vocals).

Todd Wolfe zdobył sławę jako gitarzysta formacji Sheryl Crow, z którą przez wiele lat nagrywał i koncertował i dla której pisał teksty. W tym okresie zjeździł cały świat. Występował m.in. z The Rolling Stones, The Eagles, Bobem Dylanem, Eltonem Johnem, Page & Plant. Po rozstaniu z Sheryl Crow, rozpoczął niezależną działalność, a jego muzyka przemówiła bluesem, który stał się obecnie jednym z podstawowych jej elementów.Pierwszą płytę koncertową wydał jako Todd Wolfe Blues Project, z czasem nazwa grupy została uproszczona do Wolfe, a obecnie formacja występuje pod marką Todd Wolfe Band.
If in the world of rock and blues guitarists Eric Clapton is "God", then surely Todd Wolfe sits on the right side of the throne of ole Slowhand! "Delaware Crossing" is about as hard driving a guitar players album/cd as can be found on ANY side of the famous river, or ocean for that matter. Warning: this is NOT music for the faint of heart, or to be played during some wimpy romantic dinner. Wolfe plays and sings as if he is taking no prisoners on tracks such as "Beg Forgiveness", "Stranger Blues", and "Tumblin Down". Yet, he will have mercy on you with "One Lost Love", and "Love Gone Bad". However, the uplifting Claptonesque "See What Love Can Do" (my personal favorite) will stick in your head and and renew your spirit. The styles range from A-Z, Allmans to ZZ Top but definitely Todd Wolfe's own signature. The rythem section provides the drive to allow Wolfe to go places where few guitar players tread whether it be his slide playing, distortion, wah-wah, or clean and smooth guitar licks. "Wolfe Jam" is a reminder of what once was during the Allmans heyday. "Black Hearted Woman" confirms why the blues existed in the first place. "Crowded In My Soul" makes me want to sell my guitars altogether! And "Gates Of Heaven" will make me want to buy them back. If you appreciate true rock/blues guitar, and dont care what the neighbours think, dare to cross over "Delaware Crossing"!. ---The Bixbys
download:   uploaded anonfiles mega 4shared mixturecloud yandex mediafire ziddu
Last Updated (Friday, 12 July 2013 20:29)