Todd Wolfe - Why Thank You Very Much (2006)
Todd Wolfe - Why Thank You Very Much (2006)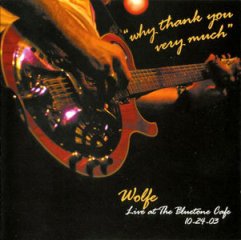 01 - Cissy Strut 
02 - Heaven 
03 - Woke Up This Morning 
04 - Got To Get Better In A Little 
05 - Need Your Love So Bad 
06 - Forty Four 
07 - The Great Liberator         play
08 - Shame 
09 - Who's That Coming           play

Musicians:
Todd Wolfe - Guitar & Lead Vocals
Eric Massimino Bass & Vocals
Eric Massimino – Drums

Todd Wolfe rozpoczął naukę gry na nowojorskiej scenie już w 1979 roku ze swoim zespołem Troy & Tornados. Jest znany większemu ogółowi jako były gitarzysta Sheryl Crow, z którą koncertował, nagrywał i komponował przez 5 lat. W tym okresie zjeździł cały świat na wspólnych turnee z takimi artystami jak: The Rolling Stones, The Eagles, Bob Dylan, Elton John, Page & Plant i wiele innych. Po tym czasie Todd rozpoczął działalność niezależną i stylistycznie zbliżył się bardziej w kierunku bluesa, który jest jednym z podstawowych elementów Jego muzyki.Pierwszą płytę koncertową wydał jako Todd Wolfe Blues Project, z czasem nazwa grupy została uproszczona do Wolfe, a obecnie formacja występuje pod marką Todd Wolfe Band.W ostatnim czasie bardzo czesto koncertuje w Polsce.
Guitarist/singer Todd Wolfe's music is deeply rooted in the blues origins of artists such as B.B., Freddy and Albert King, Otis Rush, Hubert Sumlin and Buddy Guy, but amped up to 10 with an energy level that recalls guitar superstars like Jimi Hendrix, Johnny Winter, Leslie West, Peter Green and Jeff Beck. With Roger Voss on drums and Suavek Zaniesienko on bass, The Todd Wolfe Band has developed as a major road band, with constant touring in the past two years both in the U.S. and overseas.
Todd Wolfe was born and raised in Forest Hills, New York, and got his first guitar at age 13. Through a succession of early bands and now with his own group, he's become a guitarist of immense power and passion, capable of captivating audiences with his intense, yet melodic, playing. During his formative years, he opened shows for such artists as Gregg Allman, Dickey Betts, Albert Collins, Johnny Winter, Robin Trower and The Neville Brothers.
In the '80s, he also met and played with both Carla Olson of the Textones and Sheryl Crow, who when she needed a band to tour after the success of her debut multi-platinum-selling album Tuesday Night Music Club, asked Todd to be her lead guitarist. Over the course of the next five years, Todd played with Sheryl Crow in her band, touring world-wide on concert stages with such legends as Bob Dylan, The Rolling Stones, The Eagles Robert Plant/Jimmy Page and Elton John.
download:   uploaded anonfiles mega 4shared mixturecloud yandex mediafire ziddu
Last Updated (Saturday, 13 July 2013 10:27)