Woody at 100: The Woody Guthrie Centennial Collection Out Next Week (2012)
Woody at 100: The Woody Guthrie Centennial Collection Out Next Week (2012)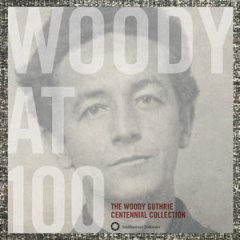 CD1
1. This Land Is Your Land (Alternate Version) 2:44
2. Pastures Of Plenty 2:25
3. Riding In My Car (Car Song) 1:49
4. The Grand Coulee Dam 2:10
5. Talking Dust Bowl 1:51
6. So Long, It's Been Good To Know Yuh (Dusty Old Dust) 3:40
7. Ramblin' Round 2:14
8. Philadelphia Lawyer 2:28
9. Hard Travelin' 2:31
10. Pretty Boy Floyd 3:00
11. Hobo's Lullaby 2:23
12. Talking Columbia 2:28
13. The Sinking Of The Reuben James 3:00
14. Jesus Christ 2:37
15. Gypsy Davy 2:49
16. New York Town 2:35
17. Going Down The Road (Feeling Bad) 2:56
18. Hard, Ain't It Hard 2:42
19. The Biggest Thing That Man Has Ever Done (The Great Historical Bum) 2:17
20. This Land Is Your Land (Standard Version) 2:16
21. Jarama Valley 2:52
22. Why, Oh Why? 3:27
23. I've Got To Know 5:32

CD2
1. Better World A-Comin' 3:05
2. When That Great Ship Went Down (The Great Ship) 3:17
3. A Dollar Down And A Dollar A Week 1:35
4. Talking Centralia 3:24
5. 1913 Massacre 3:35
6. Dirty Overalls 1:55
7. My Daddy (Flies A Ship In The Sky) 2:33
8. Worried Man Blues 2:58
9. Hangknot, Slipknot 2:30
10. Buffalo Skinners 2:16
11. Howdi Do 1:40
12. Jackhammer John 2:36
13. The Ranger's Command 2:49
14. So Long, It's Been Good To Know You (WWii Version) 2:45
15. What Are We Waiting On? 2:07
16. Lindbergh 3:10
17. Ludlow Massacre 3:28
18. Bad Lee Brown (Cocaine Blues) 2:14
19. Two Good Men 3:45
20. Farmer-Labor Train 2:49
21. The Jolly Banker 2:50
22. We Shall Be Free 3:01

CD3
The Los Angeles Recordings
1. I Ain't Got No Home (In This World Anymore)* 3:26
2. Them Big City Ways** 2:27
3. Do Re Mi* 3:33
4. Skid Row Serenade** 3:00
5. Radio Program : The Ballad Gazette With Woody Guthrie 14:20
This Land Is Your Land*, What Did The Deep Sea Say?*, Blow Ye Winds*,
 Trouble On The Waters**, Blow The Man Down, Normandy Was Her Name**,
 The Sinking Of The Reuben James*

6. BBC: Children's Hour July 7, 1944 10:19
Intro–Wabash Cannonball*, 900 Miles*, Stagger Lee*, Pretty Boy Floyd*

7. People's Songs Hootenanny 8:53
Ladies Auxiliary, Weaver's Life*

8. WNYC Radio Program: Folk Songs Of America December 12, 1940 16:24
John Hardy*, Jesse James*, Tom Joad*

9. Reckless Talk** 1:42
10. All Work Together 2:39
11. My Little Seed 2:30
12. Goodnight Little Cathy** 2:20

* Previously unreleased
** Previously unreleased original song

Woody Guthrie -  Banjo; Guitar; Harmonica; Mandolin; Vocals
In honor of the Woody Guthrie Centennial, Smithsonian Folkways presents an in-depth commemorative collection of songs, photos and essays on one of America's most treasured 20th-century icons.
Woody at 100: The Woody Guthrie Centennial Collection is a 150-page large-format book with 3 CDs containing 57 tracks, including Woody's most important recordings such as the complete version of "This Land Is Your Land," "Pretty Boy Floyd," "I Ain't Got No Home in This World Anymore," and "Riding in My Car." The set also contains 21 previously unreleased performances and six never-before-heard original songs, including Woody's first known—and recently discovered—recordings from 1939.
Richly illustrated with photos, artifacts and Woody's visual art and lyrics—plus extensive essays on Guthrie and his songs—Woody at 100 commemorates and displays the genius of one of the greatest songwriters, musicians and visual artists of the 20th century.
The book features essays by co-producers Robert Santelli, executive director of the GRAMMY Museum and author of "This Land Is Your Land: Woody Guthrie and the Journey of an American Folk Song," and Jeff Place, GRAMMY-winning archivist for the Smithsonian Center for Folklife and Cultural Heritage and producer of several Woody Guthrie collections and exhibitions.
Four of the unreleased performances, including original songs "Skid Row Serenade" and "Them Big City Ways," are Woody's earliest known recordings, made in 1939 while he was working for KFVD radio station in Los Angeles. The set also includes a medley performed in 1940 on Lead Belly's WNYC radio show. The other four unreleased original songs are "Trouble on the Waters" and "Normandy Was Her Name" from a live radio broadcast and "Reckless Talk" and "Goodnight Little Cathy" discovered in the Folkways Records archives. The book offers an extensive biography of the artist and background information on each track.
Woodrow Wilson "Woody" Guthrie (1912-1967) wrote songs that became the soundtrack of an era and permanent fixtures of American identity. His early Dust Bowl ballads, along with more than 3,000 work songs, union and labor songs, political and philosophical songs, anti-war songs, anti-Nazi songs, love songs and children's songs, marked the pulse of hard-hit people in times of economic depression and war. Many have embraced "This Land Is Your Land" as America's second national anthem. Woody was ordinary, yet extraordinary—a traveler, itinerant worker, radio performer, military enlistee, thinking man, gifted visual artist, a husband and father, and prolific writer who left his mark on music, culture and politics. ---folkways.si.edu
download (mp3 @VBR kbs):
yandex 4shared mega mediafire uloz.to cloudmailru
Last Updated (Saturday, 03 June 2017 11:47)