Joan Osborne – Bring It On Home (2012)
Joan Osborne – Bring It On Home (2012)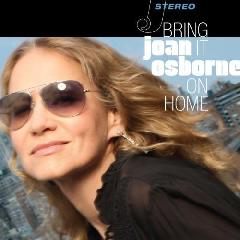 01 – I Don't Need No Doctor
02 – Bring It On Home
03 – Roll Like a Big Wheel		play
04 – Game of Love
05 – Broken Wings
06 – Shoorah! Shoorah!
07 – I Want to Be Loved
08 – The Same Love That Made Me Laugh
09 – Shake Your Hips
10 – I'm Qualified		play
11 – Champagne and Wine
12 – Rhymes

Joan Osborne (vocals, background vocals); 
Jack Petruzzelli (guitar, vibraphone, percussion); 
Andrew Carillo (guitar); 
Bob "Barbecue" Pomeroy (harmonica); 
Kris Jensen (tenor saxophone); 
Chris Karlic (baritone saxophone); 
Reggie Pittman (trumpet); 
Keith Cotton (keyboards); 
Aaron Comess (drums, percussion); 
Audrey Martell, The Holmes Brothers, Vaneese Thomas (background vocals).

Joan Osborne sings the blues and soul very well indeed on her new CD, Bring It On Home. Osborne explains in the liner notes how much she loves blues and soul music, and how much Etta James, Tina Turner, Muddy Waters, among others, meant to her in her earlier years. She says that she knew she wanted to make a blues record "when the time was right and her voice was ready." Now, at this stage in her career and life, her voice has taken on that slight roughness, that lived-in quality and depth of emotion, that has made the time right for the blues.
The songs she has chosen to record here reflects Osborne's great taste. The opening number, "I Don't Need No Doctor," is well-known by Ray Charles, but here gets a powerful and energetic rendition by Osborne. There are a couple of tunes written by Willie Dixon, "Bring It on Home," most famously recorded by Sonny Boy Williamson, and "I Want to Be Loved," made famous by Muddy Waters. There's Allen Toussaint's great "Shoorah! Shoorah!" with its wonderful backup chorus perfectly complementing Osborne's lead vocal. Toussaint also plays piano on the recording. Ike Turner's little-known "Game of Love" shines here, as does the tender, touching "Broken Wings," which was written and originally performed by John Mayall. The beautiful love song "Champagne and Wine" was co-written and originally recorded by Otis Redding.
In each case, Osborne interprets these songs in a way that pays tribute to these blues and soul greats. Other songs on the CD include the rocking "Roll Like a Big Wheel," the powerful "I'm Qualified," and a soulful, up-tempo take on Al Green's "Rhymes" that closes things out in fine fashion.
Over all, Joan Osborne can easily take her place alongside her inspirations Etta James and Tina Turner in the league of powerful, electrifying singers of blues, soul, and R&B. This CD is highly recommended. --- Rhetta Akamatsu, blogcritics.org
download (mp3 @320 kbs):
yandex mediafire ulozto solidfiles global-files
Last Updated (Friday, 05 March 2021 14:51)