Albert King - Years Gone By (1969)
Albert King - Years Gone By (1969)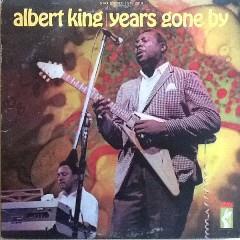 A1 	Wrapped Up In Love Again 	2:18
A2 	You Don't Love Me (Instrumental) 	2:26
A3 	Cockroach 	3:18
A4 	Killing Floor 	3:05
A5 	Lonely Man 	2:39
A6 	If The Washing Don't Get You The Rinsing Will 	2:12
B1 	Drowning On Dry Land 	3:54
B2 	Drowning On Dry Land (Instrumental) 	2:38
B3 	Heart Fixing Business 	2:41
B4 	You Threw Your Love On Me Too Strong 	3:14
B5 	Sky Is Crying 	4:09

Albert King – electric guitar, vocals
Booker T. Jones – piano, organ
Steve Cropper – guitar
Donald Duck Dunn – bass
Al Jackson, Jr. – drums

King cranked out this solid, if typical, album for the Stax label after the success of Born Under a Bad Sign. With Booker T. drummer Al Jackson producing, the set includes such staples as "You Threw Your Love on Me Too Strong," "Wrapped up in Love Again," and a powerful version of Howlin' Wolf's "Killing Floor." For fans of King's guitar work, the inclusion of the instrumental workouts on "You Don't Love Me" and "Drowning on Dry Land" are a special bonus. Not an essential Albert King album, but one of his good ones. ---Cub Koda, AllMusic Review
In early 1969, the 45-year-old Albert King was back in Stax Records Studios, located in an old movie theatre at 926 East McLemore Avenue in South Memphis. He was there along with Booker T Jones, Steve Cropper, Duck Dunn and Al Jackson Jr to record what would become his third album, and his first LP proper, Years Gone By.
The four-man backing group are, of course, better known as Booker T & The MG's, and their cohesion and natural affinity underpins this easy rolling blues album, providing the perfect musical bed over which Albert projects his fabulous guitar and voice.
Stax_Museum_Memphis_TN_02_Marker-Thomas-R-MachnitzkiStax released just one single from the album, the laidback and sultry 'Drowning On Dry Land', and while it works really well in the context of the album, it was not destined to pick up enough radio plays to drive it into the bestseller list. A far better choice of single would have been the Homer Banks, Allen Jones and James Cross-penned 'If The Washing Don't Get You, The Rinsing Will'. The songwriters turned out a number of hits for Stax, and this could have been another.
Another Banks/Jones composition is 'Heart Fixing Business', and it too is a strong song, as is the excellent 'Cockroach'. Years Gone By also includes two King originals, 'Wrapped Up In Love Again' and 'You Threw Your Love On Me Too Strong', with the former opening the album with a flourish.
There are also two outstanding covers on the album: a take on Chester Burnett's (aka Howlin' Wolf's) 'Killing Floor' alongside one of the blues' great lyrical numbers, Elmore James' 'The Sky Is Crying'.
Years Gone By made the Billboard Album chart on 24 May 1969 and peaked at No.133. In so doing, it became Albert King's best-ever performing album, in terms of chart position. With all its Albert King hallmarks, any connoisseur of the blues will love this record – in particular the raw power of his guitar.
As Joe Walsh once said: "Albert King could blow Eddie Van Halen clean off stage with his amp just on Standby!" Who are we to disagree…? ---Richard Havers, udiscovermusic.com
download (mp3 @320 kbs):
Last Updated (Sunday, 16 May 2021 19:09)