B.B. King – Deuces Wild (1997)
B.B. King – Deuces Wild (1997)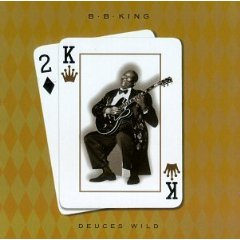 01. If You Love Me (with Van Morrison)
02. The Thrill Is Gone (with Tracy Chapman)
03. Rock Me Baby (with Eric Clapton)
04. Please Send Me Someone to Love
(with Mick Hucknall)
05. Baby I Love You (with Bonnie Raitt)
06. Ain't Nobody Home (with D'Angelo)
07. Pauly's Birthday Boogie (with Jools Holland)
08. There Must Be a Better World Somewhere
(with Dr. John)
09. Confessin' the Blues (with Marty Stuart)
10. Hummingbird (with Dionne Warwick)
11. Bring It Home to Me (with Paul Carrack)
12. Paying the Cost To Be The Boss
(with The Rolling Stones)
13. Let the Good Times Roll (with Zucchero)
14. Dangerous Mood (with Joe Cocker)
15. Keep It Coming (with Heavy D)
16. Cryin' Won't Help You Babe
(with David Gilmour & Paul Carrack)
17. Night Life (with Willie Nelson)

Personnel: 
B.B. King (guitar); 
Sid Page (conductor); 
Paul Carrack (vocals, keyboards, Hammond B-3 organ); 
Bonnie Raitt, Eric Clapton, Marty Stuart (vocals, guitar) 
David Gilmour, Van Morrison, Tracy Chapman, Mick Hucknall, Dr. John, D'Angelo, 
Joe Cocker, Heavy D, Mick Jagger, Willie Nelson (vocals); 
Keith Richards, Ron Wood (guitar); 
Bruce Dukov, Armen Garabedian, Berj Garabedian, Norman Hughes, 
Tamara Hatwan, Kenneth Yerke, Andrea Byers (violins); 
Robert Becker (viola); 
Larry Colbert, Marston Smith, Dane Little, Martin Tillman, Miles Tackett (cello); 
Joe Sublett (tenor saxophone); 
Brian Murray (trumpet); 
Jools Holland (piano); 
Leon Pendarvis, Tommy Eyre (keyboards); 
Pino Palladino (bass);
Andy Newmark, Charlie Watts (drums).

Everybody does what they're supposed to do on Deuces Wild, B.B. King's exceedingly polished duets collection. The blue notes turn up in the right places, the guitars nail the important idiomatic details, and the celebrity apprentices — including Joe Cocker, Tracy Chapman, the Rolling Stones, Heavy D (you guessed it: There's a rap, dedicated to King's guitar Lucille) and Van Morrison — are appropriately reverential. Yet something's missing way down deep. Deuces aims for juke-joint authenticity but can't get there on its Ritz-Carlton budget. It promises the blues but delivers a lavish Duets-style production complete with schmaltzy string orchestra.
This apparently suits King's popstar guests just fine: Though they begin in the general vicinity of blues anguish, few of the singers are able to develop those emotions into what old-timers would call a credible "testimony." Simply Red's Mick Hucknall simpers through his portion of the Percy Mayfield standard "Please Send Me Someone to Love," making the usually effusive King sound restrained by comparison. And just as Chapman (whose last hit, "Give Me One Reason," was a 12-bar blues) starts to use her machine-gun vibrato to build a convincing case on "The Thrill Is Gone," King roars in with a wail that comes from his gut, a sound so full of pain and fury it makes her seem like a nervous, twitchy student.
Others are more persuasive. Morrison takes King to church for a rousing "If You Love Me" that features the collection's most understated and effective string arrangement. Country star Marty Stuart kicks "Confessin' the Blues" into a brisk shuffle rhythm, and King and Bonnie Raitt get into a freewheeling, surprisingly melodic guitar conversation on "Baby I Love You." This and several other all-too-brief outbursts of improvisation — including "Rock Me Baby," a sparring match with Eric Clapton — suggest that next time, the growly King might forget about the big-name vocalists and invite guests who can make a more meaningful contribution, in a less-produced, jam-session-style instrumental setting.
download:  uploaded anonfiles mega 4shared mixturecloud yandex mediafire ziddu
Last Updated (Monday, 02 September 2013 14:24)