Tommy Keys - Devils Den (2013)
Tommy Keys - Devils Den (2013)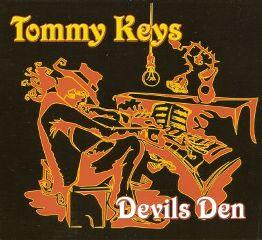 01. Devils Den
02. You Don't Deserve A Thing
03. Life Is Too Short
04. Down and Dirty
05. What To Do About Love
06. Bison Bounce
07. Leaky Ceiling Blues
08. Chicken Shack
09. Statesboro Blues
10. That's What I love About The Blues
11. Mess Around

Musicians:
Tommy Keys – piano, vocals, organ (4), drums (5,7)
Frank Celenza – bass (4,8,9,11)
Tony Fucci – bass (2,5)
Miranda Gatewood – bass (1)
Al Henneborn – drums (9,11)
Ken 'The Rocket' Korb – harmonica, vocals (4)
Franny Mae – vocals (1,2,5)
Bill Marino – lead guitar (2), slide guitar (5)
Bob Oven – harp, vocals (7, 9,11)
John Puglisi – guitar (5)
Sonny Rock – drums (8)
Sweet Suzi Smith – vocals (1,2,5)
Mario Staiano – drums (1,2)
John Wheelan – guitar, vocals (4,8,9,11)

Tommy Keys, International Boogie and Blues Man, has a winning combination - Barrelhouse Boogie & Blues Piano with moody, Soulful Vocals.
His individual style encompasses elements of New Orleans Blues, Funk, Boogie and Jazz. In addition to becoming an International Blues Challenge (IBC's) Finalist. Tommy has played the Burghausen Jazz Festival in Germany and has opened for such greats as Watermelon Slim & The Workers, Bryan Lee, Studebaker John, The Kinsey Report, Big Bill Morganfield, Smokin' Joe Kubek and Stuff, in addition to playing alongside many local celebrities.
His first 2 CD's, "2 Left Hands" and "Side Street Boogie", received great reviews as well as getting International air play. His latest CD, "The Man in the Moon" has received rave national reviews and significant airplay on XM/Sirius B.B. Kings Bluesville where it hit #4 on the charts!
Devils Den is a great piano-packed Blues Boogie "Nawlins funk" CD with 7 great originals and 4 covers, three of which are recorded Live. If you're looking for something to fill your soul, Devils Den will make you feel right at home! ---cdbaby.com
download:  uploaded anonfiles mega 4shared mixturecloud yandex mediafire ziddu