Buster Benton ‎– Bluesbuster (1979)
Buster Benton ‎– Bluesbuster (1979)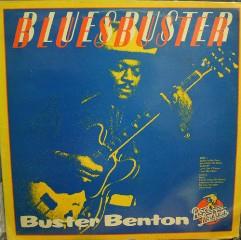 A1 	Spider In My Stew 	
A2 	Born With The Blues 	
A3 	Sweet 94 	
A4 	Love Like I Wanna 	
A5 	Leave Me Alone 	
B1 	Sorry 	
B2 	Funny About My Money 	
B3 	Lonesome For A Dime 	
B4 	Do It In The Rain 	
B5 	Disco Blues

Bass – Nolan Struck
Drums – Ray Allison (tracks: A2 - A5, B1 - B5)
Guitar – Jimmy Johnson
Guitar [Lead] – Buster Benton
Harmonica – Carey Bell
Piano – Lafayette Leake
Saxophone [Tenor] – Ron Scott
Vocals – Buster Benton

Buster Benton (July 19, 1932 – January 20, 1996) was an American blues guitarist and singer, who played guitar in Willie Dixon's Blues All-Stars, and is best known for his solo rendition of the Dixon-penned song "Spider in My Stew." He was tenacious and in the latter part of his lengthy career, despite the amputation of parts of both his legs, Benton never stopped playing his own version of Chicago blues.
Dixon was credited as the songwriter of Benton's best known song, "Spider in My Stew." Released on the Shreveport-based Jewel Records label, it gave Benton a modicum of fame, and his 1974 follow-up, "Money Is the Name of the Game," helped to cement his standing. Benton's 1978 effort for Jewel's Ronn Records subsidiary (also titled Spider in My Stew) became recognized as one of the more engaging Chicago blues albums of its time.
Benton recorded three further albums on the Ichiban label, but in comparison to his work on the Ronn label, they were uncommercial. One such LP offering was 1989's, Money's The Name of The Game, produced by Gary B.B. Coleman. Benton also issued a record on the Blue Phoenix label. Benton's fortitude did not go unnoticed. He suffered from the effects of diabetes and received dialysis for the final years of his life. In addition, in 1993, part of his right leg was amputated due to poor circulation, having already lost a portion of the other some ten years previously. He soldiered on, playing his brand of the blues up to his death. However, as journalist, Tony Russell, stated in his book The Blues: From Robert Johnson to Robert Cray, Benton "never found another money spider".
Benton died in January 1996, in Chicago, from the effects of diabetes, at age 63. His work has appeared on a number of compilation albums, including Chicago Blues Festival: 1969-1986 (2001) --- smokestacklightnin.com
download (mp3 @320 kbs):
yandex 4shared mega mediafire uloz.to cloudmailru uptobox ge.tt