Little Sonny - New King Of Blues Harmonica (1970)
Little Sonny - New King Of Blues Harmonica (1970)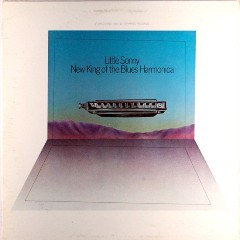 1.Baby, What You Want Me To Do 	3:54
2.Eli's Pork Chop 	6:39
3.Hey Little Girl 	2:38
4.Hot Potato 	3:11
5.Don't Ask Me No Questions 	3:58
6.Tomorrow's Blues Today 	2:45
7.Back Down Yonder 	2:43
8.Sad Funk 	3:04
9.The Creeper Returns 	4:12
10.Goin' Down Slow (*)	5:32

George Davidson - Drums
Leroy Emanuel - Guitar
Willie Hampton - Guitar
Little Sonny - Guitar, Harmonica, Vocals
Richard Lovelace - Bass
Rudy Robinson - Keyboards, Producer
Aaron G. Willis, Jr. - Guitar
Eddie Willis - Guitar 

New King of Blues Harmonica, the first album recorded by Little Sonny, finds the harpist living up to his name, turning out a hard-driving collection of Chicago blues. At times, he's a little too hung up on sounding like Sonny Boy Williamson, but for the most part, this is thoroughly enjoyable, high-octane Chicago blues. However, the presence of an organ on most of the record may be a little distracting for purists. ---Thom Owens, AllMusic Review
The Stax empire wasn't exactly renowned for its legion of blues harpists, but Little Sonny found the Memphis firm quite an agreeable home during the early '70s (he even appeared in the label's grandiose concert film, Wattstax, albeit very briefly).
Little Sonny, whose birth name is Aaron Willis, is a product of Detroit's blues scene. He moved to the Motor City in 1953 after growing up on his dad's farm in Alabama (his mom gave him his nickname). When Little Sonny wasn't working local haunts with John Lee Hooker, Eddie Burns, Eddie Kirkland, Baby Boy Warren, or Washboard Willie (who gave him his first paying gig), he was snapping photos of the patrons for half a buck a snap.
Sonny Boy Williamson rambled through town in 1955 and gave Willis some valuable pointers. In 1958, Sonny made his blues recording debut, cutting for both Duke ("I Gotta Find My Baby") and local entrepreneur Joe Von Battle, who leased Little Sonny's "Love Shock" to Nashville's Excello imprint.
The harpist acquired a two-track tape machine and took matters into his own hands during the early '60s, helming his tiny Speedway label. He leased "The Creeper" and "Latin Soul" to Detroit's Revilot Records (his labelmates included Darrell Banks and George Clinton's Parliament) in 1966. That set the stage for his joining Stax's Enterprise label in 1970; his first album was the largely instrumental New King of Blues Harmonica -- a rather brash boast for a relative unknown.
Two more Enterprise sets that more effectively featured Little Sonny's vocal talents soon followed: Black & Blue and 1973's Hard Goin' Up, the latter distinguished by the Bettye Crutcher-penned "It's Hard Goin' Up (But Twice as Hard Coming Down)" and a variety of other soul-inflected tracks. Not much was heard from the harpist until the British Sequel imprint released Sonny Side Up in 1995. His backing crew included keyboardist Rudy Robinson and guitarist Aaron Willis, Jr., (his son) both of whom graced Hard Goin' Up more than two decades before. --- Bill Dahl, allmusic.com
download (mp3 @VBR kbs):