Little Freddie King - Messin' Around Tha House (2008)
Little Freddie King - Messin' Around Tha House (2008)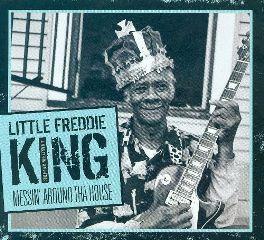 1 	Messin' Around Tha House (Remix) 	5:01
2 	Can't Do Nothing Babe 	5:12
3 	Dig Me A Hole (Remix) 	3:14
4 	Goin Out Da Mountain 	6:37
5 	Sad Sad News (Remix) 	3:05
6 	The Things I Use To Do 	5:27
7 	Kinghead Shuffle 	3:51
8 	Bad News 	7:09
9 	Goin' Upstairs 	5:15
10 	Washerteria Woman 	9:16

Bass – Anthony "Skeet" Anderson
Drums – "Wacko" Wade Wright
Harmonica – Bobby Lewis Ditullio
Lead Guitar And Vvocal – Little Freddie King

LITTLE FREDDIE KING – Master "JukeBlues" Musician. If you want the real blues – and I'm not talkin' about some long-haired hippy beatin' on a National Resonator guitar or a mustachioed, Italian-suited slickster blowin' on a chromatic harmonica – baby, you'd better call Little Freddie King. Normally only seen once a month at B.J.'s, a lounge located in the lowest bowels of the Ninth Ward where he shares floor space with a pool table and various carpet remnants, don't think for a second that his band won't be able to create the proper mood without their usual scrappy surroundings. The minute Freddie straps on his guitar and strikes up his gnarled chord and drummer "Wacko" Wade makes his presence known with a definitive cymbal crash, this lean, mean, swampy aggregation of gut-bucket wild men transforms the poshest of venues into a back-o-town beer joint.
Born in McComb, Mississippi in 1940, Fread Martin grew up playing alongside his blues guitar-picking father, then rode the rails to New Orleans during the early fifties where he crossed paths with itinerant South Louisiana blues man such as Polka Dot Slim and Boogie Bill Webb whose unique country-cum-urban styles would influence his own. Honing his guitar chops at notorious joints like the Bucket Of Blood (which he later immortalized in song), he jammed and gigged with Bo Diddley and John Lee Hooker, and also played bass fro Freddy King during one of the guitarist's stints in New Orleans. People began comparing the two musicians' styles, hence Martin's nome-de-plume. While well-versed in a variety of styles, nowadays Little Freddie sounds a lot more like his cousin Lightin' Hopkins – albeit after a three day corn liquor bender! Nevertheless, the King sobriquet is fitting, as Freddie is undeniably the monarch of the Crescent City blues scene.
Freddie's mid-sixties recording debut – an unreleased session for Booker/Invicta Records – is one that will seemingly live forever in blues infamy. The very same notorious basement set-up that released so many killer discs by gospel guitar-slinger the Reverend Charlie Jackson – as well as below-the-radar classics by the Zion Harmonizers, the Rocks Of Harmony and Sister Alberta – the pairing of label and artist could hardly have been more perfect. If the lost tape is ever discovered, it'll be a watershed day in musical history, so start digging!!
Slightly easier to find, but occasionally almost as elusive, is Freddie's actual debut, a 1971 LP on New Orleans' Ahura Mazda Records on which he shared billing with his band mate John S. "Harmonica" Williams. Unofficially titled Rock and Roll Blues, the nine original songs that make up the LP are raw, gut-wrenching and filled with passion. "Born Dead" is an unbelievable survey of racism in Mississippi courtesy of vocalist Newton Greer, while Williams and King are featured strongly throughout. Freddie contributes two rocking instrumentals, "Sideways" and "The Kings' Special." While it was a milestone in New Orleans blues, the album's potent nastiness went under appreciated at the time. Leave it to Little Freddie to resurface 36 years later with Swamp Boogie (Orleans), an album of purely original material (notable titles are "The Great Chinese" and "Cat Squall Blues") that features the likes of Earl "Pass The Hatchet" Stanley on bass! He followed it in 2000 with Sing Sang Sung, a greasy live set that documented more New Orleans street poetry like "Bad Chicken" and the aforementioned "Bucket of Blood."
Reviewing Sing Sang Sung for Offbeat Magazine. Local blues writer Robert Fontenot captured the Little Freddie phenomena perfectly: "It ain't pretty…You can practically smell the Chinese food and chicken coming from Chun King …the slop bucket wheeze put out on his cover of King Curtis's "Soul Twist" is potent enough to turn George W. Bush into the Godfather of Soul. It's THAT country and THAT ghetto." And that's about all you need to know, except that Freddie inked a deal with Fat Possum Records awhile back and his long-awaited latest You Don't Know What I Know – which contains his genius "Crackhead Joe" – was released in April (05). We've said it before and we'll say it again: Little Freddie is in the house!! ---cdbaby.com
download (mp3 @320 kbs):
yandex mediafire ulozto solidfiles global.files
Last Updated (Tuesday, 06 April 2021 13:06)