Chuck Brown & Eva Cassidy - The Other Side (1992)
Chuck Brown & Eva Cassidy - The Other Side (1992)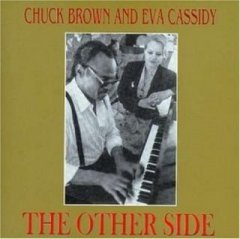 1. Let The Good Times Roll
2. Fever
3. You Don't Know Me
4. I Could Have Told You So
5. Gee Baby, Ain't I Good To You
6. I'll Go Crazy
7. You Don't Know What Love Is
8. Drown In My Own Tears
9. God Bless The Child
10. Red Top
11. Dark End Of The Street, The
12. Shadow Of Your Smile, The
13. Over The Rainbow
14. You've Changed 

Chuck Brown (vocals, guitar); Eva Cassidy (vocals, guitar, keyboards); Keith Grimes, 
Dave Lourim (guitar); Dan Cassidy (violin); Matthew Allen (strings); Philip Jehle (clarinet); 
Tom Crawford, Donnell Floyd, C.J. (saxophone); Gilbert Pryor, The Reverend Pope, 
"Little" Benny Harley (trumpet); Roy Battle (trombone); Lenny Williams (piano, vibes); 
Mark "Godfather" Lawson (organ); Kent Wood (organ, synthesizer); Chris Biondo (bass, congas); 
Keter Betts (upright bass); Raice McLeod, Jim Campbell, Ju Ju House (drums); 
William Cook (congas); Darryl Andrews (percussion).

Online CD shops where you can sample tracks before purchasing the disc are especially helpful with Chuck Brown, whose music is rarely programmed on radio. The Other Side consists of '40s and '50s supper-club sounds. Eva Cassidy sings on more than half of the tracks, soloing and performing a number of duets, including "You Don't Know Me," "I Could Have Told You So," and "I'll Go Crazy." The '60s deep soul classic "Dark End of the Street" is the most modern song. Lovers of '50s MOR will love this release; everyone else, will not. --- Andrew Hamilton, allmusic.com
download (mp3 @128 kbs):
yandex mega mediafire ulozto gett bayfiles
Last Updated (Thursday, 21 January 2021 09:48)