Memphis Slim - Boogie For My Friends (2002)
Memphis Slim - Boogie For My Friends (2002)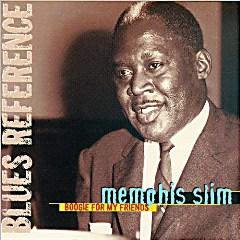 01 - Boogie For Roosevelt
02 - Going Back To Memphis
03 - Boogie For Pinetop
04 - Boogie For Pete
05 - Roll And Tumble
06 - Boogie For Albert
07 - Boogie For Meade
08 - Boogie For Sammy
09 - Slim's Blues
10 - Boogie For Jay
11 - Boogie For Lloyd
12 - Boogie For Willie
13 - Showmaker Blues
14 - Boogie For Eddie
15 - Boogie For Jimmy
16 - Boogie For Otis
17 - Boogie For Booker T.
18 - Boogie For Cow Cow

Label: Black & Blue, 454.2, 2002

- tracks 1-5, 15-16
Memphis Slim, vocal, piano.
Recorded April 15, 1986 at Sysmo Studio in Paris, France

- tracks 6-14, 17-18
Memphis Slim, vocal, piano
Bob Stroger, bass
Odie Payne, drums
Recorded November 21, 1983 at Davout Studio in Paris, France

Memphis Slim was one of the early boogie woogie players back when that piano craze first started in USA in the 1930's.
Memphis Slim took his name from Memphis, where he was born and raised. Memphis Slim got his start playing the blues at the Midway Café, at 357 Beale Street (southeast corner of Fourth and Beale Street's) in Memphis in 1931. After his early career in Memphis, where he emulated barrelhouse piano players like Roosevelt Sykes and Speckled Red, he moved to Chicago, Illinois and recorded for Okeh Records (as Peter Chatman & His Washboard Band) in 1940. The same year he also recorded for Bluebird Records as Memphis Slim. He played piano as Big Bill Broonzy's partner until 1944. Broonzy, also a sophisticated performer, urged him to develop his own style. Big Bill and Charlie Segar are usually credited for writing the blues classic, "Key to the Highway." This polish gave Memphis Slim opportunities not only in the juke joints he had been playing, but also in the "uptown" nightclubs.
Slim left the United States for good in 1962. Slim lived in France most of his days and conditions there were much better for him than in the South during the days of segregation.
The club they were playing, which is no longer extant, was an old nightclub called the El Morocco, which in it's last days was used for square dancing and was available for rent for larger events as it would hold quite a large crowd and had a big dance floor. This night the place was packed and everybody there was excited to see the return of Memphis Slim. Slim put on a tremendous show and played one of my favorite classic blues, "Everyday I have the Blues," which he wrote.
Memphis Slim died on February 24, 1988, of renal failure in Paris, France, at the age of 72. --- mly3.blogspot.com
download: uploaded yandex 4shared mediafire solidfiles mega zalivalka filecloudio anonfiles oboom