R.L.Burnside - Mississippi Hill Country Blues 1967-84 [2000]
R.L.Burnside - Mississippi Hill Country Blues 1967-84 [2000]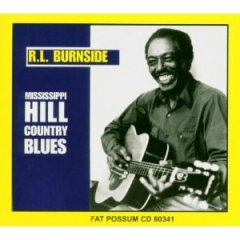 01. Miss Maybelle             play
02. House Up On The Hill
03. Gone So Long
04. Skinny Woman
05. See What My Buddy Done
06. Don't Care How Long You're Gone
07. Lost Without Your Love
08. Shake 'Em On Down
09. Bad Luck And Trouble
10. Just Like A Woman
11. Greyhound Bus Station
12. Crying Won't Make Me Stay
13. Rolling And Tumbling
14. Mellow Peaches
15. I Believe
16. Poor Boy                  play
17. Poor Black Mattie
18. Jumper On The Line
19. Long Haired Doney

Personnel: 
R.L. Burnside (vocals, guitar); Red Ramsey (harmonica).

There isn't a blues artist alive today that can harness mercurial gutbucket chaos like R.L. Burnside. His take on the droning, circular guitar riffs indigenous to the blues of the north Mississippi hill country, coupled with his electric band's skull-crushing power, is enough to send listeners into hypnotic convulsions of rapture. However, MISSISSIPPI HILL COUNTRY BLUES, culled from sessions in the late 1960s and early 1980s, features Burnside solo on acoustic guitar. The results, stark and clear in the absence of his customary distortion and sonic upheaval, are spectacular.
Though the performances here are as intense as his electric sets, this album's spare aesthetic makes it possible to concentrate closely on Burnside's intricate guitar technique, which sets repeating motifs and rhythms against each other to create a seemingly ragged yet tightly controlled propulsive energy. The 19-song track list includes several Burnside favorites, including "Poor Black Mattie," and a fierce slide treatment of "Shake 'Em on Down." The lesser-known "Skinny Woman" and "Jumper on the Line" are no less compelling. Superior production, highlighting Burnside's playing and his no-nonsense, freely phrased singing, makes MISSISSIPPI HILL COUNTRY BLUES a must for fans, and an excellent introduction for the uninitiated.
download:   yandex mega mediafire
Last Updated (Wednesday, 07 October 2015 08:49)