Willie Dixon - Willie's Blues (1959)
Willie Dixon - Willie's Blues (1959)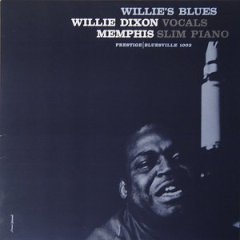 1. Nervous
2. Good Understanding
3. That's My Baby
4. Slim's Thing
5. That's All I Want Baby	play
6. Don't You Tell Nobody
7. Youth To You
8. Sittin' And Cryin' The Blues
9. Built For Comfort
10. I Got A Razor
11. Go Easy
12. Move Me			play

Personnel: 
Willie Dixon (vocals, bass); 
Memphis Slim (piano); 
Wally Richardson (guitar); 
Al Ashby (tenor saxophone); 
Gus Johnson (drums).

Willie Dixon's first album under his own name is a tasty, if rather curious affair. It was recorded at the dawn of the first great blues revival, before white college kids like the Rolling Stones started plugging their guitars into amps and emulating Muddy Waters and Howlin Wolf. In fact, WILLIE'S BLUES is what those two artists might have sounded like had they been recorded in a jazz setting.
The lack of harmonica is unsettling, although Al Ashby's tenor sax fills in manfully, and the sound is eerily clean--one waits in vain for that great Chess Records reverb. All in all, the album is rather more laid back than you might have expected. For want of a better term, it's almost lounge blues, with the notable exceptions of "Slim's Thing," a great boogie woogie workout that gives co-conspirator Memphis Slim a chance to strut his stuff on piano, and a chugging version of Howlin' Wolf's "Built for Comfort." ---cduniverse.com
download:  uploaded anonfiles mega 4shared mixturecloud yandex mediafire ziddu
Last Updated (Saturday, 20 July 2013 10:13)