ZZ Top – Afterburner (1985)
ZZ Top – Afterburner (1985)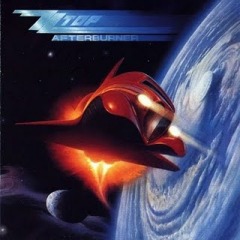 01 - Sleeping Bag 
02 - Stages 
03 - Woke Up with Wood 
04 - Rough Boy 
05 - Can't Stop Rockin'                   play
06 - Planet of Women 
07 - I Got the Message 
08 - Velcro Fly 
09 - Dipping Low (In the Lap of Luxury)   play
10 – Delirious

ZZ Top: 
Billy Gibbons (vocals, guitar); 
Dusty Hill (vocals, bass guitar); 
Frank Beard (drums).

After scoring its biggest hit ever with its eighth release, 1983's polished ELIMINATOR, ZZ Top decided to continue in the same mainstream direction for its next release two years later, AFTERBURNER. Another big hit for the band, the album did spawn several hits, yet wasn't as strong overall as its predecessor.
It was impossible to avoid the following ZZ hits on either MTV or radio between 1985-'86--the ballad "Rough Boy" (which innovative video was based on AFTERBURNER's space-age cover art), the synth stomper "Velcro Fly," the melodic "Sleeping Bag," or the rocking "Stages." 15 years after the band's debut release, AFTERBURNER found ZZ Top more popular than ever.
download:   uploaded anonfiles mega 4shared mixturecloud yandex mediafire ziddu
Last Updated (Thursday, 25 July 2013 19:48)