Paco De Lucia (4)
Paco De Lucia
1. Concierto de Aranjuez solo duo & trio (Flv)
270 MB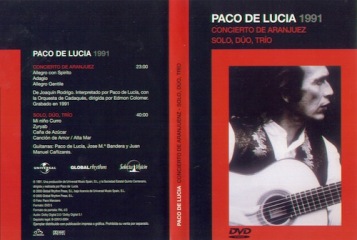 Concierto de Aranjuez:
- Allegro
- Adagio
- Allegro gentile

Solo, Duo, Trio:
-Mi Nino Curro
-Zyryab
-Cana de Azucar
-Cancion de Amor/Alta Mar

Paco De Lucia – guitar
Jose Mª Bandera, Juan Manuel Cañizares - guitar
Orquesta de Cadaques
Edmond Colomer – director

Teatro Bulevard del Ayutamiento de Torrelodones

The Concierto de Aranjuez is a composition for classical guitar and orchestra by the Spanish composer Joaquín Rodrigo. Written in 1939, it is probably Rodrigo's best-known work, and its success established his reputation as one of the most significant Spanish composers of the twentieth century.
download:   yandex 4shared mega anonfiles mixturecloud
2. Paco de Lucia & Group 1996 (Flv)
430 MB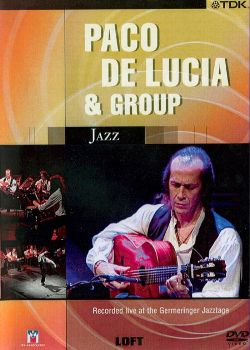 Mi Nino curro
El panuelo
Alcazar de Sevilla 
Playa del Carmen 
Zyryab 
Buana, Buana, King Kong

Line Up:
Paco de Lucia, Ramon de Algeciras, Juan Manuel Canizares, guitar ; 
Pepe de Lucia, vocals ; 
Carles Benavent, bass ;
Jorge Pardo, flute, saxophone ; 
Rubem Dantas, percussion ; 
Hoaquin Grilo, dancer.

Paco de Lucía, born Francisco Sánchez Gómez (in Algeciras, Cádiz on December 21, 1947), is a Spanish virtuoso flamenco guitarist and composer. He is considered by many to be one of the finest guitarists in the world and the greatest guitarist of the flamenco genre. He is noted in particular for his dexterity, technique and strength in his right hand, capable of executing extremely fast and fluent picados.
He is a leading proponent of the Modern Flamenco style, and is one of the very few flamenco guitarists who has also successfully crossed over into other genres of music such as classical and jazz. He is the winner of the 2004 Prince of Asturias Awards in Arts and in 2010 was awarded an honorary doctorate by Berklee College of Music in Boston.
download:   yandex 4shared anonfiles mixturecloud mega
3. Pula, Croatia 2006 (Flv)
280 MB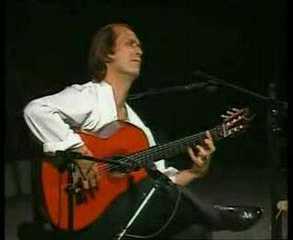 Callejon del murro
La barrosa
Palenque
Cancion de amor
Cositas buenas
Zyryab

Line-Up:
Paco de Lucia
Victoria Santiago Borja
Montserrat Cortez Fernadez
Israel Suarez Escobar
Antonio Serrano Dalmas
Alain Perez Rodriguez
Juan Jose Heredia
Juan Rafael  Cortes Santiago

Histria Festival, 1.07.2006

download:   yandex 4shared mega mixturecloud anonfiles
4. Moscow 2010 (Flv)
340 MB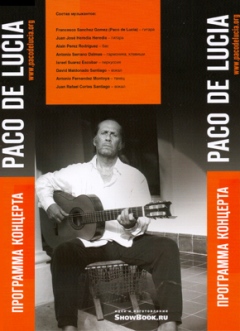 Line-Up:
Paco de Lucia 
Juan Jose Heredia
Alain Perez Rodriguez
Antonio Serrano Dalmas
Israel Suarez Escobar
Juan Rafael  Cortes Santiago
Antonio Fernandez Montoya
Daniel Maldonada Santiago

Paco de Lucia is a true gem, self-educated. He started learning notes when he was fourty. Paco de Lucia plays both classic and modern flamenco, ad is considered as one of the flamenco style co-founders. But even being the world-famous musician, Paco de Lucia continues to think that there is no limit to perfection
He still practices 10-12 hours per day and doesn't get tired from perfecting his art. But his is not only a hard worker but also quite original. He even has his own posture sitting on stage. His signature "leg on leg" pose is not the only invention of Paco de Lucia. He always has something to add to the mix and to surprise the public. Paco de Lucia is considered to not only be a genius guitarist, but also a founder of "new flamenco". At the same time, maestro is not in a hurry to look for followers and students. He says: "Road of flamenco music is a road without discipline. We do not go to school to learn flamenco. We simply live, and music is everywhere in our lives".
download:   yandex 4shared anonfiles mixturecloud mega
Last Updated (Monday, 03 June 2013 22:55)