Alfred Schnittke – Symphony No.1 (Segerstam) [2009]
Alfred Schnittke – Symphony No.1 (Segerstam) [2009]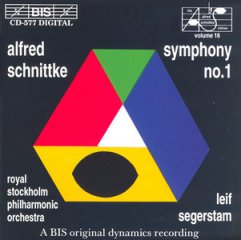 01. First Movement (21:24)
02. Second Movement (14:48)
03. Third Movement (9:00)          play
04. Fourth Movement (27:15)
05. Applause (4:20)

Stockholm Philharmonic Orchestra
Leif Segerstam – conductor

Schnittke (b. 1934) is a Russian composer living in Germany and his music comes from all over Europe, ranging back three centuries if it wants to. His Symphony 1 is a harrowing collage of European musical motifs (not actual quotes), but he's got the last three centuries and all those cultures thrown into the mix. The first movement is particularly brilliant with clashing bells, rising to an ecstatic pitch. The following movements each take their turn with Schnittke's alchemistry. Schnittke's a difficult composer to get to know, but this particular symphony (and this recording) is a good place to start. -- Paul Cook
Schnittke himself noted: " While composing the symphony for four years, I simultaneously worked on the music to M. Romm's film I Believe.... Together with the shooting crew I looked through thousands of meters of documentary film. Gradually they formed in my mind a seemingly chaotic but inwardly orderly chronicle of the 20th century."
The First Symphony of the Russian composer Alfred Schnittke was written between 1969 and 1974.
Scored for a very large orchestra, it is recognised as one of Schnittke's most extreme essays in aleatoric music: from the outset the piece is loud, brash and chaotic, and it imports motifs from all parts of the Western classical tradition. Schnittke includes a choreography for the musicians themselves, and in a manner similar to Haydn's Farewell Symphony, leave and re-enter the stage at points marked in the score.
The symphony was premiered on 9 February 1974, in Gorky (Nizhny Novgorod). The Gorky Philharmonic Orchestra was conducted by Gennadi Rozhdestvensky.
download: uploaded yandex 4shared divshare mediafire solidfiles mega zalivalka filecloudio anonfiles oboom
Last Updated (Friday, 25 April 2014 14:49)