Polish Dances for harpsichord and piano (2011)
Polish Dances for harpsichord and piano (2011)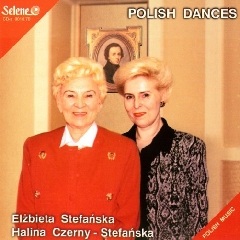 1. Anonymous Dance 'Jeszcze Marcinie' ( 1537-1548) (1:37)
2. Anonymous Dance ' Poznania' ( 1537-1548) (1:02)
3. Anonymous Dance 'Hajducki' (1537-1548) (1:01)
4. Anonymous Dance (1537-1548) (2:12)
5. Anonymous Dance 'Dobry Taniec Polski' (1585) (1:10)
6. Anonymous Polish Dance (1598) (0:29)
7. Anonymous Polish Dance (1592) (0:46)
8. Anonymous Polish Dance (1592) (0:49)
9. Anonymous Volta Polonica (1615) (0:48)
10. Jakub Polak Gagliarda (1617) (0:52)
11. Jakub Polak Courante (1612) (1:05)
12. Anonymous Polonaise 'Wezme Ja Kontusz' (XVIii) (0:40)
13. Anonymous Polish Dance (XVIii) (1:09)
14. Anonymous Saltus Polonicus ( 1742) (1:19)
15. Anonymous Polonez Staroszlachecki' (1823) (0:56)
16. Anonymous Oswiadczyny Staroszlacheckie' (1873) (0:53)
17. Anonymous Polones 'Bednarz' ( XVIii) (2:00)
18. Anonymous Polonaise (XVIii) (3:04)
19. Bazyli Bohdanowicz Polonese Nr 6 (1785) (2:38)
20. Tadeusz Kościuszko Polonaise 'Podroz Twoja Nam Nie Mila' (2:34)
21. Michal Kleofas Ogiński Polonaise 'Pozegnanie Ojczyzny' (2:53)
22. Michal Kleofas Ogiński Tempo Di Menuetto (2:55)
23. Michal Kleofas Ogiński Valse No 1 (1:41)
24. Maria Szymanowska Quadrille (1:25)
25. Maria Szymanowska Anglaise No 3 (0:58)
26. Maria Szymanowska Anglaise No 1 (1:02)
27. Fryderyk Chopin Polonaise In A Major, Op. 40 No. 1 (6:25)
28. Fryderyk Chopin Mazurka In G Minor, Op. 24 No. 1 (2:28)
29. Fryderyk Chopin Mazurka In C Major, Op. 24 No. 2 (2:18)
30. Fryderyk Chopin Mazurka In A Flat Major, Op. 24 No. 3 (2:08)
31. Fryderyk Chopin Mazurka In B Flat Minor, Op. 24 No. 4 (4:15)
32. Juliusz Zarębski Grande Polonaise Op. 6 (10:32)
33. Ignacy Jan Paderewski Krakowiak In B Flat Major, Op. 5 No. 3 (3:40)
34. Ignacy Jan Paderewski Cracovienne Fantastique In B Major, Op 14 No. 6 (3:18)

Elżbieta Stefańska - clavecin (tracks 1-26)
Halina Czerny-Stefańska - piano (tracks 27-34)

Halina Czerny-Stefańska (1922 - 2001) – winner first prize IV Fryderyk Chopin International Piano Competition in Warsaw (1949). She spent the German occupation in Kraków, where she performed in private and secret concerts, with her father and her husband, the pianist Ludwik Stefański among others and also played dance accompaniments for kindergarten classes.
First prize in the Chopin Competition certainly facilitated the launch of her artistic career, but it didn't guarantee her international success. Halina Czerny-Stefańska credits her high international stature to talent and everyday hard work. She performed publicly until the end of her days, maintaining great shape.
For over half a century Halina Czerny-Stefańska's talents have amazed the whole musical world. Proof of this enthralment are the concert reviews written in several dozen languages.
Halina Czerny-Stefańska's performances were not limited to solo concerts. She also played in chamber orchestra's with cellists (Chopin's works), in piano duets with her husband, Bella Davidovich and Rinko Kobayashi as well as her daughter, the pianist and harpsichordist, Elżbieta Stefańska, performing works for harpsichord and piano, for two pianos or four hands.---Stanisław Dybowski, en.chopin.nifc.pl
Halina Czerny-Stefańska (1922 - 2001) – laureatka I nagrody IV Międzynarodowego Konkursu Pianistycznego im. Fryderyka Chopina w Warszawie (1949). Lata okupacji niemieckiej pianistka spędziła w Krakowie, gdzie występowała na prywatnych i konspiracyjnych koncertach m.in. z ojcem, a także z mężem Ludwikiem Stefańskim (pianistą) oraz grywała do tańca w przedszkolu. Pierwsza nagroda pianistki na liczącym się Konkursie Chopinowskim z pewnością ułatwiła jej start artystyczny, ale nie przesądziła o międzynarodowej karierze. Swą wysoką pozycję w świecie Halina Czerny-Stefańska zawdzięcza talentowi i codziennej, uporczywej pracy. Do końca swych dni występowała publicznie, zachowując świetną kondycję pianistyczną.
Przez ponad pół wieku talent Haliny Czerny-Stefańskiej był podziwiany przez cały świat muzyczny, a dowodem tego podziwu są recenzje jej koncertów zapisane w kilkudziesięciu językach.
Działalność koncertowa Haliny Czerny-Stefańskiej nie ograniczała się wyłącznie do występów solowych. Uprawiała także muzykę kameralną z wiolonczelistami (dzieła Chopina), w duecie fortepianowym z mężem, Bellą Dawidowicz i Rinko Kobayashi, oraz z córką, klawesynistką i pianistką, Elżbietą Stefańską, wykonując utwory na klawesyn i fortepian, na dwa fortepiany oraz na 4 ręce. ---Stanisław Dybowski, pl.chopin.nifc.pl
download (mp3 @320 kbs):
yandex 4shared mega mediafire uloz.to cloudmailru uptobox ge.tt
Last Updated (Thursday, 20 April 2017 16:22)