Lucia Popp - The Very Best of Lucia Popp (2003)
Lucia Popp - The Very Best of Lucia Popp (2003)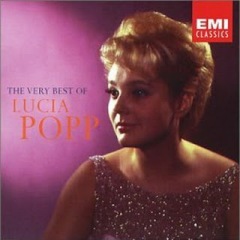 Disc 1
01. Rusalka: Song to the Moon (Act I)
02. Prodaná Nevesta (The Bartered Bride): Kdybych se co takového (Should I ever happen to learn) (Act 1)
03. Dalibor: Jak je mi? ( How confused I feel!) (Act 2)
04. Peer Gynt - Incidental Music Op. 23: Solveig's Song Sir Neville Marriner
05. Peer Gynt - Incidental Music Op. 23: Solveig's Cradle Song Sir Neville Marriner
06. Carmina Burana Amor volat undique Rafael Frühbeck
07. Carmina Burana Stetit puella Rafael Frühbeck De BurgosNew Philharmonia OrchestraNew Philharmonia ChorusWandsworth School Boys' ChoirLucia Popp
08. Carmina Burana In trutina Rafael Frühbeck De BurgosNew Philharmonia OrchestraNew Philharmonia ChorusWandsworth School Boys' ChoirLucia Popp
09. Vier letzte Lieder (Four Last Songs) AV150 (Op. posth): I. Frühling (Hesse) Klaus Tennstedt
10. Vier letzte Lieder (Four Last Songs) AV150 (Op. posth): II. September (Hesse) Klaus Tennstedt
11. Vier letzte Lieder (Four Last Songs) AV150 (Op. posth): III. Beim Schlafengehen (Hesse) Klaus Tennstedt
12. Vier letzte Lieder (Four Last Songs) AV150 (Op. posth): IV. Im Abendrot (Eichendorff) Klaus Tennstedt
13. Symphony No. 4 in G: IV. Sehr behaglich [with soprano solo]
14. Eugene Onegin: Pooskai pogibnoo ya (Tatiana's letter scene) (Act 1)

Disc 2
01. Serse Hwvv40 (1967 Digital Remaster): Un Cenno Leggiadretto (Act 1)
02. Rodelinda HWV19 Hò perduto il caro sposo (Act I)
03. Joshua HWV64 O had I Jubal's lyre
04. Vesperae solennes de confessore in C, 'Solemn Vespers' K339 (Laudate Dominum English Chamber Orchestra
05. Die Entführung aus dem Serail K384 (1989 Digital Remaster), ACT 2: Welche Wonne, welche Lust (Blonde) Wiener PhilharmonikerJosef Krips
06. Le nozze di Figaro, Act II: Aria: Porgi amor
07. Le Nozze di Figaro K492: Voi che sapete
08. Le Nozze di Figaro K492: Giunse alfin il momento
09. Don Giovanni: Crudele?...Non mir dir
10. Così fan tutte K588: Come scoglio Leonard Slatkinr
11. Così Fan Tutte K588 (1991 Digital Remaster), Atto SecondoAct TwoZweiter AktDeuxième Acte, Scena PrimaScene OneErste SzenePremière Scène: No. 19
 Aria: Una Donna A Quindici Anni (Despina) New Philharmonia Orchestra Otto Klemperer
12. Die Zauberflöte, '(The) Magic Flute' K620 (2000 Digital Remaster), ACT 2: Arie: Der Hölle Rache kocht in meinem Herzen (Königin) Philharmonia Orchestra Otto Klemperer
13. Die Zauberflöte K620, Act II: Ach, ich fühl's, es ist entschwunden (Pamina) Symphonieorchester des Bayerischen Rundfunks Bernard Haitink
14. Petite messe solennelle: Crucifixus Katia LabèqueMarielle LabèqueDavid BriggsStephen Cleobury
15. Die Forelle D550 Irwin Gage
16. Gretchen am Spinnrade D118 Irwin Gage
17. An Silvia D891 Irwin Gage
18. Acht Lieder aus Letzte Blätter Op. 10: Zueignung Wolfgang Sawallisch
19. Die Lustige Witwe (Léon & Stein): Es lebt eine Vilja, ein Waldmägdelein (Vilja-Lied: Act 21 Ambrosian Opera ChorusAcademy of St Martin-in-the-FieldsSir Neville Marriner
20. Die Fledermaus, ACT 2: Klänge der Heimat! Placido Domingo

The esteemed Slovak-born Austrian soprano, Lucia Popp [originally: Lucia Poppová], after finishing school, studied medicine for two semesters. She began her career by training as an actress. Anna Hrusovska-Prosenkova, a voice teacher at the Academy, happened to hear her singing during a performance of Molière's Le Bourgeois Gentilhomme, and offered her voice lessons. Only then did she begin studying music and singing at the Conservatories of Brünn and Prague. She attended the Bratislava Music Academy for four years, completing course in general music and voice studies. She began her studies as a mezzo-soprano, but her voice quite suddenly developed a high upper register.
Lucia Popp made her stage debut as a singer at age 23 at the Bratislava Opera singing Queen of the Night in Mozart's Die Zauberflöte. In 1963 Herbert von Karajan heard her sing and engaged her on the spot to sing with the Vienna State Opera company. Her first appearances were so successful that before long she was offered a three-year contract with the Vienna State Opera. She started her engagement there in 1963, and became famous overnight singing the Queen of the Night, a role in which she was considered unsurpassed. In 1963 she sang also Barbarina in Le nozze di Figaro at the same opera hgouse. It was the role of Queen of the Night (or First Boy) with which she made her debut, also in 1963, at the Salzburg Festival, and was also recommended to conductor Otto Klemperer by English record producer Walter Legge, a recording she made in 1964.
Lucia Popp made her debut at Covent Garden Opera in London in 1966 as Oscar in Un ballo in maschera, and she has since performed there regularly. She sang the Metropolitan Opera in New York for the first time in February 1967, in Marc Chagall's production of Die Zauberflöte [3 seasons (1966-1967, 1969-1970, 1980-1981) 26 performances, 3 roles, 2 works]. The audience at La Scala in Milan discovered her in 1976 in the role of Sophie in Richard Strauss's Der Rosenkavalier, conducted by Carlos Kleiber. In 1983 she performed for the first time the title role in Arabella under the baton of Wolfgang Sawallisch. She created a sensation in her first appearance as the Marschallin in Der Rosenkavalier in 1985, and then had a triumphant success in the role of the Countess in Caoriccio in Salzburg in 1987.
But Lucia Popp realised that sustained fame would depend on more than just one role. So over the next ten years, while she continued singing the Queen of the Night, she also systematically prepared other lyric soprano roles in the Mozart (Zerline, Suzanne, Despina, Pamina, Ilia and Servilia in La Clemenza di Tito) and Richard Strauss (Sophie & Marschallin in Rosenkavalier, Arabella, Christine, and the Countess in Capriccio) canons. She was also a notable singer of Janácek. She began getting large contracts for lucrative guest performances at smaller theatres, where she could rehearse new roles in new productions. She has worked with such famous conductors as Leonard Bernstein, Lorin Maazel, Neville Marriner, Charles Mackerras, Rafael Kubelík, Bernard Haitink and Georg Solti. She participated in concert productions in Austria, Germany and England.
Lucia Popp has widened her repertoire by her experience in recordings (with such eminent conductors as Georg Solti, Raphael Frübeck de Burgos, Otto Klemperer, István Kertéz, John Pritchard and Joseph Krips), and through television. Many of her recordings have received international awards. The Vienna Philharmonic awarded her the "Silver Rose", an honour of which she was particularly proud.
Lucis Popp also had a successful concert and recital career. The lied occupies a special place in her repertoire. She has given recitals in America, Australia, Israel, South Africa, Great Britain, Austria, Italy, Switzerland and Germany. After a London Schubert recital the Daily Telegraph remarked: "... with her natural charm, she imbued the songs, which were mainly unfamiliar, with a degree of perfection that had only been realised until now by the great performers of the past".
In January 1979 Lucia Popp received the title of Kammersängerin in Vienna, and in 1983 she received the title of Bayerische Kammersängerin from the Bavarian State Opera in Munich. Lucia Popp was unquestionably at the height of her art when she passed away so prematurely in 1994 (of brain cancer).
It's well known that flashy, high, bright-timbered voices usually have trouble developing a warm tonal colour. But Lucia Popp was able to warm up her tone, which, with its sweet, meditative piano, English critic John Steane (in his book The Grand Tradition - Seventy Years of Singing on Record) compared to an oboe. Thus, from the Queen of the Night - probably the best exponent of the role on record (according to Steane) - Lucia Popp became a lyric singer with a dazzling technique, and further enriched the aural and colour possibilities of her voice by singing Lieder. --- bach-cantatas.com
download: uploaded yandex anonfiles 4shared mediafire solidfiles mega filecloudio nornar
Last Updated (Sunday, 02 February 2014 14:46)