Pisendel & Dresden – Virtuosic Violin Sonatas (2003)
Pisendel & Dresden – Virtuosic Violin Sonatas (2003)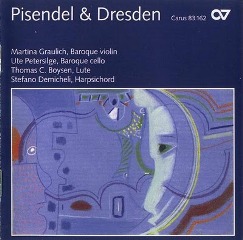 Johann Georg Pisendel:
1. Sonata for violin & continuo in E minor: Largo 
2. Sonata for violin & continuo in E minor: Moderato 
3. Sonata for violin & continuo in E minor: Scherzando 
Anonymous:
4. Sonata for violin & continuo in E flat major (scodatura tuning Bf Ef Bf Ef): Prelude: grave - presto 
5. Sonata for violin & continuo in E flat major (scodatura tuning Bf Ef Bf Ef): Aria tarde - Adagio 
6. Sonata for violin & continuo in E flat major (scodatura tuning Bf Ef Bf Ef): Passagalia: allegro - presto - Menuett 
7. Sonata for violin & continuo in E flat major (scodatura tuning Bf Ef Bf Ef): Final 
Johann Georg Pisendel:
8. Sonata for violin & continuo in D major: Allegro 
9. Sonata for violin & continuo in D major: Larghetto                play
10. Sonata for violin & continuo in D major: Allegro 
Johann David Heinichen:
11. Sonata for violin & continuo in C minor: Adagio 
12. Sonata for violin & continuo in C minor: Andante 
13. Sonata for violin & continuo in C minor: Affetuoso 
14. Sonata for violin & continuo in C minor: Allegro 
Wilhelm Friedemann Bach:
15. Keyboard Sonata in F major, F. 202 (BR A10): Allegro ma non troppo 
16. Keyboard Sonata in F major, F. 202 (BR A10): Larghetto 	
17. Keyboard Sonata in F major, F. 202 (BR A10): Presto 
Johann Georg Pisendel:
18. Sonata for Violin Solo in A minor: Largo 
19. Sonata for Violin Solo in A minor: Allegro 
20. Sonata for Violin Solo in A minor: Giga 
21. Sonata for Violin Solo in A minor: Variationen 
Johann Adolph Hasse:
22. Sonata for violin & continuo No. 6 in B flat major: Allegretto    play
23. Sonata for violin & continuo No. 6 in B flat major: Adagio 
24. Sonata for violin & continuo No. 6 in B flat major: Allegro 
25. Sonata for violin & continuo No. 6 in B flat major: Gavotte 
Johann Georg Pisendel:
26. Sonata for violin & continuo in E flat major (attrib.): Adagio 
27. Sonata for violin & continuo in E flat major (attrib.): Allegretto 
28. Sonata for violin & continuo in E flat major (attrib.): Larghetto 
29. Sonata for violin & continuo in E flat major (attrib.): Allegro

Martina Graulich, baroque violin
Ute Petersilge, baroque cello
Thomas C. Boysen, lute, theorbo, guitar
Stefano Demicheli, harpsichord

It seems we are in the middle of a 'Pisendel renaissance'. For it can hardly be a coincidence that over a period of just a year and a half no less than three recordings of music by Johann Georg Pisendel have come my way. Only a couple a months ago I reviewed a recording with compositions by Pisendel, played by Anton Steck (violin) and Christian Rieger (harpsichord). Early in 2003 a recording of some of Pisendel's sonatas by the British ensemble Il Serenissimo was released. Now Martina Graulich and a group of continuo players present another recording which features Pisendel, generally considered the greatest violinist in Germany in the time of Bach.
Fortunately these three recordings, notwithstanding the inevitable overlapping, are complementary. Whereas Anton Steck recorded some pieces which only recently could be identified as being composed by Pisendel, both Il Serenissimo and Martina Graulich present Pisendel's music within a historical framework. Il Serenissimo throws light on Pisendel's time in Italy, with some sonatas by Albinoni and Vivaldi, two composers Pisendel became acquainted with his stay, whereas Ms Graulich confronts Pisendel's music with compositions by his German contemporaries.
If one compares Pisendel's works with the other items on this disc, it becomes very clear how much he was ahead of his contemporaries. Without exception his sonatas are technically much more demanding than the other compositions played here. During a short period he took composition lessons from Johann David Heinichen, and one may assume that the Sonata in c minor has been played by Pisendel. Technically it is a much easier piece than his own works, but it is good to have a specimen of Heinichen's compositions for the violin. They are hardly ever played.
Another example of a rather uncomplicated work is the Sonata in B flat by Johann Adolf Hasse, whose main activity was in the field of opera. Only a handful of chamber music pieces are known, which are definitely composed by Hasse. This sonata is written in a strongly vocal style: the violin is treated like the human voice. It is definitely the least 'German' piece on the programme.
A strange work is the anonymous Sonata in E flat, in which the scordatura technique is applied. This was strongly favoured by Heinrich Ignaz Franz von Biber, who died in 1704. It must have been written some time after Biber's death though, considering the fact that it contains a 'modern' minuet. Unfortunately the liner notes don't tell us where the piece comes from, and why it has been included in this programme.
As far as the interpretations are concerned, I was not very happy with the performances of Il Serenissimo. Anton Steck, on the other hand, does full justice to the stylistic Pisendel's peculiarities. Martina Graulich's approach is comparable to Anton Steck's, but unfortunately she can't quite meet the technical requirements. Ms Graulich audibly struggles with the material and therefore her performance draws too much attention to the technical complexity of the music at the cost of its content. In particular in the first and last movements of the Sonata in D - both with the tempo indication 'allegro' - the technical demands are such that Ms Graulich produces a rather scratchy sound. Apart from that the last 'allegro' is too slow. Another unsatisfying movement is the 'allegro' from the Sonata for violin solo. One gets the impression that so much energy is put into getting the piece straight that nothing is left to give a real interpretation.
If one wants to hear Pisendel's music in full glory, Anton Steck's recording is the first choice. This recording can be recommended nonetheless. It is in confrontation with his contemporaries that Pisendel's greatness comes out. And in the less demanding items Ms Graulich and her colleagues give very convincing and eloquent performances. In particular the sonatas by Heinichen and Hasse and the keyboard sonata by Wilhelm Friedemann Bach are realised very well. --Johan van Veen
download: uploaded yandex 4shared mediafire solidfiles mega filecloudio nornar ziddu
Last Updated (Friday, 28 February 2014 17:54)