Rodion Shchedrin - The Left-Hander (2015)
Rodion Shchedrin - The Left-Hander (2015)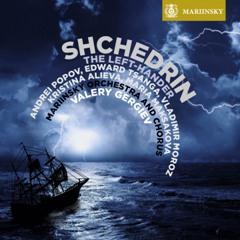 1 Act One I. The Winter Palace 03:24
2 Act One II. Ataman Platov's Story 02:55
3 Act One III. Inspection of the Armoury (Terzetto 05:46
4 Act One IV. The River Tulitsa (dissolve) 03:05
5 Act One V. Buckingham Parlace. Orchestral Interlude I 00:58
6 Act One VI. The Royal Presentation 04:00
7 Act One VII. Seven Turns of the Key. Orchestral Interlude II 00:41
8 Act One VIII. The Flea 02:07
9 Act One IX. Arioso of Alexander I and Scena 04:33
10 Act One X. Again in the Winter Palace (during the reign of Tsar Nicholas I) 03:00
11 Act One XI. A village in Tula and the Left-Hander's Rude Songs 03:20
12 Act One XII. Ataman Platov Arrives in Tula 04:43
13 Act One XIII. The Russians Refashion in the English Flea (Choral Interlude) 03:47
14 Act One XIV. Ataman Platov returns to Tula 03:56
15 Act One XV. The Journey from Tula to St Petersburg Orchestral Interlude III 01:42
16 Act One XVI. Ataman Platov and the Left-Hander Arrive at the Winter Palace 03:43
17 Act One XVII. The Microscope is brought in. Orchestral Interlude IV 00:48
18 Act One XVIII. The English Flea subjected to Russian Modification 02:12
19 Act One XIX. Finale 04:33

1 Act Two I. The Left-Hander and the Flea at Buckingham Palace 01:07
2 Act Two II. The Russified Flea 02:12
3 Act Two III. Delighted English Question the Left-Hander 07:15
4 Act Two IV. The English Brides (Love Canzonets) 04:02
5 Act Two V. Attempts at Persuasion (Recitative and Ensemble) 04:05
6 Act Two VI. Know How. Orchestral Interlude V 01:47
7 Act Two VII. How to Clean your Musket 03:14
8 Act Two VIII. A Vision of Russia 03:10
9 Act Two IX. The Left-Hander Sets Sail for Russia 07:35
10 Act Two X. The Storm. Orchestral Interlude VI 02:17
11 Act Two XI. Return to St Petersburg 04:01
12 Act Two XII. Final Scenes (Ordeal in the Infirmaries) 09:30
13 Act Two XIII. Epilogue 09:58

Andrei Popov - The Left-Hander
Edward Tsanga - Ataman Platov
Vladimir Moroz - Alexander I / Nicholas I
Kristina Alieva - The Flea
Maria Maksakova - Princess Charlotte
Mariinsky Orchestra & Chorus
Valery Gergiev – conductor

Specially written for Gergiev on the occasion of his 60th birthday, Rodion Shchedrin's The Left-Hander is a comedy of Russians and Englishmen, new technology, old traditions, and strong drink. The premiere was given by the Mariinsky Opera in St Petersburg in July 2013.
Rodion Shchedrin is one of music's greatest living humourists, and his work is laced with pitch-black irony and deadpan wit. Based on Nikolai Leskov's classical satirical novella of 1881, The Tale of Cross-Eyed Lefty From Tula and the Steel Flea, The Left-Hander is a gloriously wry exploration of Russia's relationship with the West in general and England in particular. --- mariinskylabel.com
Nikolay Leskov is probably best known to English readers, certainly to English music lovers, as the author of The Lady Macbeth of Mtsensk, the basis of Shostakovich's opera; but Russians would probably single out Levsha ('The Left-hander'), in full The Tale of the Cross-eyed Lefty from Tula and the Steel Flea. Essentially it is a satirical fantasy mocking both Russian and Western attitudes, with the brilliant Russian smith given the task of improving upon a mechanical flea almost too small to be seen so that a Russian deputation to the Court of St James can persuade the Brits of Russian technical superiority, while neglecting and even despising the clever craftsman. As Shchedrin puts it, a typical feature of the Russian national character: 'Innovative talent, resourcefulness…the eternal theme of power and the common man, the lack of demand for genius in the homeland.' Superfluous men, yet again.
There are indeed resonances here down the length of Russian history, and Shchedrin goes for his opportunities. Some are fairly straightforward: there is a brash send-up of the pomposity of Buckingham Palace but plenty of Slav nostalgia with folk instruments and, ironically, unaccompanied choral singing from the splendid Mariinsky Chorus mourning the inventor wholeheartedly – once he is safely dead. But the ironies are many-layered; and though these may seem to invite music, Shchedrin is sometimes defeated by them. He has much of the manner of Shostakovich at his most Gogol-like, and can hardly be blamed for not having quite such an individual acuteness of invention.
Valery Gergiev conducts a sharp performance, one fully alert to the satires that enmesh the work. The Flea itself is depicted by a nimble coloratura, Kristina Alieva, and its maker – something of a yurodivy, Russia's enduring Holy Fool – is affectingly sung by Andrey Popov. Vladimir Moroz sings eloquently as both Tsars, Alexander I and Nicholas I, strongly supported by Edward Tsanga as the Ataman (Commander) Platov, though Maria Maksakova goes rather over the top as Princess Charlotte. There is a hefty drinking contest in an impressive storm involving Andrei Spekhov as an English Under-Skipper belting out our national anthem in rivalry with the Left-Hander. The booklet has parallel Russian/English translations, with short (too short) essays also in French and German. --- John Warrack, gramophone.co.uk
download (mp3 @320 kbs):
yandex mediafire uloz.to mega 4shared cloudmailru