Michael Jarrell - Ensemble Intercontemporain (1994)
Michael Jarrell - Ensemble Intercontemporain (1994)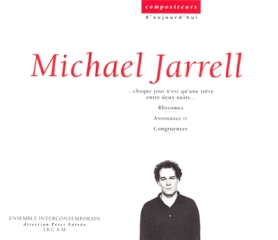 1 …Chaque Jour N'est Qu'Une Trêve Entre Deux Nuits… Chaque Nuit N'est Qu'Une Trêve 
Entre Deux Jours… (Assonance V) 	13:29 	play
  Bassoon - Paul Riveaux
  Cello - Jean-Guihen Queyras
  Cello [Solo] - Pierre Strauch
  Clarinet - André Trouttet
  Clarinet [Bass] - Guy Arnaud
  Conductor - Peter Eötvös
  Double Bass - Frédéric Stochl , Frédéric Stochl
  Flute - Emmanuelle Ophèle
  Harp - Frédérique Cambreling
  Horns - Jacques Deleplancque , Jens McManama
  Oboe - Didier Pateau , Laszlo Hadady
  Orchestra - Ensemble Intercontemporain
  Percussion - Daniel Ciampolini , Michel Cerutti , Vincent Bauer
  Piano - Pierre-Laurent Aimard
  Piano, Synthesizer - Danièle Bellik
  Piano, Synthesizer, Celesta - Florent Boffard
  Trombone - Benny Sluchin , Jérôme Naulais
  Trumpet - Antoine Curé* , Jean-Jacques Gaudon
  Tuba - Gérard Buquet
  Viola - Christophe Desjardins , Nathalie Vandebeulque
  Violin - Jeanne-Marie Conquer* , Maryvonne Le Dizès*

2 Rhizomes (Assonance VIIb) 	15:50 	
  Percussion [Solo] - Daniel Ciampolini , Michel Cerutti
  Piano [Solo] - Florent Boffard , Pierre-Laurent Aimard

3 Assonance IV 	8:13 	
  
  Tuba [Solo] - Gérard Buquet
  Viola [Solo] - Christophe Desjardins

4 Congruences 	18:31 	
  Bassoon - Paul Riveaux
  Cello - Jean-Guihen Queyras , Pierre Strauch
  Clarinet - André Trouttet
  Clarinet [Bass] - Guy Arnaud
  Conductor - Peter Eötvös
  Double Bass - Frédéric Stochl
  Flute [Midi] - Emmanuelle Ophèle
  Harp - Frédérique Cambreling
  Horns - Jacques Deleplancque , Jens McManama
  Oboe - Laszlo Hadady
  Oboe [Solo] - Didier Pateau
  Percussion - Daniel Ciampolini , Michel Cerutti , Vincent Bauer
  Piano - Pierre-Laurent Aimard
  Piano, Synthesizer - Danièle Bellik
  Piano, Synthesizer, Celesta - Florent Boffard
  Trombone - Benny Sluchin , Jérôme Naulais
  Trumpet - Antoine Curé* , Jean-Jacques Gaudon
  Tuba - Gérard Buquet
  Viola - Christophe Desjardins , Nathalie Vandebeulque
  Violin - Jeanne-Marie Conquer* , Maryvonne Le Dizès*


Orchestra - Ensemble Intercontemporain
Peter Eötvös – conductor

Track 1 composed 1990 for cello and four ensembles. Recorded 20th April 1993, 
mixed 24th to 26th July 1993.
Track 2 composed 1991-93 for two percussions, two pianos and electronics. 
Recorded 26th & 27th May 1993, mixed 20th & 21st November 1993.
Track 3 composed 1990 for tuba, viola and electronics. Recorded 30th April 1993, 
mixed 17th & 18th May 1993.
Track 4 composed 1988-89 for midi flute, oboe, ensemble and electronics. 
Recorded 1st October 1993, mixed 28th May to 4th June 1993.
All tracks recorded at Ircam

This disc provides yet another example of the diversity and quality of inspiration to have emerged from the musical world's most distinguished experimental laboratory, Ircam, and its attendant demi-monde. Jarrell makes use of electronics in all but one piece, generally by way of enriching textures and adding spatial and timbral effects rather than as an integral part of the compositional material. Actual musical material tends to consist of small cells, though a fragmentary impression is avoided by frequent diversions into motoric rapid-moving patterings and patternings which propel the music dynamically, conventional harmonic progression being largely absent. Ultimately, though, it is the composer's acute sense of tone color and the delicate and sensitive treatment of timbre that provide the music's most compelling qualities.
Michael Jarrell. Born in Geneva in 1958, Michael Jarrell studied composition at the Geneva Conservatory with Eric Gaudibert and at various workshops in the United States (Tanglewood, 1979). He completed his training with Klaus Huber at the Freiburg Staatliche Hochschule für Musik im Brisgau. Starting in 1982, his works have received numerous prizes: prix Acanthes (1983), Beethovenpreis from the city of Bonn (1986), Marescotti prize (1986), Gaudeamus (1988), Henriette Renié (1988), and Siemens-Förderungspreis (1990). Between 1986 and 1988, he was in residence at the Cité des Arts in Paris and took part in the computer music course at Ircam. He resided at the Villa Médicis in Rome during 1988/89, and then joined the Istituto Svizzero di Roma in 1989/90. From October 1991 to June 1993, he was composer in residence with the Lyon Orchestra. Beginning in 1993, he became professor of composition at the University in Vienna. In 1996, he was "composer in residence" at the Lucerne festival, and then was heralded by the Musica Nova Helsinki Festival, which dedicated the festival to him in 2000. In 2001, the Salzburg Festival commissioned a concerto for piano and orchestra entitled Abschied. The same year, he was named "Chevalier des Arts et des Lettres". In 2004, he was named professor of composition at the Geneva Conservatory. His opera Galilei, after the La Vie de Galilée by Brecht, commissioned by the Grand Théâtre in Geneva, was premiered in January 2006.
Concertante style continues to inspire him: ...un temps de silence... was premiered in Geneva in March 2007 by Emmanuel Pahud with the Orchestra of the Suisse Romande conducted by Heinz Holliger. Nachlese III, a double concerto pour clarinet, cello and orchestra was premiered in Cologne (commissioned by the WDR, Fall 2007). Orchestre of the Suisse Romande gives in the premiere of 2009 Le Ciel, tout à l'heure encore si limpide, soudain se trouble horriblement (Marek Janowski, conductor). The chamber opera Cassandre, premiered in 1994 at the Châtelet theatre in Paris, pursues an international career with translations in German, English, Spanish, Finnish, Russian...
download:  uploaded anonfiles yandex 4shared solidfiles mediafire mega filecloudio nornar
Last Updated (Wednesday, 15 January 2014 21:15)