Orlando Gibbons - With a Merrie Noyse (Second Service & Consort Anthems) (2003)
Orlando Gibbons - With a Merrie Noyse (Second Service & Consort Anthems) (2003)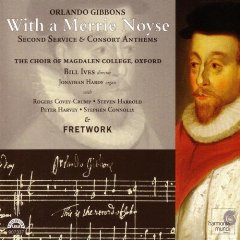 1 	This is a record of John 	4:18
2 	Almighty and everlasting God 	2:21
3 	A Voluntary 	2:08
4 	Te Deum 	10:47
5 	Jubilate 	4:21
6 	Hymns and Songs for the Church: Song 1 	1:19
7 	A Fancy for Double Organ 	5:41
8 	Hymns and Songs for the Church: Song 9 	0:56
9 	Magnificat 	6:06
10 	Nune dimittis 	3:30
11 	O clap your hands together 	5:48
12 	Great King of Gods 	4:25
13 	See, see, the Word is incarnate 	6:17

Baritone Vocals – Peter Harvey (tracks: 4,5,9,10,13)
Bass Vocals – Stephen Connolly (2) (tracks: 4,10,12,13)
Choir – Magdalen College Choir Oxford
Countertenor Vocals – Rogers Covey-Crump (tracks: 1,4,5,10,12,13), Steven Harrold (tracks: 4,5,9,10,12,13)
Music Director – Bill Ives
Organ – Jonathan Hardy (tracks: 3,7)
Treble Vocals – Michael Hickman (tracks: 4,5,9,10,13), Robi Bhattacharya (tracks: 4,5,9,10),
 William Harpin (tracks: 4,5,9,10,13), William Roome (tracks: 4,5,9,10)
Viol – Julia Hodgson, Richard Boothby, Richard Campbell, Susanna Pell, William Hunt

Several recordings have recently explored the largely neglected work of English composer Orlando Gibbons (1583-1625). But it is fitting that With a Merrie Noyse has been the one to receive a Grammy award nomination, for Best Small Ensemble Performance, in 2004. This U.S. industry award tends to be bestowed on good collaborations, and With a Merrie Noyse effectively brings together top forces from different areas of the early music community in an exploration of Gibbons' sacred music.
First there is the venerable Choir of Magdalen College, Oxford, where Gibbons never went out of style. They offer the Gibbons Second Service as well as anthems and other shorter choral pieces, interspersed with organ works. With its configuration, unchanged for centuries, of 16 boy singers and 12 adult men, the choir has this music bred in the bone and delivers clear, natural shapings of Gibbons' English texts. Works such as See, the Word is incarnate, with their Italian-madrigalian sense of text expression, come off beautifully here. Solo parts in the Second Service are taken by a quartet of top-notch singers, including countertenor Rogers Covey-Crump. And finally there is the viol consort Fretwork, which has been especially active in performing and recording music from this general time period. These are diverse talents, but they are brought together under the leadership of choir director Bill Ives in performances that beautifully realize this quintessentially English, and quintessentially Anglican, sacred music by a composer who took what he needed from wherever he could find it to form a style that proved the basis for England's distinctive local variant of Baroque style. ---James Manheim, AllMusic Review
How can you go wrong with Fretwork and Orlando Gibbons? You can't–and when you add the bright, resonant sonority and consummate style of Oxford's Choir of Magdalen College, you've got something really special, a celebration of great music and first-rate music making. In this case it's a program of some of Gibbons' most important and best-known church music, recorded in a way that faithfully captures the Magdalen chapel's acoustics and gives scintillating presence to voices and instruments. Right from the beginning–the classic verse-anthem This is the record of John–we're treated to the full magnificence of Gibbons' style, from the expressive countertenor solos to the lush choral passages and the overall text-affirming harmonic framework. Unlike most recordings of this repertoire, this one incorporates a viol consort–arguably the composer's intention–into the mix. Rather than a routine matter of doubling voices, evidence shows that Gibbons constructed independent instrumental parts, both in imitative counterpoint and in homophonic accompaniment. The effect not only is sonically marvelous but the additional layers of texture and color elevate the music to a level that's both exhilarating and profoundly moving. (The Winchester Cathedral recording on Hyperion uses only organ, but the very full, resonant acoustic and spaciousness to the choral singing nevertheless makes an impressive statement.)
All of the works on this disc show evidence of Gibbons' genius, specifically the careful planning of counterpoint to support text, to preserve harmonic stability and balance, and to create powerful, arching dynamic structures, this alternating with solo-voice passages and stretches of solid homophonic blocks of sound for choir and/or instruments. Among the defining masterpieces such as the Second Service (particularly the Magnificat and Nunc dimittis), This is the record of John, and the full anthem Almighty and everlasting God, we're also treated to hymns such as Song 1 (here set to its original text) and, for me the highlight of the disc, the verse anthem Great King of Gods, a glorious masterpiece of choral writing and sacred text-setting that gives a good name to all the church music of this period and place.
The Choir of Magdalen College, Oxford and Fretwork give sumptuous, vital performances that capture the essence of Gibbons' unique, harmonically rich music, and the solo singing–especially from the countertenors and trebles–is nothing short of wonderful. After years of listening to and performing Gibbons' church music, I can truly say that at last here's a recording that does full justice to these splendid yet often routinely rendered scores, and although it may be too early to make such pronouncements, this definitely is a disc-of-the-year contender. ---David Vernier, classicstoday.com
download (mp3 @320 kbs):
yandex mediafire ulozto gett bayfiles