Darius Milhaud – Chamber Music for Piano and Winds (1989)
Darius Milhaud – Chamber Music for Piano and Winds (1989)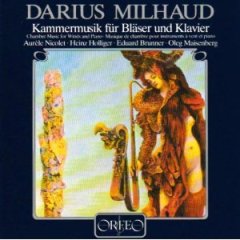 Sonata for flute. oboe, clarinet and piano
1. Tranquille 	07:18 		
2. Joyeux 	03:08 		
3. Emporte 	01:56 		
4. Douloureux 	05:43 
Sonatina for flute and piano
5. Tendre 	03:34 		
6. Souple 	02:05 			play	
7. Clair 	02:28 		
Sonatina for clarinet and piano
8. Tres rude 	03:22 		
9. Lent 	03:22 		
10. Tres rude 	02:13 		
Sonatina for oboe and piano
11. Charme et vivacite 	02:56 	play	
12. Souple et clair 	02:12 		
13. Entrain et gaite 	03:02 		

Aurèle Nicolet, flute
Heinz Holliger, oboe
Eduard Brunner, clarinet
Oleg Maisenberg, piano

Darius Milhaud (4 September 1892 – 22 June 1974) was a French composer and teacher. He was a member of Les Six—also known as The Group of Six—and one of the most prolific composers of the 20th century. His compositions are influenced by jazz and make use of polytonality (music in more than one key at once). Born in Marseilles to a Jewish family from Aix-en-Provence, Milhaud studied in Paris at the Paris Conservatory where he met his fellow group members Arthur Honegger and Germaine Tailleferre.
On a trip to the United States in 1922, Darius Milhaud heard "authentic" jazz for the first time, on the streets of Harlem, which left a great impact on his musical outlook. The following year, he completed his composition "La création du monde" ("The Creation of the World"), using ideas and idioms from jazz, cast as a ballet in six continuous dance scenes. The Milhauds left France in 1939 and emigrated to America in 1940. He secured a teaching post at Mills College in Oakland, California, where he collaborated with Henri Temianka and the Paganini Quartet.
Milhaud (like his contemporaries Paul Hindemith, Gian Francesco Malipiero, Bohuslav Martinu and Heitor Villa-Lobos) was an extremely rapid creator, for whom the art of writing music seemed almost as natural as breathing. His most popular works include Le bœuf sur le toit (ballet), La création du monde (a ballet for small orchestra with solo saxophone, influenced by jazz), Scaramouche (for Saxophone and Piano, also for two pianos), and Saudades do Brasil (dance suite). His autobiography is titled Notes sans musique (Notes Without Music), later revised as Ma vie heureuse (My Happy Life). From 1947 to 1971 he taught alternate years at Mills and the Paris Conservatoire, until poor health, which caused him to use a wheelchair during his later years (beginning sometime before 1947), compelled him to retire. He died in Geneva, aged 81.
Darius Milhaud (ur. 4 września 1892 w Marsylii, zm. 22 czerwca 1974 w Genewie) – kompozytor francuski.
Był potomkiem rodziny żydowskiej, zamieszkałej od pokoleń w Prowansji. W wieku 7 lat rozpoczął naukę gry na skrzypcach. Jego pierwsze kompozycje powstały w roku 1905. W roku 1909 rozpoczął naukę w Konserwatorium Paryskim, najpierw wiolinistyki, od roku 1912 kompozycji. Jego profesorami byli m.in. Charles-Marie Widor (kompozycja) i Vincent d'Indy (dyrygentura). W roku 1912 poznał poetę Paula Claudela; przyjaźń z nim przetrwała przez całe życie. Gdy Claudel 1916 został ambasadorem Francji w Rio de Janeiro, Milhaud objął posadę attaché ambasady. Tam zapoznał się z brazylijską muzyką ludową i popularną. Po powrocie do Francji 1918 spotkał poetę Jeana Cocteau i kompozytora Erika Satiego. Został członkiem grupy kompozytorów Les Six.
W 1922 w czasie podróży po USA miał okazję zapoznać się z jazzem. 1925 ożenił się z kuzynką Madeleine Milhaud, autorką librett do jego utworów scenicznych. Po wybuchu II wojny światowej wyjechał Milhaud do USA. Wykładał do roku 1971 kompozycję na Mills College w Oakland w Kalifornii. Od zakończenia wojny wykładał kompozycje również w Konserwatorium Paryskim do roku 1972. Wśród jego uczniów byli muzycy różnych kierunków, jak muzyk jazzowy Dave Brubeck, minimalista Steve Reich, twórca symfonii Allan Pettersson i kompozytorzy awangardy Karlheinz Stockhausen, Larry Austin i Iannis Xenakis. Komponował opery, symfonie, balety, pieśni i utwory instrumentalne. Skomponował ponad 400 utworów.
download: uploaded yandex 4shared mediafire solidfiles mega filecloudio nornar
Last Updated (Sunday, 23 February 2014 16:38)