Johann Georg Albrechtsberger – Concertos for Jew's Harp Mandora and Orchestra (1981)
Johann Georg Albrechtsberger – Concertos for Jew's Harp Mandora and Orchestra (1981)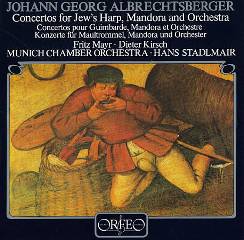 1. Konzert in E major: Tempo moderato
2. Konzert in E major: Adagio
3. Konzert in E major: Finale - Tempo di menuetto
4. Konzert in F major: Allegro moderato		play
5. Konzert in F major: Andante
6. Konzert in F major: Menuetto - Moderato
7. Konzert in F major: Finale - Allegro molto

Fritz Mayr - Jew`s Harp
Dieter Kirsch - Mandora  (Lute)

Munich Chamber Orchestra
Hans Stadlmair - conductor.

Yes, yes, it's a bizarre choice of instruments. But despite what one reviewer said, these works are sweetly written and very pleasant. Albrechtsberger is obscure as a composer, but well remembered as an influential theorist. He also served as a music teacher to Beethoven when he grew frustrated with Haydn, who had not the time to correct his work. These works are in the galant or rococo style, somewhere between baroque and classical (but closer to classical). These works must be understood in the context of the galant period. At that time, folk instruments had become very fashionable, and some composers became interested in them, such as Leopold Mozart, who wrote for the alp horn, hurdy-gurdy, bagpipes, and so on. The mandora, a type of lute, has a good sound, and the jew's harp is surprisingly melodious considering the fact that the fundamental pitch does not vary. All in all, this is very pleasant music, and even the non-musical will be entertained by the sheer quirkiness of it. ---R. Folk
Albrechtsberger was initially inspired to compose these works by Austria's "music king," Joseph II who wrote enthusiastically about a Jew's Harp performance he heard in a monastery.
download (mp3 @320 kbs):
yandex 4shared mega mediafire uloz.to cloudmailru uptobox ge.tt
Last Updated (Tuesday, 21 March 2017 21:13)