Baldassare Galuppi - La Clemenza di Tito (2008)
Baldassare Galuppi - La Clemenza di Tito (2008)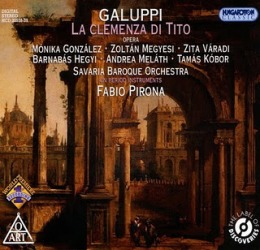 CD 1
1 Ouverture										play
2 Act 1. Recitativo. Ma che? Sempre l'istesso...
3 Act 1. Aria. Deh, se piacer...
4 Act 1. Recitativo. Amico, ecco il momento...
5 Act 1. Aria. Io sento...
6 Act 1. Recitativo. Numi, assistenza.
7 Act 1. Aria. Opprimete...
8 Act 1. Marcia
9 Act 1. Recitativo. Romani, unico oggetto...
10 Act 1. Aria. Del piu sublime...
11 Act 1. Recitativo. Non ci pentiam...
12 Act 1. Aria. Ah, perdona...
13 Act 1. Recitativo. Io consorte...
14 Act 1. Aria. Amo te solo...
15 Act 1. Recitativo. Di Tito al pie...
16 Act 1. Aria. Parto, ma tu, ben mio...
17 Act 1. Recitativo. Vedrai, Tito, vedrai...
18 Act 1. Recitativo accompagnato. Oh Dei, Sesto...
19 Act 1. Recitativo accompagnato. Che angustia...
20 Act 1. Aria. Dal mio dolor...

CD 2
1 Act 2. Recitativo accompagnato. Oh Dei che smania...
2 Act 2. Recitativo. Sesto, dove, t'affretti?
3 Act 2. Aria. Sia lontano...
4 Act 2. Recitativo. Chi per pieta...
5 Act 2. Aria. Come potesti, oh Dio...
6 Act 2. Recitativo. Sesto, t'affretta.
7 Act 2. Aria. Fra stupido...
8 Act 2. Recitativo. Contro me...
9 Act 2. Aria. Tu infedel...
10 Act 2. Recitativo. Eppur, dolce mia sposa...
11 Act 2. Aria. Non odo gli accenti...
12 Act 2. Recitativo. E Sesto non favella.
13 Act 2. Aria. Ch'io parto reo...						play
14 Act 2. Recitativo. Posso alfene...
15 Act 2. Aria. Se mai senti...
16 Act 2. Recitativo accompagnato. Misera, che faro?
17 Act 2. Arioso. Fra tanti affanni miei...
18 Act 3. Recitativo. E puoi creder...
19 Act 3. Recitativo. Ah, non si lasci...
20 Act 3. Aria. Se all'impero...
21 Act 3. Recitativo. Ah, Vitellia!
22 Act 3. Aria. S'altro che lagrime...
23 Act 3. Recitativo. Ecco'l punto, o Vitellia...
24 Act 3. Aria. Cade spesso...
25 Act 3. Recitativo. Pria che principio...
26 Act 3. Coro Finale. Che del ciel...

Tito - Zoltán Megyesi
Vitellia - Monica González
Servilia - Zita Váradi
Sesto - Andrea Meláth
Annio - Barnabás Hegyi
Publio - Tamás Kóbor

Savaria Baroque Orchestra
Fabio Pirona, 2008

Baldassare Galuppi (18 October 1706 – 3 January 1785) was an Italian composer, born on the island of Burano in the Venetian Republic. He achieved international success, spending periods of his career in London and Saint Petersburg, but his main base remained Venice, where he held a succession of leading appointments.
In his early career Galuppi made a modest success in opera seria, but from the 1740s, together with the playwright and librettist Carlo Goldoni, he became famous throughout Europe for his comic operas in the new dramma giocoso style. To the succeeding generation of composers he was known as "the father of comic opera". Some of his mature opere serie, for which his librettists included the poet and dramatist Metastasio, were also widely popular.
Throughout his career Galuppi held official positions with charitable and religious institutions in Venice, the most prestigious of which was head of music at the Doge's chapel, St Mark's Basilica. In these various capacities he composed a large amount of religious music. He was also highly regarded as a virtuoso performer on and composer for keyboard instruments.
After Galuppi's death his music was largely forgotten. His name was brought back to public notice by the English poet Robert Browning's 1855 poem "A Toccata of Galuppi's", but this did not restore the composer's work to the general repertoire. Some of Galuppi's pieces were occasionally performed in the 200 years after his death, but it was not until the last years of the 20th century that his works were extensively revived in live performance and on record.
According to The Musical Times Galuppi, with 109 operas, was the sixth most prolific opera composer. He was called "the father of comic opera" by musicians of the generation that followed him.
From the late 20th century onwards an increasing number of Galuppi's works have been committed to disc. Among the opera recordings on CD or DVD are Il caffè di campagna (2011), La clemenza di Tito (2010), La diavolessa (2004), Didone abbandonata (2007), Il filosofo di campagna (1959 and 2001), Gusto primo, re di Svezia (2005), Il mondo alla roversa (2007), and L'Olimpiade (2009).
download: uploaded anonfiles yandex 4shared solidfiles mediafire mega filecloudio
Last Updated (Tuesday, 19 November 2013 10:51)