Alfred Deller - Folk Songs and Ballads. CD1 Tavern Songs. Catches and Glees (2008)
Alfred Deller - Folk Songs and Ballads. CD1 Tavern Songs. Catches and Glees (2008)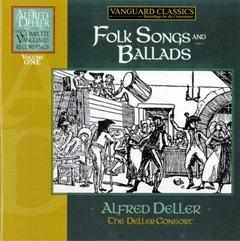 Henry Purcell: A choice collection of the most diverting CATCHES
1 Man is for the woman made 1:18
2 Sir Walter 1:43
3 To thee and to the maid 1:37
4 Chiding catch ("Fie, Nay") 1:25
5 Once, twice, thrice 2:45
6 When the cock begins to crow 2:49
7 An epitaph: "Under this stone" 1:57
8 Earl of Mornington: T'was you, Sir 1:26
9 Jeremy Savile: Had she not care enough 1:11
10 William Turner: Young Anthony 1:37
11 anon., publ. 1764: Amo, amas, I love a lass 1:46
12 William Cornyshe: Ah, Robin 2:25
13 William Lawes: Bess black 2:40
14 Anon., publ. 1609: I am athirst 0:36
15 John Eccles: Wine does wonder 2:35
16 William Cornyshe: Hoyda, jolly rutterkin 2:24
17 Henry Purcell: An ape, a lion, a fox and an ass 1:28
18 Anon., coll. by Thomas Lant, 1580: Troll the bowl 1:18
19 John Travers: Fair and ugly, false and true 2:38
20 Anon., publ. 1614: We be soldiers three 1:42
21 John Bennet: Hunting madrigal: Lure, falconers, lure! 1:36
22 Henry Lawes: Sing fair Clorinda 3:35
23 Benjamin Rogers: Restoration pastoral: In the merry month of May 1:45
24 Henry Purcell: Patriotic song: True Englismen 1:33
25 Reginald Spofforth: 18th century glee club: L'ape e la serpe 4:11

Alfred Deller – counter-tenor
Gerald English, Wilfred Brown,Edgar Fleet – tenor
Maurice Bevan - baritone
The Deller Consort
Alfred Deller - director

26 John Hilton: Call George again 1:16
27 Luffman Atterbury: As t'other day 1:45
28 Thomas Arne: The street intrigue 2:09
29 John Blow: Batholomew Fair 1:37
30 Anon.: He that will an alehouse keep 1:23
31 John Blow: The self banished 2:34
32 Anon.: Inigo Jones 1:43
33 Thomas Arne: Which is the properest day to drink 1:53
34 John Blow: Galloping Joan 1:28
35 Anon.: Sumer is icumen in 1:46
36 William Boyce: John Cooper 1:42
37 Henry Lawes: The captive lovers 1:54
38 Henry Purcell: Young Collin 2:14
39 Henry Purcell: If all be true 1:17
40 Joseph Barnby: Sweet and low 3:21

Alfred Deller – counter-tenor
Gerald English, Wilfred Brown,Edgar Fleet – tenor
Owen Grundy – baritone
Maurice Bevan - bass
The Deller Consort
Alfred Deller – director

Alfred Deller's historic recordings helped to create the current early music environment and marketplace. Vanguard Records' founder Seymour Solomon, at the recommendation of Gustav Leonhardt, recorded Alfred Deller in the early 1950s. These first recordings were met with instant commercial success and artistic acclaim. The practice of performing in the counter-tenor voice had diminished up to that point and Alfred Deller, more than any other singer, re-established the countertenor voice with his unique artistry. The repertoire for counter-tenor and, through Deller's own Consort, the repertoire for groups of solo voices helped to establish a foothold for Renaissance vocal music in Europe, the United States and in the Far East. As Deller's remarkable virtuosic talent included a love of folk music, the Vanguard recordings in that genre for counter-tenor and vocal ensemble offer a recorded legacy that transcends the scholarly appreciation of ancient European vocal music.
The first set, Folk Songs and Ballads, combines many of Deller's most popular solo albums as well as excellent Deller Consort recordings. The 10 original LPs of recorded material have been re-mastered and reconfigured to create 7 CDs. These feature Deller's vocal personality and virtuosity as in perhaps no other repertoire. Humor, romance and emotion are all showcased in these three minute operas. Deller shows himself more than just an expert in scholarly performance technique; he shows timing and individual interpretive skill that brands him a supreme vocalist, not merely a counter-tenor.
Beyond his focus as a counter-tenor, Alfred Deller was a remarkable pioneer in the early music field as the leader of The Deller Consort. Though the Consort is featured far more significantly in later sets than they are in the Folk Songs and Ballads collection, this set spotlights the unique skills and range of the group. The bawdy and often downright salacious Tavern Songs that lead off this collection show off the male voices; the lush, stunningly lovely Folk Songs Album arranged by Ralph Vaughan Williams offers angelic performances by the females. The long out of print "Cries of London" again offers a chance for the Consort to step out of the academic early music world and into the back streets of Elizabethan London.
In the United States and Far East, most of Deller's recordings have been out of print for more than a decade. Of the 50 LPs released by Vanguard, 20 were not previously included in any local CD release. Although all of the Vanguard Deller material was released on CD at one time or another exclusively for the European market, these titles were only intermittently available and have also been out of print since 2000. From this first set, the LPs "Tavern Songs", "Tavern Songs, Volume 2", "Cries of London" and "English Lute Songs" have never been released on CD outside Europe. Some material from "English Lute Songs" was used as material to extend some Deller recital CDs to acceptable CD length, but this is the first complete CD appearance of all of the lute songs. ---arkivmusic.com
download (mp3 @320 kbs):
uploaded yandex 4shared mega mediafire solidfiles zalivalka cloudmailru oboom