Zbigniew Preisner - Requiem for my friend (1998)
Zbigniew Preisner - Requiem for my friend (1998)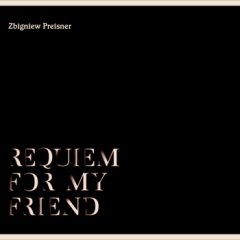 1. Part 1
2. Part 2

Elzbieta Towarnicka - soprano
Leszek Mozdzer - piano
Piotr Kusiewicz – tenor
Varsov Chamber Choir
Sinfonia Varsovia
Conductor: Jacek Kaspszyk

Recorded and mixed in Studio S2/S4, Polish Radio, Warsaw in February 1998
and in the Emaus Church (Congregation of the Resurrection of our Lord Jesus Christ) in Krakow, 
December 1997 and February 1998.

Once, we had a joint conception to create a concert telling a life story. The premiere was planned to take place on the Acropolis in Athens. It was intended to be a large event, a hybrid of a mystery play and an opera. Krzysztof Kieslowski would be the director, Krzysztof Piesiewicz was responsible for the script, and I was planning to compose the music.
Once, we thought it might be the first of a series of musical performances, to be developed in various interesting places around the world in the next few years. But it was life that authored a different ending: Krzysztof Kieslowski died on 13th March 1996. The first part of Requiem for my friend is meant as a farewell to Krzysztof Kieslowski. I dedicate this music to him. ---Zbigniew Preisner
download:  uploaded yandex 4shared anonfiles gett mega ziddu sugarsync mixturecloud
Last Updated (Friday, 10 May 2013 16:12)