Attilio Ariosti - La Fede Ne' Tradimenti (2012)
Attilio Ariosti - La Fede Ne' Tradimenti (2012)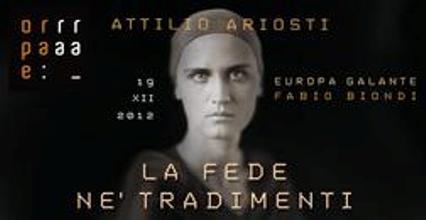 (01) Act 1 [48'40"]
(02) Act 2 [58'10"]
(03) Act 3 [44'29"]

Lucia Cirillo, soprano (Elvira)
Roberta Invernizzi, soprano (Anagilda)
Marianne Beate Kielland, mezzo-soprano (Fernando)
Hĺvard Stensvold, bass (Garzia)

Europa Galante
Fabio Biondi - conductor

Recorded: Dec 19, 2012, Karol Szymanowski Philharmonic Hall, Cracow

Attilio Ariosti's 1701 opera La fede ne' tradimenti has lots of charming arias, even more pretty good recitative, and the plot's bumbling Python-esque medieval antics seem to be a barrel of laughs. I say "seem" because despite excellent singing and playing Fabio Biondi and Europa Galante's concert performance did not show this small-scale satire to its best advantage. It may have been an evening more for operatic Kenner than Liebhaber, but it was still a welcome and intriguing introduction to a forgotten work. Forgotten composer. Forgotten style, even.
This opera is from 1701 and was written for court, not a public theater. There are arias, a lot of them, and some of them feature the kind of coloratura fireworks and cantilena you get from Handel. But many don't, and nearly all are smaller in scale. Some are AA' structures, some just As, some even ABA' da-capo-types. There are some longer solo scenes, but they consist of multiple arias connected by bits of recitative. There are a few beautiful duets, but the only other ensemble is the short choral finale (chorus consisting of the soloists). There's a lot of recitative relative to aria, and while it's good recitative, its volume means you're going to be spending a fair amount of the time thinking about the dramatic action. So while there's some very rewarding music here, I'm not sure a concert (in which the audience is following a libretto in the program) shows it to its best advantage. Considering Ariosti's low name recognition, though, it's probably the only option. --- likelyimpossibilities.blogspot.com
Synopsis: Briefly, the plot involves Fernando, engaged to Anagilda, though he killed her father. Anagilda's brother is not happy about this and interferes. Anagilda, proving that ladies of Spain are just made for liberating their wrongfully imprisoned husbands, rescues Fernando. Elvira, Fernando's sister, is also involved, and improbably ends up falling for Garzia.
La fede ne' tradimenti polska premiera (Wierność pośród zdrady) Attilia Ariostiego to dramma per musica w 3 aktach. Utwór został oparty na libretcie Girolama Gigli'ego. Prapremiera miała miejsce w Berlinie w 1701 roku, podczas pobytu kompozytora na dworze. Bohaterami akcji są: król Nawarry Garzia (bas), jego siostra Anagilda (sopran), książę Kastylii Fernando (mezzosopran) i jego siostra Elvira (sopran). Dokładnie 300 lat później, w 2001 roku, kompozycja została przywrócona współczesnym słuchaczom przez zespół Berlin Baroque podczas Berliner Festspiele. Fabio Biondi zaprezentował tę operę po raz pierwszy w wiedeńskim Konzerhaus w styczniu 2011 roku. Zostało ono świetnie przyjęte przez krytykę i publiczność. Sceniczną wersję opery Ariostiego pokazał następnie w Sienie podczas 68. Settimana Musicale i na festiwalu w Montpellier. --- operarara.pl
download: uploaded yandex 4shared mediafire solidfiles mega zalivalka filecloudio anonfiles oboom