Michael Chance - The Art of Counter Tenor (1999)
Michael Chance - The Art of Counter Tenor (1999)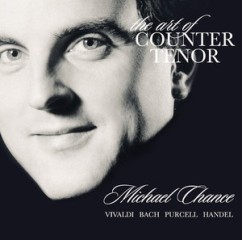 Cd1
George Frideric Handel (1685 - 1759)
1.Semele - Hymen, haste, thy torch prepare
2. Semele - Your tuneful voice my tale would tell
3. Semele - Despair no more shall wound me
4. Messiah - But who may abide the day of his coming
5. Messiah - Thou art gone up on high

Heinrich Schütz (1585 - 1672) 
6. Motet - Auf dem Gebirge hat man ein Geschrei gehöret

Johann Sebastian Bach (1685 - 1750)
7. Mass In B minor - Kyrie No. 1: Gloria - Qui sedes ad dexteram Patris
8. Mass In B minor - Kyrie No. 1: Agnus Dei - Agnus Dei
9. St. Matthew Passion - Erbarme dich
10. St. Matthew Passion - Sehet, Jesus hat die Hand - Wohin?
11. St. John Passion - Von den Stricken meiner Sünden
12. St. John Passion - Es ist vollbracht
13. Cantata BWV 147 "Herz und Mund und Tat und Leben" - Schäme dich, o Seele nicht
14. Cantata, BWV 198 "Laß Fürstin, laß noch einen Strahl" - Wie starb die Heldin so vergnügt
15. Cantata, BWV 106 "Gottes Zeit ist die allerbeste Zeit" - In deine Hände befehl ich meinen Geist

Henry Purcell (1659 - 1695)
16. Come, ye sons of art, away (1694) Ode for the Birthday of Queen Mary II - Sound the trumpet, sound
17. Of old, when heroes thought it base (1690) The Yorkshire Feast Song - The pale and the purple rose
18. Of old, when heroes thought it base (1690) The Yorkshire Feast Song - Sound, trumpets, sound!

Michael Chance - Counter Tenor

English Chamber Orchestra
John Nelson - conductor (1-3)
His Majesties Sagbutts and Cornetts (6)
Ashley Stafford - Counter Tenor (6)
Valerie Botwright - Double Bass (6)
Sophia McKenna - Oboe d'amore (7)
Monteverdi Choir (9-10)
Anthony Robson , Valerie Darke – Oboe (11)
Anthony Robson - Oboe d'amore (13)
Richard Campbell - Viola da gamba (12)
Timothy Wilson - Counter Tenor (16)
The English Baroque Soloists
John Eliot Gardiner - conductor (6-15)
Timothy Wilson - Counter Tenor (16)
The English Concert
Trevor Pinnock - conductor (4-5, 16-18)

Cd2
Antonio Vivaldi (1678 - 1741)

1. Nisi Dominus - Nisi Dominus
2. Nisi Dominus - Vanum est vobis
3. Nisi Dominus - Surgite
4. Nisi Dominus - Cum dederit
5. Nisi Dominus - Sicut sagittae
6. Nisi Dominus - Beatus vir
7. Nisi Dominus - Gloria patri
8. Nisi Dominus - Sicut erat in principio
9. Nisi Dominus - Amen
10. Stabat Mater - Stabat Mater
11. Stabat Mater - Cuius animam
12. Stabat Mater - O quam tristis
13. Stabat Mater - Quis est homo
14. Stabat Mater - Quis non posset
15. Stabat Mater - Pro peccatis
16. Stabat Mater - Eja Mater
17. Stabat Mater - Fac ut ardeat
18. Stabat Mater - Amen
19. Salve Regina - Salve Regina
20. Salve Regina - Ad te clamamus
21. Salve Regina - Ad te suspiramus
22. Salve Regina - Eja ergo
23. Salve Regina - Et Jesum
24. Salve Regina - O Clemens

Michael Chance - Counter Tenor
English Concert
Trevor Pinnock - conductor

Michael Chance is a leading British countertenor, in worldwide demand for male alto parts in opera, and as a recital, concert, and recording artist. He was a choral scholar at King's College, Cambridge, an adult-voice singer at the famous Choir of King's College Cambridge, receiving a full scholarship for singing daily services in the College Chapel during the school term. His major subject at Cambridge was English, but he received thorough musical and vocal training as a matter of course as a choral scholar.
After graduation, he studied voice with Rupert Bruce Lockhart. His operatic debut was in the Buxton festival, where he sang the part of Apollo in Ronald Eyre's production of Cavalli's Giasone in 1983. He was a member of Kent Opera for three seasons. In 1985, his European debut was in Lyon, as Andronico in Handel's Tamerlano (1985).
He rapidly established a strong reputation. He is one of the newer sort of countertenor, whose vocal production is well supported and natural-sounding. As the bulk of the countertenor repertory is in Baroque opera, he has sung Tolomeo in Handel's Giulio Cesare, Ottone in Handel's Agrippina and Monteverdi's L'incoronazione di Poppea, and as Orpheus in both the Gluck and Monteverdi operas.
However, he is equally admired for his performances in newer operas featuring countertenors, and his roles in 20th century opera include Oberon in Britten's A Midsummer Night's Dream, the Voice of Apollo in the same composer's Death in Venice, the Military Governor in Judith Weir's A Night at the Chinese Opera, and in Harrison Birtwistle's The Second Mrs. Kong. The latter two parts were written for him, for he is active in promoting new works. Composers he has worked with include Alexander Goehr, Richard Rodney Bennett, John Tavener, Anthony Powers, Tan Dun, and Elvis Costello.
He has sung at major opera houses such as the Teatro Colón in Buenos Aires, La Scala of Milan, at Covent Garden in London, and in opera houses in New York, Paris, Amsterdam, Lisbon, and Sydney.
Chance has made numerous recordings, including the Grammy Award-winning release of Handel's Semele with John Nelson conducting. Other recordings include Mozart's Ascanio in Alba, Goehr's The Death of Moses, and Rolf's Carmina Burana as well as the major oratorios and choral works of Handel and Bach. He appears in major festivals, such as the Glyndebourne Summer Opera, the Edinburgh Festival, the Salzburg Festival, and the Aix-en-Provence Festival. His concert appearances have taken him to major cities of Europe, the United Kingdom, North America, Japan, and Australia.
As a chamber recitalist he often works with the Baroque viol ensemble Fretwork, with Trevor Pinnock and the English Concert, and Paul Beier. His programs can range from Renaissance lute songs to newly commissioned music. ---Joseph Stevenson, Rovi
download (mp3 @320 kbs):
yandex 4shared mega mediafire zalivalka cloudmailru oboom uplea