Carlos Gomes - Salvator Rosa (Benini) [2005]
Carlos Gomes - Salvator Rosa (Benini) [2005]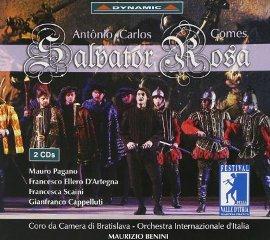 Disc: 1
  1. Salvator Rosa, opera: Sinfonia
  2. Salvator Rosa, opera: Act 1. Ebbene Gennariello?
  3. Salvator Rosa, opera: Act 1. Mia peccerella
  4. Salvator Rosa, opera: Act 1. Vero figliuol di Napoli
  5. Salvator Rosa, opera: Act 1. Ebbene, quai nuove?
  6. Salvator Rosa, opera: Act 1. Sublime cor
  7. Salvator Rosa, opera: Act 1. Forma sublime
  8. Salvator Rosa, opera: Act 1. Salvator, celatevi
  9. Salvator Rosa, opera: Act 1. Viva l'arte e l'allegria
  10. Salvator Rosa, opera: Act 1. Delle truppe rispondi
  11. Salvator Rosa, opera: Act 1. Contro il poter sovrano
  12. Salvator Rosa, opera: Act 1. A patti coi ribelli
  13. Salvator Rosa, opera: Act 1. Morte allo straniero
  14. Salvator Rosa, opera: Act 1. Quel dolce sguardo
  15. Salvator Rosa, opera: Act 2. E' desso
  16. Salvator Rosa, opera: Act 2. E il foglio io segnerò?
  17. Salvator Rosa, opera: Act 2. Di sposo, di padre
  18. Salvator Rosa, opera: Act 2. Di Masaniello il messaggier
  19. Salvator Rosa, opera: Act 2. Di stupore ho l'ama ripiena
  20. Salvator Rosa, opera: Act 2. Sulle rive di Chiaja
  21. Salvator Rosa, opera: Act 2. La speme dell'amor
  22. Salvator Rosa, opera: Act 2. Per questa augusta imagin
  23. Salvator Rosa, opera: Act 2. A festa!
  24. Salvator Rosa, opera: Act 2. Veh! Veh!
  25. Salvator Rosa, opera: Act 2. Al prode Masaniello

Disc: 2
  1. Salvator Rosa, opera: Act 2. Largo! Largo a Masaniello
  2. Salvator Rosa, opera: Act 2. L'arbitro nostro
  3. Salvator Rosa, opera: Act 2. Povero nacqui
  4. Salvator Rosa, opera: Act 2. Viva! Viva! Su, accorriamo
  5. Salvator Rosa, opera: Act 2. Dov'è l'eroe del popolo?
  6. Salvator Rosa, opera: Act 2. Vieni, o di popoli invitto
  7. Salvator Rosa, opera: Act 3. Preludio e Coro / Le tazze colmiamo
  8. Salvator Rosa, opera: Act 3. Strane parole
  9. Salvator Rosa, opera: Act 3. Alla plebe libiamo!
  10. Salvator Rosa, opera: Act 3. Masaniello, amico
  11. Salvator Rosa, opera: Act 3. Là su quel fragil legno
  12. Salvator Rosa, opera: Act 3. Si cerchi Masaniello
  13. Salvator Rosa, opera: Act 3. D'aura di luce ho d'uopo
  14. Salvator Rosa, opera: Act 3. Volate! Volate!
  15. Salvator Rosa, opera: Act 3. Cielo, mio padre!
  16. Salvator Rosa, opera: Act 3. Sola il mio bianco crine
  17. Salvator Rosa, opera: Act 4. Mia peccerella, deh! Vieni
  18. Salvator Rosa, opera: Act 4. Chi è là?
  19. Salvator Rosa, opera: Act 4. Al ballo, alle mense
  20. Salvator Rosa, opera: Act 4. Salvator! Isabella!
  21. Salvator Rosa, opera: Act 4. Vieni, di gioia un'estasi
  22. Salvator Rosa, opera: Act 4. Ah! Ti trovo
  23. Salvator Rosa, opera: Act 4. Cresciuta al pianto io fui

Volodymyr Deyneka (Bass Baritone), 
Tiziana Spagnoletta (Soprano), 
Mauro Pagano (Tenor),
Francesca Scaini (Soprano), 
Gianfranco Cappelluti (Baritone), 
Francesco Ellero d'Artegna (Bass),
Salvatore Cordella (Tenor), 
Leonardo Gramegna (Tenor), 
Sofiya Solovey (Soprano),
Annalisa Carbonara (Soprano), 
Emile Zhelev (Bass)

Bratislava Chamber Chorus
Italian International Orchestra
Maurizio Benini - conductor

Salvator Rosa, born in 1615, was a painter, engraver, actor, satirist, composer, etcher, and draftsman. He studied in Naples, and then went to Rome in 1635 for further studies. After contracting malaria, he returned to Naples and painted numerous marine and battle pictures. These nature scenes were picturesque and flamboyant, and although he was three centuries early, they evoke the poetic qualities of the Romantic era. Rosa returned to Rome in 1639, to become a comic actor. He made a powerful enemy when he satirized Bernini, and was forced to settle in Florence. There he gained the patronage of the Medicis and founded the artistic gathering place, Accademia dei Percossi (Academy of the Afflicted). Rosa returned to Rome in 1649, to pursue a career as a painter, primarily of religious and historical subjects, which he considered a loftier ideal than the innovative secular works for which he is primarily known. This was the real Salvator Rosa. None of these real life circumstances is portrayed in Antônio Gomes' opera Salvator Rosa, however.
Rosa remains an artist in the opera, but apparently a posthumous one. The action of the opera takes place in 1674 (Rosa died in 1673). The opera character Rosa is now friends with Masaniello, who is leading a Neapolitan revolt against the Spanish domination, and, in particular, the Duke of Arcos. Rosa falls in love with the Duke's daughter, Isabella, a woman he has only seen once! She loves him, too, but the Duke wants his daughter to marry Fernandez, commander of the Spanish troops. Fernandez is happy with the arrangement, but when Isabella pooh-poohs the engagement, she is promptly sent to that repository for recalcitrant daughters, the convent. The opera has deceits, poisonings, madness, and suicide. The libretto by Antonio Ghislanzoni (also the librettist of Aïda)—aside from some hokey elements, breeches of logic, and bearing a strong familiarity to other 19th-century works—is fairly well constructed and provides a stable foundation for the Gomes score.
Antônio Carlos Gomes (1836–1896) was born in Brazil, but achieved success and acclaim in Italy after studying in Milan. He wrote several operas, operettas, a symphonic poem, cantatas, and considerable chamber pieces. Much of his music is very Italianate, reflecting the trends prevalent in the late 19th century. Echoes of Verdi, Ponchielli, and Donizetti can be heard, although I found a few places to be highly evocative of Arthur Sullivan. Gomes's most famous opera, Il Guarany, was based on a Brazilian romance by José de Alencar. It was an immediate success and garnered praise from Verdi, who said, "This young man starts where I finish." Gomes's next opera, Fosca, departed from the bel canto and moved into the Wagnerian mold with leitmotifs in an "advanced polyphonic form." Fosca is considered by many to be his masterpiece (it was not well received, although Gounod attended the premiere and complimented the work). Gomes returned to the bel canto style for Salvator Rosa. It has remained on the fringes of the repertoire and is second to Il Guarany in popularity.
The performance on this Dynamic album is a good one. For the most part, the cast does not have the international recognition that we have become accustomed to with many opera recordings, but the artists involved in this production are not amateurs. They acquit themselves very well and deliver a professional production. The two outstanding voices belong to Mauro Pagano, who has a clarion tenor reminiscent of Franco Corelli, and Francesca Scaini, who possesses a large, somewhat voluminous instrument that is warm, with a distinctive allure. Sofiya Solovey is bright and charming. The recorded sound is clear and balanced, the audience is quiet, limiting applause to key numbers and ends of the acts; footsteps and extraneous stage noises are minimal and rarely intrude on the music. The strengths outweigh the weaknesses in this Dynamic recording of Salvator Rosa.
Antônio Gomes's music is melodic, frequently inventive, and will likely please listeners who enjoy late 19th-century Italian opera. Salvator Rosa will probably not replace La gioconda or Un ballo in maschera in anyone's collection, but it deserves to be better known. At present, the discography of Gomes's works is slim. Domingo recorded Il Guarany, and there is another recording of Salvator Rosa with the Dorset Opera, although both seem to be available only through European outlets. Several arias from his operas are included in various collections, and the Mass of Our Lady of Conception and his Sonata for String Quartet in D have been recorded. It is unlikely we'll see another recording of Salvator Rosa anytime soon, although many of the productions Dynamic has released on CD have also appeared on DVD. A libretto in Italian and English is supplied, but no biographical information about the artists is provided. ---David L. Kirk, FANFARE, arkivmusic.com
download (mp3 @320 kbs):
salefiles yandex 4shared mega mediafire zalivalka cloudmailru uplea