Noskowski - Orchestral Works Vol. 1 [2009]
Noskowski - Orchestral Works Vol. 1 [2009]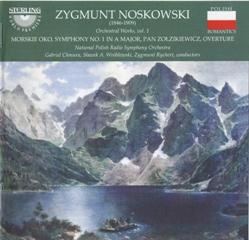 1.Morskie Oko

Symphony no. 1 in A Major:
2. Allegro Molto
3. Adagio Cantabile
4. Vivace
5. Finale - Allegro con Fuoco

6.Pan Zolzikiewicz

National Polish Radio Symphony
Gabriel Chmura – conductor (1)
Sławomir Wróblewski – onductor (2-5)
Zygmunt Rychert – conductor (6)

This CD commemorates the fact that this great unknown romantic master died one hundred years ago. The Polish conductor, teacher and composer Noskowski was a leading figure in the impressive Polish music scene around 1900, working alongside such people as Paderewski, Scharwenka, and Moszkowski. These works show that also as a composer, he could measure up to his contemporaries!
Morskie oko is not unfamiliar. From a very mysterious beginning the music rises to a most beautiful climax depicting the famous cliff in Poland -with this name. The symphony is traditional in style blending the big romantic tradition from Schumann, Brahms with a tinge of Polish folk music. The second movement is an experience beyond most. A truly romantic slow movement that will bring tears to all romantic eyes.... --- empik.com
Nie sposób odpowiedzieć na pytanie: jaka byłaby polska muzyka symfoniczna bez Zygmunta Noskowskiego? Niewątpliwie inna i prawdopodobnie uboższa. Szczególną jego zasługą - co znacznie wyróżnia go spośród współczesnych mu polskich kompozytorów - jest zwrócenie baczniejszej uwagi na technikę orkiestracji.
Inspirowali go w tym względzie zwłaszcza Liszt, Berlioz czy Borodin. Toteż dzieła Zygmunta Noskowskiego, choćby z tej racji, zasługują na pamięć i stałe miejsce w repertuarach koncertowych polskich orkiestr. Tak zresztą bywa, ale wyłącznie w przypadku małych, krótkich form, takich jak poemat symfoniczny "Step" czy uwertura "Morskie oko". Jednak z drugiej strony Zygmunt Noskowski był kompozytorem tradycyjnym, unikającym stosowania nowych pomysłów, które tak bardzo i nieuchronnie odmieniły muzykę przełomu XIX i XX wieku.
Pierwszą z trzech symfonii A-dur skomponował jeszcze w czasach studiów berlińskich i tam też nastąpiło jej prawykonanie. Uwertura koncertowa "Morskie oko" jest wyrazem fascynacji Podhalem, będącym dla ówczesnych twórców kwintesencją polskiego folkloru. Obraz dramatyczny w pięciu aktach "Pan Żołzikiewicz", którego uwertura kończy płytę, powstał na podstawie "Szkiców węglem" Żeromskiego. ---Barbara Tenderenda, audio.com.pl
download (mp3 @320 kbs):
yandex 4shared mega mediafire cloudmailru uplea ge.tt