Piotr Beczala - Slavic Opera Arias (2009)
Piotr Beczala - Slavic Opera Arias (2009)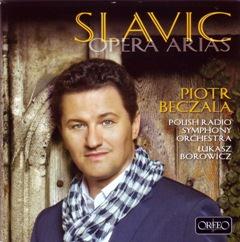 Alexander BORODIN (1833-1887)
1. Prince Igor : Medlenno den' ugasal... Akh! Gde ty [6.03]
Feliks NOWOWIEJSKI (1877-1946)
2. The Baltic Legend: Czy ty mnie nie kochasz [2.50]
Pyotr Il'yich TCHAIKOVSKY (1840-1893)
3. Eugene Onegin: Kak shchastliv… [4.22]
4. Eugene Onegin: Ya lyublyu vas, Kuda, kuda [6.52]
Wladyslaw ŻELEŃSKI (1837-1921)
5. Janek: Gdy ślub weźmiesz z twoim Stachem [3.33]
Nikolai RIMSKY-KORSAKOV (1844-1908)
6. Sadko: Ne zh'yest' almazov [3.40]
Stanisław MONIUSZKO (1819-1872)
7. Flis (The Raftsman) Płyną tratwy po Wiśle [4.27]
Pyotr Il'yich TCHAIKOVSKY (1840-1893)
8. Iolanta: Net! Chary lask krasy myatezhnoy [3.57]
Sergei RACHMANINOV (1873-1943)
9. Aleko: Vzglyani pod otdalyonnim Sodom [1.43]
Stanisław MONIUSZKO (1819-1872)
10. Straszny Dwór (The Haunted Manor) Cisza dokoła [7.55]
Bedřich SMETANA (1824-1884)
11. The Bartered Bride: Až uzříš, komus koupil nevěstu ... Jak možná věřit [3.22]
Anton ARENSKY (1861-1906)
12. Raphael: Strast'yu i negoyu serdtse trepeshchet [2.36]
Stanisław MONIUSZKO (1819-1872)
13. Halka: Szumia Jodly na gor Szczecin [6.10]
Pyotr Il'yich TCHAIKOVSKY (1840-1893)
14. The Queen of Spades: Chto nasha zhizn'? Igra! [1.59]
Antonín DVOŘÁK (1841-1904)
15. Rusalka: Ustante v lovu … Vidino divná, přesladká [7.23]
Nikolai RIMSKY-KORSAKOV (1844-1908)
16. May Night: Kak tikho ... Spi moya krasavitsa [7.17]
+
Nikolai RIMSKY-KORSAKOV (1844-1908)
17. Sadko: Ne zh'yest' almazov (symphonic version) [3.59]

Polish Radio Symphony Orchestra
Lukasz Borowicz (Conductor)

rec. 2009, Witold Lutosławski Concert Studio of Polish Radio, Warsaw

After recently reviewing Piotr Beczala's stunning album 'The French Collection' on Deutsche Grammophon I felt MusicWeb International should have a review of the Polish tenor's 2010 release 'Slavic Opera Arias' on Orfeo. This is a valuable collection of seventeen arias from ten composers in Russian, Czech and Polish, a mix of both well known and rare repertoire.
For those who haven't come across Piotr Beczala he is a Polish tenor who has been singing on the opera stage since 1997. His career took off internationally in 2004 leading to a burgeoning repertoire of bel canto and Romantic opera roles. In 2014 he won a prestigious ECHO Klassik award for 'Singer of the Year'. Notable successes have included sell-out performances as the Prince in Dvořák's Rusalka at the Salzburg Festival and as Lenski in Tchaikovsky's Eugene Onegin at the Metropolitan, New York. Stéphane Lissner the general manager and artistic director at La Scala described Beczala as "one of the few great tenors of our time".
There isn't a dud track on this Orfeo release which includes music by Moniuszko, Nowowiejski and Żeleński who by and large are hardly known outside their native Poland. Not surprisingly it's the more famous arias that take the plaudits here especially Lensky's Kuda, kuda for its unforgettable melodies from Tchaikovsky's Eugene Onegin based on Pushkin's verse novel. Here in Lensky's tragic pre-duel aria with Onegin, Beczala displays his special ability of revealing his despair with a weep in his voice. Arensky's memorable Strast'yu i negoyu serdtse trepeshchet from Raphael based on the Renaissance artist is notable for Beczala's quite wonderful vocal control. A work that deserves to be far better known is Rimsky-Korsakov's Kak tikho ... Spi moya krasavitsa from the alluring May Night based on the tale by Nikolai Gogol - a splendid example of Beczala's exquisitely firm vocal line.
Throughout this compelling collection we experience Beczała's remarkably wide expressive range. I also relish his fluid and attractive tone which is not given to an over-brightness that can soon become wearisome. Under the assured baton of Łukasz Borowicz the Polish Radio Symphony Orchestra provide first class support that is warmly sympathetic. The listening experience is however considerably lessened by the absence of sung texts and translations. Orfeo has excelled in providing clear and well balanced sonics.
Tenor Piotr Beczala is a wonderful talent who goes from strength to strength. Opera lovers will surely savour this collection. ---Michael Cookson, musicweb-international.com
Nie przypuszczałem, że płyta-składanka arii operowych tak bardzo mnie wciągnie, każe do siebie wracać. Jeszcze kilka lat temu tego typu nagrania odrzucały mnie swoją szczątkowością, fragmentarycznością, skokiem w jeden styl, w drugi (i trzeci), popisem i galanterią. Od jakiegoś czasu zaczęło się to zmieniać. Może przez wzgląd na większą znajomość operowego repertuaru, może przez nieprzepartą ochotę smakowania samego głosu, jego koloru i temperatury. Nie mówiąc o orkiestrze.
"Slavic Opera Arias". Piotr Beczała (tenor), Łukasz Borowicz (dyr.), Polska Orkiestra Radiowa, Orfeo 2010. Płycie "Slavic Opera Arias" Piotra Beczały (i Polskiej Orkiestry Radiowej pod batutą Łukasza Borowicza) charakter nadaje już sam wybór repertuaru. Arie słowiańskie, opera słowiańska – idiom określający krąg geograficzny i estetyczny, klimat językowy i brzmieniowy, kolor i styl. A więc śpiewność, melancholia (czy nostalgia), czułość, miłość, smutek, bohaterskość. Temu nagraniu sprzyja też niewątpliwie fakt, że wykonawcy czują się w tej "słowiańskiej" przestrzeni jak w domu. Jakże inaczej!
Zaczyna się od arii Vladimira z drugiego aktu opery "Kniaź Igor" Borodina. Dalej między innymi dwa razy Lenski z "Oniegina" Czajkowskiego, finałowa aria Hermana z "Damy pikowej", Młody Cygan z "Aleko" Rachmaninowa, Książe z "Rusałki" Dvořáka, i dużo, bardzo dużo polskiej muzyki ("Cisza dokoła" Stefana ze "Strasznego dworu", "Szumią jodły…" Jontka z "Halki, "Płyną tratwy po Wiśle" Franka z "Flisa" Moniuszki, "Czy ty mnie kochasz?" Domana z "Legendy Bałtyku" Nowowiejskiego, "Gdy ślub weźmiesz…" z "Janka" Żeleńskiego).
Właśnie ilość polskiej muzyki jest warta podkreślenia, bo przecież o najwyższej (albo jednej z najwyższych) pozycji Beczały w świecie operowym już się nie dyskutuje, więc teraz tą płytą w najlepszy z możliwych sposobów promuje rodzimą, "słowiańską" twórczość.
Piotr Beczała zresztą w każdej arii czuje się jak ryba w wodzie. Jest namiętny (Książe u Dvořáka), zakochany (Lenski), pełen tęsknoty (Stefan), marzenia (Jontek), dzikiej radości (Herman). Jego głos brzmi ciepło, soczyście, intensywnie, szlachetnie, barwnie, czysto. Pięknie po prostu.
I ma doskonałego partnera, bo Polska Orkiestra Radiowa gra każdą z tych arii tak, jakby nigdy nie wychodziła z opery. Jakby jej żywiołem była scena. A na pewno tak jest w przypadku Łukasza Borowicza. To, że Piotr Beczała nagrywa płytę z tym właśnie dyrygentem, już o czymś świadczy. Reszta jest w muzyce. Choćby w arii Księcia z "Rusałki". Po tym nagraniu ta muzyka już nigdy nie będzie taka sama. Zwłaszcza finał, uderzenia orkiestry jak trzęsienie ziemi. Jak pragnienie miłości.
I jeszcze jedno. Tym, którzy co jakiś czas zarzucają sieci swoich decyzji na likwidację Polskiej Orkiestry Radiowej, niech zwiędną uszy. A co mają zrobić nauczyciele Piotra Beczały, którzy nie poznali się na jego wielkim głosie? Tacet. ---Tomasz Cyz, dwutygodnik.com
download (mp3 @320 kbs):
yandex 4shared mega mediafire uloz.to cloudmailru uplea