Piotr Beczala - Salut! (2008)
Piotr Beczala - Salut! (2008)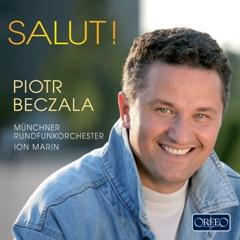 01 Donizetti: Tombe degli avi miei… Fra poco a me ricovero (Lucia di Lammermoor)
02 Gounod: L' amour, l'amour ... Ah! lève-toi, soleil (Roméo et Juliette)
03 Verdi: L' Emir auprès de lui m'appelle ... Je veux encore entendre (Jérusalem)
04 Verdi: Di tu se fedele (Un ballo in maschera)
05 Bazin: Je pense à vous (Maître Pathelin)
06 Maillart: Ne parle pas, Rose, je t'en supplie (Les Dragons de Villars)
07 Gounod: Salut demeure chaste et pure (Faust)
08 Donizetti: Una furtiva lagrima (L'elisir d'amore)
09 Massenet: Un autre est son époux (Werther)
10 Massenet: Pourquoi me réveiller, ô souffle le printemps? (Werther)
11 Mascagni: Apri la tua finestra (Iris)
12 Leoncavallo: Non parlate così (La Bohème)
13 Puccini: Che gelida manina (La Bohème)
14 Massenet: Je suis seul! (Manon)
15 Offenbach: O Dieu! de quelle ivresse embrases-tu mon âme?(Les contes d'Hoffmann)
16 Verdi: La donna è mobile (Rigoletto)

Piotr Beczala - tenor
Münchner Rundfunkorchester
Ion Marin - conductor

Piotr Beczala has established himself as one of the most outstanding young lyric tenors. Born in Southern Poland, he studied with Pavel Lisitsian and Sena Jurinac. After his first engagement at the Landestheater in Linz (Austria) he became a permanent member of the Zurich Opera and remains closely associated with this company.
He made his Covent Garden debut as the Italian tenor in Rosenkavalier and followed with an acclaimed Faust in 2004 and 2006. He returned as Lensky in Eugene Onegin this April with another Rosenkavalier at the Festival Hall, again with Zurich Opera.
He made a sensational role debut, in January of this year, as Riccardo in Verdi's Un ballo in maschera with the Berlin State Opera, where he was enthusiastically celebrated by both audience and press.The last two years has seen a series of successful firsts including Alfredo, in La Traviata, with the Bavarian State Opera, Berlin's Deutsche Oper and also in Tokyo; the Duke in Rigoletto at La Scala and as his debut with the Metropolitan Opera; and Lensky in Eugene Onegin with the San Francisco Opera, where he returned as Tamino last year. In Frankfurt and in Munich he has been acclaimed for his portrayal of Werther, as was his Don Ottavio at Zurich Opera and the Salzburg Festival. In 2007 he added Edgardo in Donizetti's Lucia to his repertoire: singing this role he will return to the New York Met in autumn 2008.
His wide concert repertoire ranges from Mozart, Cherubini and Haydn's sacred music, via Rossini's Stabat Mater and Petite Messe Solennelle to Mahler's Das Lied. He has appeared on many recordings and DVDs but this is his first recital disc with excerpts from French and Italian operas, many of which he has already sung on stage. ---prestomusic.com
Znakomity śpiewak, o którym coraz częściej piszą, że jest następcą Jussi Bjórlinga albo Luciano Pavarottiego, umacnia konsekwentnie swoją pozycję czołowego tenora lirycznego na świecie.
Jego specjalnością jest liryczny repertuar romantyczny w operach Donizettiego, Verdiego, Gounoda, Masseneta oraz kompozytorów słowiańskich - Dworzaka i Czajkowskiego. Liczy on w tej chwili 34 partie.
Ma 42 lata, pochodzi z Czechowic-Dziedzic, ukończył Akademię Muzyczną w Katowicach w klasie prof. Jana Ballarina. Debiutował jako Tamino w studenckim przedstawieniu "Czarodziejskiego fletu" Mozarta.
Krytycy zgodnym chórem podkreślają wspaniałe brzmienie jego głosu o wyjątkowej świeżości i bogatej barwie. Artysta zachwyca nie tylko techniczną doskonałością, naturalnością frazowania i wspaniałym legato - co przy śpiewaniu belcantowych partii ma kapitalne znacznie - ale również ogromną wrażliwością i muzykalnością oraz swobodą prowadzenia głosu w każdym rejestrze. Jego kreację w "Wertherze" Masseneta uznano za najlepszą rolę sezonu w monachijskiej Staatsoper. Zachwycił jako Riccardo w "Balu maskowym" Verdiego w berlińskiej Staatsoper. "Od czasu Pavarottiego nie było tak znakomitego wykonawcy tej roli" - napisał jeden z niemieckich krytyków. Świetne recenzje zyskał za pierwszą solową płytę "Salut!", a "Traviata" z jego udziałem nagrana w Monachium otrzymała nominację do nagrody Grammy. Równie entuzjastycznie był przyjmowany w 2008 roku na Festiwalu w Salzburgu, gdzie śpiewał partię Księcia w "Rusałce" Dworzaka. Chwalono polskiego śpiewaka, ale inscenizację już nie. Międzynarodowa publiczność tego festiwalu miała już okazję podziwiania jego kunsztu w partii Śpiewaka w "Kawalerze srebrnej róży" (2004) oraz Don Ottavia w "Don Giovannim" w głośnej inscenizacji Martina Kuseja (2006). Jednak pierwszą partią, jaką tutaj zaśpiewał, był Tamino, wykonywany w zastępstwie chorego Michaela Schada.
Wiosną 2008 roku ukazała się płyta Piotra Beczały "Salut" wydana przez firmę Orfeo. Zapis recitalu operowego zebrał świetne recenzje w wielu krajach. ---encyklopediateatru.pl
download (mp3 @320 kbs):