Andrea Bocelli - Notte Illuminata 2011
Andrea Bocelli - Notte Illuminata (2011)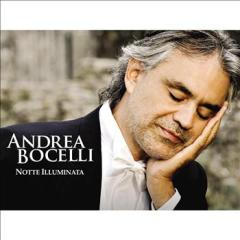 01. La Speme Ti Consoli 
02. Where E'er You Walk 
03. Sound An Alarm 
04. Dimmi Ben Mio Che M'ami 
05. L'amante Impaziente 
06. Beato Quei Che Fido Amor 
07. Ich Liebe Dich 
08. Der Engel 
09. Oh, Quand Je Dors 
10. Zueignung 
11. Mai 
12. Chanson D'amour 		play
13. Apres Un Reve 
14. La Lune Blanche Luit Dans Les Bois 
15. Le Secret 
16. Mandoline 
17. Hynne A La Nuit 		play
18. A La Madone 
19. Invocation 
20. La Reine Du Matin

Andrea Bocelli was born in 1958, in Lajatico, rural Tuscany, Italy.
A disciple of Luciano Pavarotti and Zucchero Fornaciari, the blind, Tuscany-born, vocalist has emerged as one of the most exciting voices in contemporary opera. His participation in Pavarotti's 1992 hit, Miserere, and Fornaciari's 1993 world tour brought him international attention. Opera, however, represents only one side of his musical persona. Bocelli has been equally successful as a pop ballad singer, having recorded duets with Celine Dion, Sarah Brightman and Eros Ramazzotti. Al Jarreau, who sang with Bocelli during The Night of Proms in November 1995, praised Bocelli when he said, "I have had the honour to sing with the most beautiful voice in the world."
Bocelli's first break as a singer came in 1992 when Fornaciari auditioned tenors to record a demo tape of Miserere, which he had co-written with Bono of U2. Successfully passing the audition, Bocelli recorded the tune as a duet with Pavarotti. With his fourth album, Romanza, released in 1997, Bocelli turned to pop music. The album included the hit, Time to Say Goodbye, recorded as a duet with Sarah Brightman. Bocelli continued to focus on pop balladry with his fifth album, Sogno, released in 1999, which featured a duet with Celine Dion of the David Foster- and Carole Bayer Sager-penned tune, The Prayer, sold more than ten million copies, received a Golden Globe award and led to Bocelli being nominated for a Grammy as "best new artist".
With the release of his classical album, Sacred Arias, Bocelli captured a listing in the Guinness Book of World Records, as he simultaneously held the top 3 positions on the U.S. classical albums charts. With over 5 million units sold worldwide, Sacred Arias became the biggest-selling classical album by a solo artist of all time. In 2006, Bocelli was made a Grand Officer of the Order of Merit of the Italian Republic, and on March 2, 2010, he was honoured with a star on the Hollywood Walk of Fame, for his contribution to Live Theater.
Andrea Bocelli - śpiewak klasyczny (tenor), kompozytor i producent muzyczny. Ukończył studia prawnicze w Pizie. W repertuarze posiada cztery kompletne opery (La bohème, Il trovatore, Werther oraz Tosca), albumy klasyczne jak i popowe. Andrea wspomina dziecięcą fascynację wielkimi włoskimi tenorami, takimi jak Del Monaco, Gigli, a zwłaszcza jego idol – Franco Corelli. Bocelli marzył, by zostać wielkim tenorem. Jako nastolatek wygrał kilka konkursów wokalnych. Potem wyjechał do Pizy, aby studiować prawo. Występował w tamtejszych barach, grając na pianinie i śpiewając klasyczne przeboje słynnych piosenkarzy - Sinatry, Aznavoura i Piaf.
W 1992 roku włoski gwiazdor rockowy Zucchero szukał tenora, z którym prowadziłby próby przed wspólnym występem z Lucianem Pavarottim. Przypadkowo trafił na Bocellego. Pavarotti zachwycil się wówczas śpiewem nieznanego tenora. W 1993 roku Bocelli otrzymał zaproszenie do udziału w festiwalu piosenki w San Remo. Wygrał eliminacje z najwyższą punktacją w dziejach. Rok później zwyciężył w konkursie "Nowe twarze". Błyskawicznie odniósł sukces na listach przebojów. Debiutancki album nagrany dla firmy Sugar - "Il Mare Calmo Della Sera" oraz następny album "Bocelli" zwróciły uwagę Europy na włoskiego śpiewaka. Na rynku międzynarodowym Bocelli zadebiutowal w roku 1996 albumem "Romanza".
W 1998 roku ukazała się pierwsza płyta z muzyką klasyczną na rynku międzynarodowym – "Aria". To jeden z największych sukcesów klasyki w dziejach fonografii. Królował na listach przebojów muzyki klasycznej, jak również konkurował pod względem sprzedaży z nagraniami muzyki pop. Jeszcze większym sukcesem okazał się kolejny album "Sacred Arias". Zawierał kompozycje sakralne Bacha/Gounoda, Mozarta, Schuberta i Rossiniego. Orkiestrą towarzyszącą tenorowi dyrygowal Myung–Whun Chung. Wszystkie jego albumy sprzedały się w nakładzie ponad 70 milionów egzemplarzy na całym świecie.Dzięki temu stał się on, najlepiej sprzedającym się artystą w historii muzyki klasycznej.
download (mp3 @320 kbs):
yandex mediafire ulozto gett bayfiles
Last Updated (Tuesday, 11 August 2020 14:58)