Anton Batagov - An Evening Hymn (Early English Music) (2017)
Anton Batagov - An Evening Hymn (Early English Music) (2017)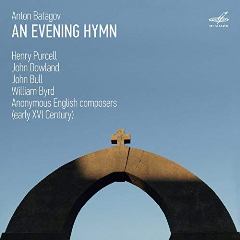 1.anon.: A Galyarde	5:33
2.Purcell: Chacone in G Minor, ZT. 680	5:20
3.Dowland: Melancholy Galliard	4:35
4.Bull, J: Galiarda		3:54
5.anon.: The Short Mesure off My Lady Wynkfylds Rownde	3:26
6.Purcell: Suite in G Major, Z. 660		5:04
7.Byrd: My Lady Nevell's Ground		8:07
8.Purcell: Ground in C minor, ZD221		4:47
9.Bull, J: In Nomine	4:46
10.Dowland: Mrs. Vauxes Gigge, P. 57	2:28
11.Purcell: Abdelazer, Z. 570: II. Rondo	8:17
12.anon.: My Lady Careys Dompe		5:23
13.Dowland: The Right Honourable The Lord Viscount Lisle His Galliard, P. 38	6:38
14.Purcell: An Evening Hymn, Z. 193 (arr. Anton Batagov)	11:19 
    
Anton Batagov - piano

The Russian composer, pianist and electronic musician, Anton Batagov, graduated from the Gnessin School and the Moscow Tchaikovsky Conservatory. He was prize-winner at the International Tchaikovsky Competition (1986) and other competitions.
Anton Batagov introduced the music by John Cage, Morton Feldman, Steve Reich, and Philip Glass to Russian audiences. His discographical debut was a recording of Olivier Messiaen's Vingt regards sur l'Enfant Jesus for Melodiya. From 1989 to 1996 he was one of the leaders and organizers of the Alternativa, the annual international new music festival in Moscow.
Heralded as "one of the most significant and unusual figures of Russian contemporary music" (Newsweek, Russian edition, 1997) and "a Russian Terry Riley" (Mark Swed, Los Angeles Times, 2008), Anton Batagov is one of the most influential Russian composers and performers of our time. The post-Cagean philosophy of Batagov's projects eliminates any boundaries between "performance" and "composition" by viewing all existing musical practices - from ancient rituals to rock and pop culture and advanced computer technologies - as potential elements of performance and composition. The well-known American musicologist Richard Kostelanetz characterized Batagov's 1993 piano recording of J.S. Bach's The Art of the Fugue (BWV 1080) as "the most stunning interpretation of Bach since Glenn Gould."
The post-minimalist language of Batagov's compositions is rooted in the harmonic and rhythmic patterns of Russian church bells, Old Believer chants, and folk songs seamlessly mixed with the spirit of Western minimalism, the dynamic pulse of the early Soviet avant-garde, and the unfading scent of rock music. His works feature a unique sense of large-scale architecture and textured emotionalism.
Anton Batagov's discography includes over 30 CD releases. He is the author of several movie soundtracks, and the number one composer of original music for Russian television. Since 1997, he has composed over 3,000 tunes for the major Russian TV channels.
In 1997 Anton Batagov stopped performing live, and since then, he has been focusing on studio recordings. Most of his works written since the late 1990's are deeply influenced by Buddhist philosophy and practice. He has written a number of major works based on a keystone Buddhist texts chanted by Tibetan lamas as well as several large-scale instrumental compositions inspired by Buddhist teachings.
In 2009 Anton Batagov received the prestigious national Steppenwolf Award in the Best Music category.
In 2009, after 12 years of self-imposed exile from concert activities, Batagov returned to live performances, and immediately confirmed his status as a legendary performer. ---bach-cantatas.com
download (mp3 @320 kbs):
yandex mediafire ulozto cloudmailru gett