Marcin Mielczewski - Opera Omnia Vol. 2 (Church concertos and motets II) [1999]
Marcin Mielczewski - Opera Omnia Vol. 2 (Church concertos and motets II) [1999]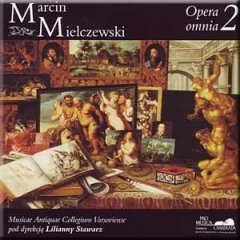 1. Audite gentes et exsultate	3:57
2. Currite populi	4:52
3. Quem terra, pontus, aethera	4:08
4. Benedictus sit Deus		4:51
5. Credidi a 12		4:49
6. Nisi Dominus aedificaverit domum		5:45
7. Magnificat octavi toni	6:26
8. Iste cognovit	3:56
9. Gaudete omnes et exsultate	8:11

Musicae Antiquae Collegium Varsoviense
Lilianna Stawarz - director

Throughout our series exploring the musical riches of the Polish Baroque, we have seen how the influence of the many Italian composers, singers and instrumentalists working at the royal court was of crucial importance in the development of the next generation of native Polish musicians. Marcin Mielczewski is perhaps the perfect example of this.
The career of Marcin Mielczewski (d.1651) was linked to the patronage of the House of Vasa in Poland: probably through King Sigismund III, during the last years of his reign (d. 1632), and certainly his sons Ladislaus IV (1632–1648) and Charles Ferdinand, Bishop of Wrocław and Płock (d. 1655). It was at their courts, performing in a largely Italian international ensemble, that Mielczewski had the opportunity to familiarise himself with the latest musical trends, develop good compositional technique and create stylistically and generically diverse works, which attracted a great deal of interest in the Commonwealth of Poland-Lithuania and neighbouring countries – in Catholic, Lutheran, Uniate and Orthodox environments. ---chandos.net
Druga płyta z programem złożonym w całości z utworów Marcina Mielczewskiego, w wykonaniu Wrocław Baroque Ensemble pod dyrekcją Andrzeja Kosendiaka. Na program płyty składają się wokalno-instrumentalne kompozycje religijne – zachowana niekompletnie "Missa Triumphalis" (tylko dwie pierwsze części cyklu ordinarium missae – Kyrie i Gloria), opracowania sześciu psalmów ("Dixit Dominus", "Laudate Pueri", "Credidi", "Laetatus Sum", "Nisi Dominus", "Lauda Jerusalem") i kantyku "Magnificat" – oraz dwa utwory przeznaczone na niewielkie zespoły instrumentalne ("Canzona Seconda A Due", "Canzona Seconda A Tre").
Wszystkie kompozycje wokalno-instrumentalne powstały do tekstów łacińskich i mają zastosowanie w liturgii Kościoła rzymskokatolickiego i luterańskiego. Wszystkie zostały skomponowane z zastosowaniem techniki koncertującej. Wszystkie wreszcie były pisane przez Mielczewskiego z myślą o wykonaniach w kościołach rzymskokatolickich, a zachowały się w przekazach rękopiśmiennych sporządzonych w środowiskach luterańskich. ---merlin.pl
download (mp3 @320 kbs):
yandex mediafire ulozto solidfiles global.files workupload
Last Updated (Tuesday, 20 April 2021 10:50)