Leonard Bernstein - Symphony no1 'Jeremiah' Symphony no2 'Age of Anxiety' (2011)
Leonard Bernstein - Symphony no1 'Jeremiah' Symphony no2 'Age of Anxiety' (2011)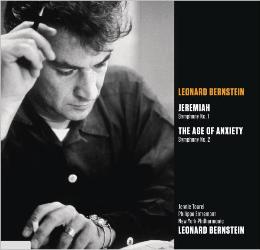 Jeremiah - Symphony No. 1 For Mezzo-Soprano And Orchestra 
1 I Prophecy. Largamente 	7:37 	
2 II Profanation. Vivace Con Brio 	6:39 			play	
3 III Lamentation 	11:19 	

The Age Of Anxiety - Symphony No. 2 For Piano And Orchestra 
4 I The Prologue. Lento Moderato 	2:30 	
5 I The Seven Ages. Var. I-VII 	9:08 	
6 I The Seven Stages. Var. VIII-XIV 	6:16 	
7 II The Dirge. Largo 	6:05 	
8 II The Masque. Extremely Fast 	4:36 			play	
9 II The Epilogue. L'istesso Tempo - Adagio - Andante - Con Moto 	8:08 	

Jennie Tourel – mezzo-soprano
Philippe Entremont – piano

New York Philharmonic
Leonard Bernstein – conductor

Recorded at Manhattan Center, New York City, USA , 
Tracks 1 to 3: 1961 , Tracks 4 to 9: 1965.

Leonard Bernstein, an American icon and perhaps the best known conductor, composer, and music teacher from the New World, may be famous for his Broadway shows such as the entertaining out-of-the-war feeling "On the Town", and the fun and at the same time brooding story of New York's star-crossed "West Side Story". Give him some time though if you only know the "American" side of the composer. He never threw away his Jewish heritage, and this first symphony "Jeremiah" enclosed in the CD is one of the prime examples of witnessing Lenny's musician expression as a Jew. I love this symphony because despite it's musical complexity easy enough to tell it's 20th century genre, the sheer tragic theme of this piece is strong enough to make me bow down in tears. The piece is in three movements; first tells of Jeremiah's pleading to the people, the nailbiting second the corruption done by the people, and the third the lamentation of Jeremiah to Jerusalem, "ruined, pillaged, and dishonored after his desparate efforts to save it". Ms. Jennie Tourel sang brilliantly in the movement.
The second symphony "The Age of Anxiety" is another example of Lenny's serious and musically dark and modern side of music. Based on the poem by W.H. Auden with the same name, it will take you through this spiritual and moral journey. --- Shota Hanai (Torrance, CA)
download:  uploaded anonfiles mega 4shared mixturecloud yandex mediafire ziddu
Last Updated (Monday, 26 August 2013 13:20)