John Hodian - Songs of Exile, Vol. 1 (2014)
John Hodian - Songs of Exile, Vol. 1 (2014)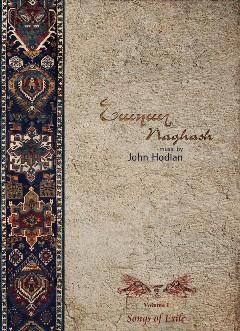 1 	Composed In Exile 	
2 	On Behalf Of Ghareebs 	
3 	Lamentations For Those Who Die In A Foreign Land 	
4 	Prelude To Lamentations For The Dead 	
5 	Lamentations For The Dead

Naghash Ensemble & Luys Vocal Quintet:
Alto Vocals – Marine Nazaryan, Shahane Zalyan, Sofya Konjoyan
Cello – Hayk Babayan (tracks: 1-3), Levon Arakelyan (tracks: 4-5)
Dhol – Tigran Hovhannisyan (tracks: 4-5)
Duduk – Emmanuel Hovhannisyan
Goblet Drum [Dumbek] – Matthias Bautz (tracks: 1-3)
Oud – Aram Nikoghosyan
Piano – John Hodian
Soprano Vocals – Hasmik Baghdasaryan, Mariam Mailyan
Viola – Anna Yesayants (tracks: 1-3), Armen Torosyan (tracks: 4-5)
Violin [I] – Aram Asatryan (tracks: 4-5), Jemma Abrahamyan (tracks: 1-3)
Violin [II] – Ara Harutyunyan (tracks: 1-3), Tigran Matevosyan (tracks: 4-5)

Based on texts by the medieval Armenian poet and priest, Mkrtich Nagash and set to new music by John Hodian, "Songs from Exile" is a profound meditation on man's relationship to God from the perspective of a monk forced to live in exile for many years.
East meets West and antiquity meets modernity in this hauntingly beautiful collection of ruminations, lamentations and incantations. The sound is earthy yet classical, identifiably Armenian but other-worldly. The texts while philosophical, were addressed to the common man of Nagash's time and are as relevant today as they were in the 1400's.
With five female vocalists along with some of Armenia's finest instrumentalists on Duduk, Oud and Dhol, accompanied by a string quartet the ensemble creates music that is part folk, part classical and profoundly moving. ---discogs.com
John Hodian is a composer, conductor, and pianist who has worked in a wide variety of idioms—from classical to jazz, rock to rap, and traditional to avant-garde theater. Hodian's music conveys emotions ranging from profound melancholy to bold exuberance. His hauntingly beautiful melodies, intricate rhythms and soulful intensity reflect both his Armenian roots and his formal classical training, as well as his years spent as a cutting edge jazz improviser.
Hodian received Masters degrees in composition and conducting at The Philadelphia College for the Performing Arts. John also spent several summers at the Naropa Institute in Boulder, Colorado where he studied piano and improvisation with Art Lande, Ralph Towner as well as literature and poetry with Allen Ginsburg and William Burroughs.
While teaching composition and music theory at the University of the Arts, John was conductor of the Philadelphia New Music Ensemble and associate conductor of The Philadelphia Youth Orchestra. John went on to found the first fully digital music studio in Philadelphia where he began his career in film and television scoring. Over the past 15 years he has scored over 250 documentary films and won the New York Emmy Award for "Best Music for a Documentary".
John's music has been heard in numerous feature films, dance pieces, chamber music ensembles, stage dramas, music-theater pieces and over 300 documentaries. His music-theater piece, "Sweet Theresiendstadt", produced by En Garde Arts and Theater Archa, played for a year in Prague before touring to Warsaw and Berlin. In addition to being selected as resident composer for the Sundance Theater Institute, John has collaborated with leading theater figures such as Anne Bogart and Israel Horowitz. John was a two time winner of the New Dramatist Frederick Lowe award for music theater. ---epiphanyrecords.com
download (mp3 @320 kbs):
yandex mediafire uloz.to gett my-files.ru