Claude Debussy - Rodrigue et Chimene (2005)
Claude Debussy - Rodrigue et Chimene (2005)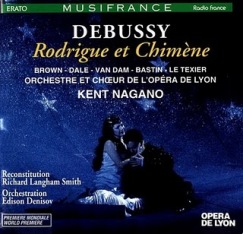 CD1
1. Prelude - Orchestra
2. Act One, Scene One: Rien encore, mon frere
3. Act One, Scene Two: Vous enfinn! 
4. Act One, Scene Two: Mais non, je n'en crois rien 
5. Act One, Scene Two: A ta beaute ma force est asservie 
6. Act One, Scene Two: Comme la vague 
7. Act One, Scene Three: Fourbis le glaive; Hola, garcons! 
8. Act One, Scene Four: C'est l' aube 
9. Act One, Scene Five: Arretez tous! 
10. Act One, Scene Five: Qu' est ceci ? 

CD2
1. Act Two, Scene One: Prends garde au coup 
2. Act Two, Scene Two: Frere, vois donc ! 
3. Act Two, Scene Three: Quel est ce bruit 
4. Act Two, Scene Three: Que m'aptpon dit ? 
5. Act Two, Scene Four: DonDiegue ! 
6. Act Two, Scene Five: Seigneurs des monts et des prairies ! 
7. Act Two, Scene Six:: Que signifient ce bruit et ce cliquetis 
8. Act Three, Scene One: Boire aujourd'hui, tuer demain ! 
9. Act Three, Scene One: Votre roi vous salue 
10. Act Three, Scene Two: Justice, mon seigneur ! 
11. Act Three, Scene Two: O juste orgueil 
12. Act Three, Scene Three: Prions, enfant ! 
13. Act Three, Scene Four: Tu dis vrai ! 
14. Act Three, Scene Five: Eh bien ! Que min sort s' accomplisse !

Chimène - Donna Brown
Rodrigue - Laurence Dale
Inez - Hélène Jossoud
Hernan - Gilles Ragon
Bermudo - Jean-Paul Fouchécourt
Don Diègue - José van Dam
Don Gomez - Jules Bastin
Le Roi - Vincent Le Texier
Don Juan d'Arcos - Jean Louis Meunier
Don Pèdre de Terruel - Jean Delescluse

Orchestre et Choeur de L'Opéra de Lyon
Kent Nagano, 1994

Rodrigue et Chimène (English: Rodrigo and Ximena) is an unfinished opera in three acts by Claude Debussy. The French libretto, by Catulle Mendès, is based on the plays Las Mocedades del Cid by Guillén de Castro y Bellvís and Corneille's Le Cid which deal with the legend of El Cid (Rodrigue in the opera). It was first staged in a version completed by Edison Denisov in Lyon on 14 May 1993.
Synopsis
    Time: 11th century
    Place: Spain

Act 1
Rodrigue, son of Don Diègue of Bivar, is engaged to marry Chimène, daughter of Don Gomez of Gormaz. They meet for a tryst just before dawn outside Don Gomez's house. They are interrupted by the arrival of the men of Gomez, singing a drinking song. The young women of Bivar also appear and the men of Gomez try to carry them off. They are stopped by an outraged Don Diègue. A quarrel breaks out between Don Diègue and Don Gomez, who objects to Diègue striking his servants. The two draw their swords but Don Diègue proves too old and weak to fight.
Act 2

Rodrigue and his brothers are playing chess when they see an old beggar on the highway and offer him help. The "beggar" is Don Diègue and he demands, not alms, but the head of Don Gomez. He asks Rodrigue to avenge the slight on his honour by killing Chimène's father. Rodrigue reluctantly accepts the commission. Rodrigue challenges Don Gomez to a duel and fatally wounds him. Don Gomez dies in Chimène's arms, having told her the killer was her beloved.
Act 3

King Ferdinand assembles his army for a campaign against the Moors. He notices that Don Gomez is missing from the ranks of his warriors. Chimène steps forward and begs for justice for her dead father, but Don Diègue pleads equally passionately for the life of the son who has restored his honour. The king sends for Rodrigue. Chimène confesses to her maidservant Iňez that she still loves him, but family honour demands he should die. The grief-stricken Rodrigue tells Chimène she should kill him with the selfsame sword that slew her father. She is unable to strike him, but unable to forgive him. He asks one of the king's soldiers to kill him instead. Don Diègue tells Rodrigue he must live so he can fight and defeat the Moors. Rodrigue reluctantly agrees, hoping to be killed in battle.
download:  uploaded anonfiles yandex 4shared solidfiles mediafire mega filecloudio
Last Updated (Tuesday, 22 October 2013 22:35)